Less than a week away from ending four years of horror, T-Rump has a cratered-descending favorability with the American public, while Joe Biden enjoys an ascending popularity — shit stinks, a rose has a scent:
NEW: Biden Begins Presidency With Positive Ratings; Trump Departs With Lowest-Ever Job Mark https://t.co/YD0UhR3uDz

— Pew Research Center (@pewresearch) January 15, 2021
Numbers tell the tale — from the Pew Research Center this morning:
As Joe Biden prepares to take office just days after a deadly riot inside the U.S. Capitol, 64-percent of voters express a positive opinion of his conduct since he won the November election.
Majorities also approve of Biden's Cabinet selections and how he has explained his plans and policies for the future.

Donald Trump is leaving the White House with the lowest job approval of his presidency (29-percent) and increasingly negative ratings for his post-election conduct.
The share of voters who rate Trump's conduct since the election as only fair or poor has risen from 68-percent in November to 76-percent, with virtually all of the increase coming in his "poor" ratings (62-percent now, 54-percent then).
Some other notable points in the Pew survey:
About two-thirds (68-percent) say Trump should not continue to be a major national political figure for many years to come; just 29-percent say he should remain a major figure in U.S. politics.
A narrow majority of Americans (54-percent) say it would be better for the country for Trump to be removed from office, with Vice President Mike Pence finishing the last few days of his term, while 45-percent say Trump should remain in office until his term ends Jan. 20.
Among voters overall, 65-percent say Biden definitely or probably "received the most votes cast by eligible voters in enough states to win the election"; 54-percent say he definitely won the most votes.
But 34-percent incorrectly say Trump definitely or probably was the rightful election winner.
About six-in-ten Democrats (62-percent) say Biden should try to work with Republican leaders "even it means disappointing some of his voters." Far fewer (37-percent) want Biden to "stand up" to Republicans even if it's harder to address critical issues.
A majority of Republicans (59-percent) want their party's leaders to "stand up" to Biden; 38-percent say they should try to work with Biden even if means disappointing some GOP voters.
A sizable majority of conservative Republicans (69-percent) favor GOP leaders standing up to Biden, compared with 44-percent of GOP moderates and liberals.
Those last two a shitty indication of the problems Biden faces — Democrats seem more forgiving, Republicans still a whole-hog party of assholes:
'Trump has made history in the worse way…'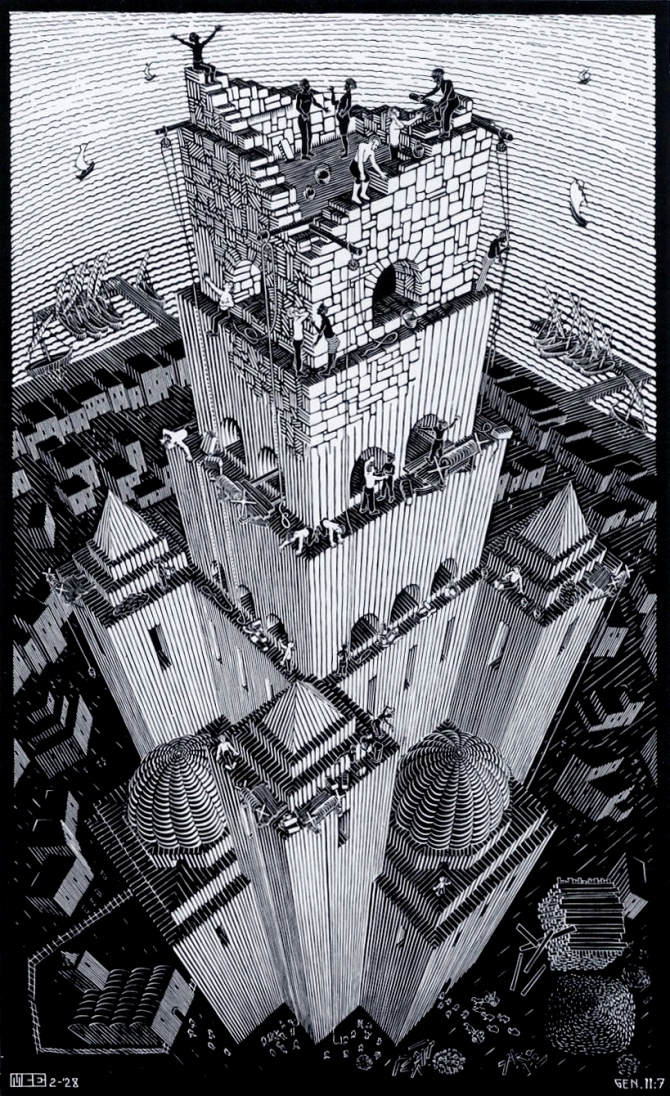 (Illustration: 'Tower of Babel,' a 1928 woodcut by M. C. Escher, found here).