Sunny and warm this near-midday Sunday in California's Central Valley, surfing the InterWebs, though, not shockingly there's a whole lot of shitty shit from all over and from just about every direction — COVID-19 still spinning out of control (yesterday, 3,286 Americans died); national as well as some state capitols braced for nefarious actors arriving to perform heinous actions, asshole Republicans want "healing," but won't admit Joe Biden won the election fair-and-square, and the Capitol riot now nearly two-weeks old, continues to expand its appalling parameters of scariness.
And that's just today's high points.
An anti-singular aspect of the T-Rump's persona is that everyone who comes in cose contact is later found under the bus. No exception for First Lady Melania (CNN):
At 47-percent, more people have an unfavorable view of the first lady now than at any point since CNN first asked about views of her in February 2016.
The poll, conducted by SSRS for CNN, puts Trump's favorable rating at 42-percent, with 12-percent of those asked answering they are unsure of their feelings about the first lady.
However, she stinks less than others: 'The first lady's current favorability rating is notably higher than the President's (33-percent) and among Republicans, her favorability number (84-percent) is higher than either the President's (79-percent) or the Vice President's (72-percent).'
Of course: 'According to a CNN/ORC poll in January 2017, Michelle Obama departed the White House with a 69-percent favorable rating…'
And a story I just saw today seems to paint both a physical and a metaphysical picture of the T-Rump years — a massive, historically unprecedented clean-up of the White House between the time T-Rump leaves (reportedly Wednesday morning) and Biden arrives (when the building is deemed safe, however long it takes):
Expect a White House deep clean when Joe Biden moves in https://t.co/Hl3foyGWxH pic.twitter.com/CFVE0p9Tin

— CNN Politics (@CNNPolitics) December 10, 2020
Slime-mold, virus infected shithouse — from ABC News yesterday afternoon:
According to government contracts reviewed by ABC News, more than $200,000 has been spent for increased White House janitorial and housekeeping work, including $127,249 on "2021 Inaugural Cleaning" and another $44,038 on "Inaugural carpet cleaning."
There was $29,523 spent for "Inaugural curtains cleaning."

While the White House is always deep-cleaned during the transition between presidents, that work is usually handled by White House staff, including butlers, ushers and maintenance crews.
Contracting out additional cleaning services is unprecedented in modern times, according to Kate Brower Andersen, presidential historian and former White House reporter.
"We've never seen this before," Brower Andersen said on ABC News' "Powerhouse Politics" podcast.
"The Government Services Administration has said they're going to do this very deep cleaning — cleaning every surface of the 55,000 square foot mansion. There's always been a deep clean between administrations, but we've never seen anything like this."

In a statement, a GSA spokesperson said, "GSA will thoroughly clean and disinfect the building spaces between the administrations and ensure that everything is up to standard. Cleaning will include, but is not limited to, all furniture, flooring, window treatments, handrails, door knobs, light switches, countertops, elevator buttons, restroom fixtures and dispensers, door handles and push plates, and lighting fixtures."
…
Incoming press secretary Jen Psaki has confirmed that some White House staff will begin working for the new administration remotely.

"We won't have all staff in the White House because our mantra is COVID safety first for everyone," Psaki said Wednesday.
"We're waiting on specifics of how many people will be there on the first day and first weeks."
Even beyond the lingering dangers of COVID, the T-Rump appears such a slob, a gross pig-sty of a human being.
Sickening:
Just sticky trash…to be removed in 2 days, 20 hours, 3 minutes…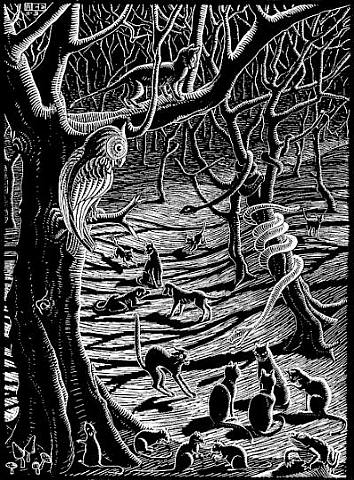 (Illustration: M.C Escher's 'Scholastica,' found here).