Among a stacked-high plate President Joe Biden (I like writing that) will have to chew into the next few days, weeks and months — beyond COVID and all its related nightmares — are the nasty, little nuggets of shit the T-Rump has jammed into so many goverment agencies and departments.
People like him doing nothing but fuck up, and ruin.
One such piece of shit is the head of the agency that controls the Voice of America international broadcaster funded by the US Congress, and held in top regard with a large multi-country audience (h/t Susie):
Pack was a notable example of terribleness in an administration chock full of it. Biden should be commended for giving him the boot so fast. https://t.co/WIGxFgOTK7

— Gary Legum (@GaryLegum) January 20, 2021
News of the VOA story, and Pack's near-about destroying the longtime (founded 1942) news broadcasting operation, has been reported upon, as this from December (Washington Post):
Michael Pack, a Trump appointee who has made sweeping and controversial changes at VOA and its sister broadcasting networks, pushed out Elez Biberaj, a VOA veteran whom Pack had appointed as the head of the service on an interim basis in June.

Biberaj, who has worked as a journalist for 40 years at VOA, had quietly resisted Pack's attempts to change the news organization into one more aligned with President Trump's views and policies.

Pack, who runs a federal agency called the U.S. Agency for Global Media that supervises VOA and four other government-funded news and information networks, has asserted the right to breach a regulatory "firewall" that prohibits political appointees from direct involvement in the work of journalists at VOA and sister agencies, such as Radio Free Asia and Middle East Broadcasting Networks.
And from Reuters last June: 'Democrats say Trump sees Pack as someone who would force more favorable coverage of his administration by VOA and other government media outlets. Pack is a close ally of conservative political activists including Steve Bannon, once a top aide to Trump and former executive chairman of the right-wing website Breitbart News.'
Current state of Pack's tale from NPR last night:
Michael Pack resigned Wednesday as the CEO of the federal agency over the Voice of America and other federally funded international broadcasters after a turbulent seven-month tenure.
He leaves the U.S. Agency for Global Media with a Trumpian legacy of ideological strife, lawsuits and scandal, his departure effective just two hours after the swearing-in of President Biden, who requested him to leave.

Biden has named senior VOA news executive Kelu Chao as acting CEO.

Pack came to lead the U.S. Agency for Global Media with the support of former President Donald Trump; his appointment was delayed more than two years in the U.S. Senate by lawmakers who feared he was too ideological and also who questioned his finances.
The soft-spoken conservative documentary maker proved to be an ideological warrior in the mold of his patron, taking to one conservative news outlet after another to denounce his own staff, all in the name of fairness.
…
NPR conducted scores of interviews over the controversies Pack's actions engendered. And few at the agency or its broadcasters agreed with Pack's characterization of his mission or performance, instead characterizing him as seeking political control over their coverage.
Just last week, a VOA reporter's insistent questions to then-Secretary of State Mike Pompeo and VOA Director Robert R. Reilly over the siege on Congress after a public event led to her demotion and an investigation.

Pack routinely accused journalists of anti-Trump bias, sought to fire top executives as part of a "deep state," ominously accused the networks of being receptive to foreign spies and denied requests for visa extensions from his own staffers who are foreign nationals.
…
He initiated investigations over the bias claims, reaching into Voice of America's newsroom in ways a federal judge said broke the law and the First Amendment.
…
Throughout, he kept all but a small circle of advisers in the dark as to what he was doing.
Former U.S. Agency for Global Media general counsel David Kligerman said the agency would have to work hard to put a "terrible chapter" behind it.
Kligerman, who resigned late last month, had been suspended by Pack in August, along with other senior executives after Pack was unable to fire them more immediately.

"Pack seemed only to know how to destroy," Kligerman wrote in a statement to NPR, citing the CEO's record of "firing or otherwise pushing out so many talented journalists, network heads, grantee board members, and civil servants."

"It was wanton destruction, and shocking disregard for the most basic civility or norms," Kligerman wrote.
"Political staff targeted and terrorized career staff and others. It is hard to overstate the climate of fear and dread that existed at the Agency. It is then particularly ironic that in his letter of resignation Pack warns of future politicalization of the Agency: it is hard to see how one could have attempted to do more to politicize the Agency than Pack."
Update on Pack's comeuppance (besides being canned) — also NPR this afternoon:
The Biden administration continued its swift sweep of the leadership at the Voice of America and its parent agency on Thursday.
It pushed out VOA's director, a Trump ally named Robert R. Reilly who had been appointed just last month.
…
According to two people with knowledge, Reilly and his deputy, former State Department official Elizabeth Robbins, were escorted from the building.
Robbins has told colleagues she is on "administrative leave."

The new acting director of Voice of America is Yolanda Lopez, a veteran journalist who had led VOA's News Center until last week. On Jan. 12, Lopez was stripped of all editorial oversight of the English-language news hub after one of her White House reporters posed pointed questions to then-Secretary of State Mike Pompeo about his remarks, made after the presidential election, about a second Trump administration.

Reporter Patsy Widakuswara, who was demoted twice in 24 hours after the incident, approached Pompeo after he made a formal address and then shared the stage with Reilly at an event held at VOA's headquarters in Washington.
She then challenged Reilly over failing to ask Pompeo any questions about the siege of Congress by a pro-Trump mob. Reilly barked at Widakuswara, "You obviously don't know how to behave." It then fell to Robbins, who had previously worked for Pompeo at the State Department, to tell the reporter she was done.

Beyond her actual appointment, the elevation of Lopez symbolizes Biden's effort to return the U.S. Agency for Global Media and the networks it oversees to their standing prior to Pack.
The acting CEO of USAGM is Kelu Chao, a former top VOA news executive who had surfaced as a named whistleblower in a civil lawsuit against the agency.
Just one piece/s of shit among no-telling how many…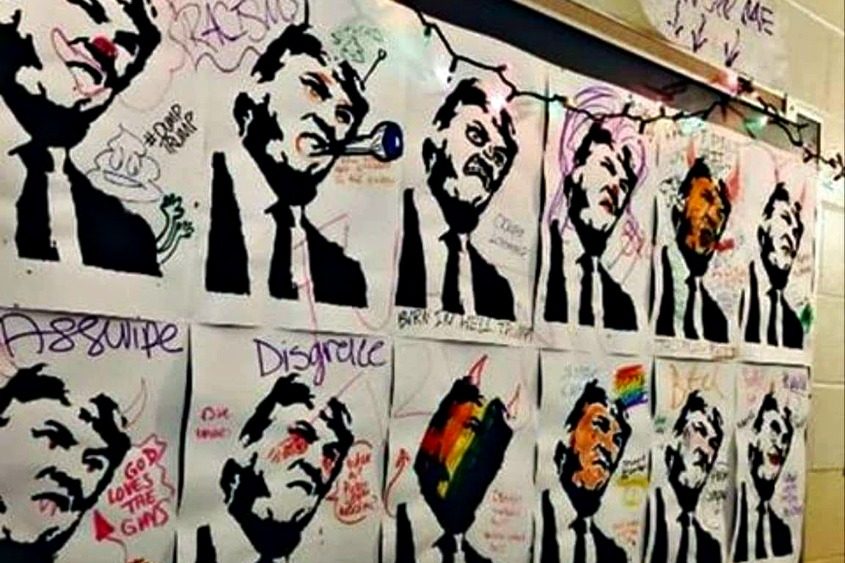 (Illustration is of a New York state high-school student exhibit: 'The piece was displayed during student-driven art show at Shenendehowa High School. It consisted of at least 12 identical black-and-white pictures of Donald Trump. There was also a sign above the pictures that read, "Draw on Me." Using markers from the art classroom, some students opted to scribble critical messages and profanities on the pictures' — and found here).