Rain and more rain here in California's Central Valley this Thursday afternoon, and feels like it ain't never gonna stop.
In the news it appears an endless cycle of rain, too, mostly of the nutcase variety, of stories piled high of how the GOP is infected with a bigly-binge of crazy — like this:
I am happy to work with Republicans on this issue where there's common ground, but you almost had me murdered 3 weeks ago so you can sit this one out.

Happy to work w/ almost any other GOP that aren't trying to get me killed.

In the meantime if you want to help, you can resign. https://t.co/4mVREbaqqm

— Alexandria Ocasio-Cortez (@AOC) January 28, 2021
Or this:
House speaker Nancy Pelosi criticized Republicans for their support of Marjorie Taylor Greene. On the security of members in Congress, she said 'we will probably need a supplemental for more security for members when the enemy is within the House of Representatives' pic.twitter.com/z1SFcTO78Y

— Reuters (@Reuters) January 28, 2021
Sad consequences incorporates this:
For the record if some out of their mind person like @mtgreenee or anyone shoots and kills me.

I want you to immediately politicize my death and use it to pass all the gvp measures you can.

Don't let them say you are "politicizing my death and it's wrong " that's BS.

— David Hogg (He / Him) (@davidhogg111) January 28, 2021
Beyond politics, the baffling idiotic GameStop bullshit:
So let me get this straight: Redditors rallying GameStop is market manipulation, but hedge fund billionaires shorting a stock is just an investment strategy?

— Robert Reich (@RBReich) January 28, 2021
As if playing on a loop, all day the same shit coming from a different fount, be it mouth or anus.
Instead of wading into that shit pond, how about some tunes on the topic of rain?
Lonely, wet and sad — the granddaddy:
Similar, but on the other end of the spectrum:
And the tap-tap on a tin roof of the soul:
Silly, whimsical rain:
Anti-theme right now for my state:
When rains come, falls on Beatles, too:
Even gorgeous blue eyes cry in the rain:
Being insane even with no rain:
If it's raining, who will stop it:
Even heavy-philosophical rain:
And last, and not least, my favorite the past couple of years — Annie does an unplugged version of her own great original:
And a song with written words — "Rain Poem" by Emily Dickinson:
A drop fell on the apple tree
Another on the roof;
A half a dozen kissed the eaves,
And made the gables laugh.

A few went out to help the brook,
That went to help the sea.
Myself conjectured, Were they pearls,
What necklaces could be!

The dust replaced in hoisted roads,
The birds jocoser sung;
The sunshine threw his hat away,
The orchards spangles hung.

The breezes brought dejected lutes,
And bathed them in the glee;
The East put out a single flag,
And signed the fête away.
And so it goes…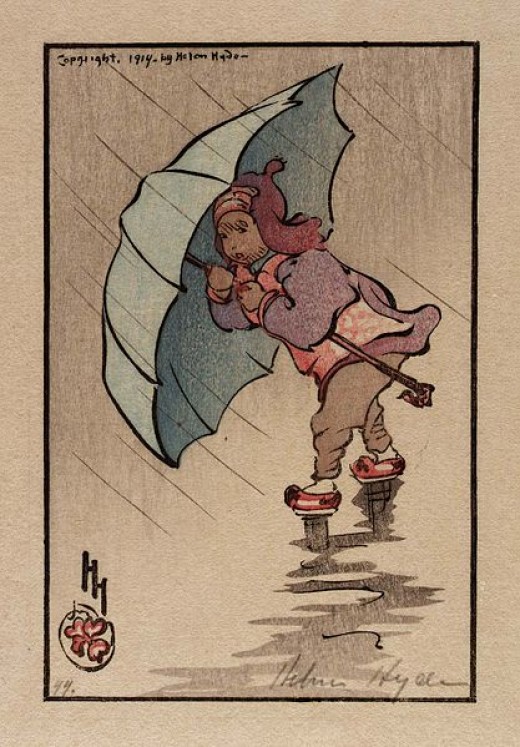 (Illustration: 'The Blue Umbrella 1914,' by Helen Hyde, found here).