No rain this Friday morning here in California's Central Valley — a short respite until this weekend when another wave of wet comes sloushing through our airwaves.
One bright arc of sunshine, though, is a majority of Americans dig what Joe Biden is doing in the week-and-a-couple-of-days he's been in office. Looks we're getting out money's worth (h/t Daily Kos):
Not just Ipsos and Morning Consult, but YouGov as well: https://t.co/w3zIGpchAE https://t.co/9Ro0i0rmno

— Brandon (@Brand_Allen) January 29, 2021
Details via HuffPost last night:
The results align with other polls on the beginning of the Biden presidency, which find him taking office with an average approval rating of about 55-percent.
That's a considerably higher starting point than President Donald Trump had, although it falls below the robust initial job approval "honeymoons" that were common for new White House occupants from the 1950s up through the end of the 1980s.

Trump's ratings throughout his four years in office remained both notably low and remarkably steady.
The stability was likely due in part to his status as a polarizing figure, as well as broader forces of calcifying partisanship.
Biden's broader base of support offers more of a cushion, but also further room for volatility.

In the HuffPost/YouGov survey, 43-percent of Americans say they feel Biden's inauguration was meant for people like them, compared to 29-percent who say it was not.
Four years ago, the public was about evenly split on whether Trump's inauguration was meant for people like them.

Similarly, Americans say by a 17-percentage-point margin that it would be a good thing if Biden's actions as president are in line with his behavior as a candidate.
In 2017, they said by a 22-point margin that it would be a bad thing if Trump's presidency continued along the same lines of his candidacy.
…
Immediately following his inaugural address, Biden signed 17 executive actions, more than half of which reversed Trump-era policies.
In a second HuffPost/YouGov survey, which gauged opinions on nine of those actions, all polled at least slightly above-water, with most garnering majority support.

Continuations of two Trump-era policies — a moratorium on evictions and foreclosures, and an extension of the pause on federal student loan payments — were among the most popular.
But reversals of several Trump policies, including actions to keep the U.S. in the World Health Organization, rejoin the Paris climate accord, and halt construction of the border wall with Mexico, also saw net-positive ratings.
However, big, huge problem is Republicans don't give a fat-rat's ass what the big, huge chunk of Americans want or care about, they're in it for the power. And ruthless, illicit tactics will have to be used to gather/hold-on to that power as the country is shifting color from GOP-influenced white to Dem-like tan and onto brown, and fairly quickly. In order to keep force, they're going after the nonsense, the crazy and the violent.
And despite rational words two weeks ago, Repubs are back to kissing T-Rump's rump.
Bess Levin at Vanity Fair yesterday told the tale:
In the wake of the deadly attack on Capitol Hill incited by former president Donald Trump, a few top Republicans read the room and decided it wouldn't be a great look to condone violence or the instigator of said violence.
"The president bears responsibility for Wednesday's attack on Congress by mob rioters. He should have immediately denounced the mob when he saw what was unfolding," House Minority Leader Kevin McCarthy proclaimed.
Speaking on the Senate floor, Lindsey Graham told his colleagues, "Trump and I, we've had a hell of a journey," but "all I can say is count me out. Enough is enough."
Now, in a turn of events that should shock exactly no one, they've gone from "Trump did something really bad and we're done with him" to "Hey, big guy, my flight lands at 11 a.m., hope to be by your place before noon! Can't wait, missed you tons! You want me to pick up anything on my way? Bottle of Diet Coke? Dessert? I know how you love those Little Debbie snack cakes."

Yes, three weeks after the 45th president of the United States incited an insurrection against the U.S. government, one of the most powerful Republicans in Congress who could, if he wanted to, decide to consign Trump to the scrap heap of political history is…meeting with him at his private club. Probably over lunch. A date for which they had to fly 1,000 miles in the middle of a pandemic.
Former President Trump is expected to meet with House Minority Leader McCarthy in south Florida on Thursday, according to two people with knowledge of the meeting.

— NBC Politics (@NBCPolitics) January 27, 2021
In case anyone was holding out hope that McCarthy was sitting down with Trump to explain to him that he's no longer president and will therefore have to relinquish the stranglehold on the party he's had for the last four years, Politico reports that he is in fact there to make nice with the guy who, again, has made the GOP the party of violent insurrections.
…
A Trump adviser predicted to Politico that he is "going to give Kevin an earful about the 10 members who impeached him" and, like a mob boss, will be "crossing his arms and smiling while he reminds Kevin that Matt Gaetz is going out to Wyoming to challenge Liz Cheney and that he could be next."
Bullshit. The entire Republican Party is a nasty group of whiners and sulk-artists who have now started blathering about the process of budget reconciliation to pass a bill, namely the .$1.9 trillion COVID relief proposal, but Democrats seemed to be standing their ground. Yesterday, Nancy Pelosi announced the House will bring the badly-needed aid package GOPers are waffing on to the floor next week: '"I hope we don't need it, but if needed we will have it," Pelosi told reporters on Thursday about the option of using budget reconciliation, a maneuver that can be used to pass the bill with a simple majority in the Senate. "We want it to be bipartisan always, but we can't surrender."'
We'll wait and see, but above all, don't fucking trust the crazy-ass Republicans…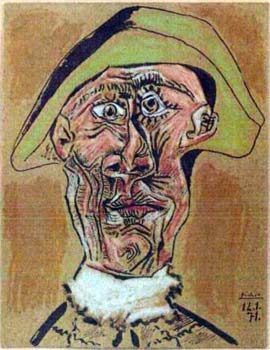 (Illustration: Pablo Picasso's 'Harlequin Head,' found here),