UPDATE:
Not surprising:
Trump impeachment lawyer Bruce Castor tells @NBCNews the former president won't testify, per House Dems request. "It's a publicity stunt in order to make up for the weakness of the House managers' case," Castor says, calling the case "a winner" for Trump.

— Carol Lee (@carolelee) February 4, 2021
Rapid return of a mostly non-starter — via CNN this afternoon:
Trump's lawyers quickly responded to Raskin's request on Thursday, writing back in a three-paragraph letter, saying the request was a sign the House could not prove its allegations against Trump.
"The use of our Constitution to bring a purported impeachment proceeding is much too serious to try to play these games," wrote Trump's attorneys, Bruce Castor and David Schoen.
Trump adviser Jason Miller confirmed that Trump was rejecting the request, telling CNN, "The President will not testify in an unconstitutional proceeding."
Senior aides talked Trump out of going to the House floor to defend himself ahead of his second impeachment in January, a similar tactic he also considered the first time he was impeached.
Along with the quip of the day:
Senators in both parties seemed to pan the idea on Thursday.
Sen. Joe Manchin, a moderate West Virginia Democrat, said it would be a "dog and pony show." Sen. Chris Coons, a Delaware Democrat, called it a "terrible idea."
"Have you met President Trump?" Coons said to reporters when asked to explain his thinking.
Everyone knows the T-Rump: He can't help but lie and brag. We move on…
---
As the T-Rump's impeachment trial in the Senate now only days away, House Democrats this morning have asked the former president and still loser to testify — most-likely T-Rump's lawyer bunch will advise against it, mainly because he's a serial liar and self-centered bluster-ass.
However, '"If you decline this invitation" the refusal may be used at trial "to support a strong adverse inference regarding your actions:"'
BREAKING: Lead impeachment manager Raskin writes to former Pres. Trump, asking him to testify under oath before or during his impeachment trial:

"You denied many factual allegations set forth in the article of impeachment. You have thus attempted to put critical facts at issue." pic.twitter.com/Z1pEqhlC6N

— NBC News (@NBCNews) February 4, 2021
Details via ABC News:
The request from House impeachment managers make clear their intent to present an aggressive case against the former president even though he has left the White House.
A Trump adviser did not immediately return a message seeking comment about the managers' letter.

In the letter, Rep Jamie Raskin, one of the impeachment managers, asked that Trump provide testimony "either before or during the Senate impeachment trial," and under cross examination, about his conduct on Jan. 6, as early as Monday and not later than next Thursday, Feb. 11.

Raskin said that Trump questioned critical facts in the case "notwithstanding the clear and overwhelming evidence of your constitutional offense."

"In light of your disputing these factual allegations, I write to invite you to provide testimony under oath, either before or during the Senate impeachment trial, concerning your conduct on January 6, 2021," Raskin wrote.

Raskin wrote that if Trump refuses to testify, the managers will use his refusal against him in the trial — a similar argument put forth by House Democrats in last year's impeachment trial, when many Trump officials ignored subpoenas.

"Indeed, whereas a sitting president might raise concerns about distraction from their official duties, that concern is obviously inapplicable here," Raskin wrote.
Lawyers know it's way-risky to put someone like T-Rump in a witness chair, especially when his total defense is constructed out of massive lies and bullshit with no real air. And the legal arguments are considered 'absurd' by those same House impeachment managers.
From HuffPost this morning a rundown of the T-Rump's plan, and the on-spot rebuttal from Democrats — read the whole piece, but this the major focus:
Trump's main legal defense is that presidents cannot be impeached or tried once they leave office.
Since he cannot be removed from office through impeachment, he cannot be barred from future office, they also argued.

Trump's lawyers say that "removal from office by the Senate of the President is a condition precedent which must occur before, and jointly with, 'disqualification' to hold future office," and since Trump is no longer in office, such a punishment is "irrelevant to any matter before the Senate."

The House impeachment brief contains a 25-page rebuttal of the argument that ex-presidents cannot be impeached and tried.
This is the longest section of the House brief.
And it specifically anticipates that this attempt to dismiss the impeachment trial will be Trump's main strategy, given "the overwhelming strength of the case against him."
…
"[T]he Constitution did not confer a right on the accused to escape trial entirely because one of the penalties is unavailable," the House brief states.
"If a defendant made that contention in court, her argument would be rejected out of hand."
Of course, T-Rump's only course of action is a not-guilty verdict from the spineless, shit-heel Senate Republicans. Although in this particular case, as oppsed to the T-Rump's first impeachment trial, Dems have control of the Senate, plus there's a shitload of evidence this time around.
A good view of this comes from Daniel Goldman, a staff lawyer for House managers in that first trial, and now a civilian — he talked to Chris Smith at Vanity Fair, published also this morning.
Main take-away:
"The conduct here is worse than in the Ukraine case, where the president used his office to extort an ally to help with his reelection campaign," Goldman says.
"This time, having failed to cheat in the election, the president was simply trying to steal the election." But the greater difference in making the case is that this one is visceral.
Instead of a complicated tale of politicians with hard-to-pronounce names pieced together through a dry assembly of documents and some disputed witness testimony, the insurrection case includes Trump bellowing, "We fight like hell, and if you don't fight like hell, you're not going to have a country anymore!" at a "Save America" rally on the Ellipse, followed by his amped-up followers smashing windows and doors and beating cops—all of it on camera.

"It's much more tangible and understandable and more vivid for the senators who were there on January 6, and for the American public who watched it all unfold on television," Goldman says.
"And we'll see it again during the Senate trial. You will see a more emotional, powerful, compelling presentation."
Indeed, the research team working for the nine Democratic House impeachment managers, led by Maryland's Jamie Raskin, have been culling not just video clips, but potentially incriminating social media posts to back up the case against Trump.
The rest is hope…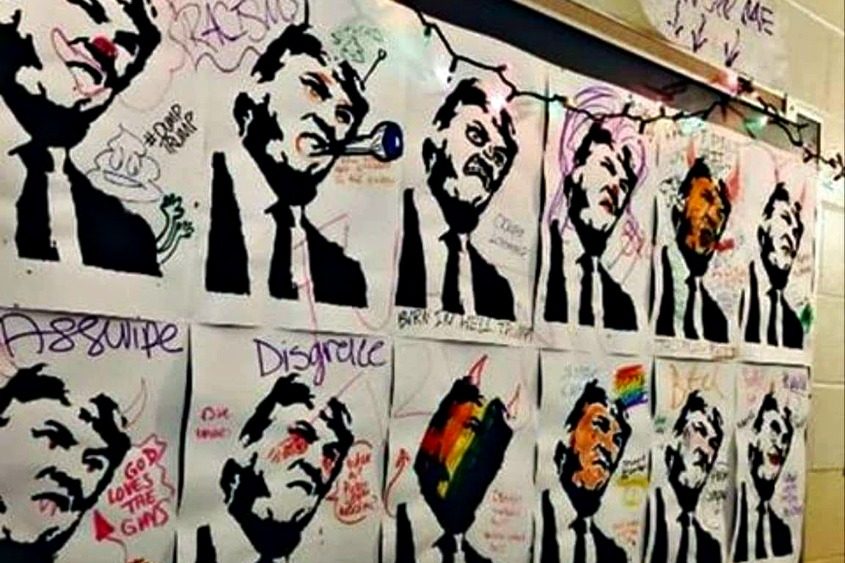 (Illustration is of a New York state high-school student exhibit: 'The piece was displayed during student-driven art show at Shenendehowa High School. It consisted of at least 12 identical black-and-white pictures of Donald Trump. There was also a sign above the pictures that read, "Draw on Me." Using markers from the art classroom, some students opted to scribble critical messages and profanities on the pictures' — and found here).