Next to T-Rump hisself, one of the biggest and most-terrible assholes who ever lived — and now is dead:
BREAKING:

Everything dies, baby, that's a fact
But maybe everything that dies, some day comes back
Put your makeup on, fix your hair up pretty
Rush just bit the dust, like Trump's Plaza in Atlantic City pic.twitter.com/YznKnEXXM7

— Donald's Pandemic (@MustweSuffer) February 17, 2021
In vainglory fulfilled, the T-Rump made his first voice-over appearance this morning on Fox News to apply shit to a shit on Limbaugh's death, and of course, more about hisself (Guardian's live blog):
"I have a very beautiful weakness," the former president told Fox News.
"I tend to like people who like me."

Trump described Limbaugh as a "legend" who was beloved by his fans.
"There aren't too many legends around, but he is a legend," Trump said.

When asked about what he and Limbaugh had spoken about in recent weeks, the president said they discussed the presidential election results.

"Rush thought we won, and so do I, by the way," Trump said.
"I think we won substantially."

That is, of course, entirely false. Joe Biden fairly won the presidential race, and there has been no evidence of widespread voter fraud in the election.
Piece of shit discussing another piece of shit on a piece-of-shit TV show.
And in a discussion of shit-on-shit, Eric Lutz at Vanity Fair this morning looked at the MoscowMitch-T-Rump feud with an overall view outside such bootlickers as Lindsey Graham — concluding:
What Graham doesn't seem to grasp — and which McConnell perhaps finally has — is that while their interests may briefly intersect with Trump's, they will never fully align.
Winning elections, packing courts, advancing ideology — the things they care about matter to Trump only inasmuch as they solidify his power.
The only Republicans who will succeed in the Party of Trump are those who fully embrace that.
Those who don't, be it because of principle like Romney or politics in the case of McConnell, will be cast aside.

The irony, of course, is that few did more than McConnell to build this iteration of the Republican party.
He imbued Trump with political power, enabling both his empty grievance movement and his individual lies. including the big one for which he'd eventually rebuke him on the Senate floor.
That he finally did so doesn't make him the hero he's tried, in the days since, to cast himself as.
It merely underscores how unholy their alliance was all along.
Unholy is right. And Limbaugh planted/spread that hate-filled, lying marker long ago.
T-Rump's former limo driver on the asshole stiffing pay: "…an utterly callous display of unwarranted privilege and entitlement and without even a minimal sense of noblesse oblige."
Uppity words to decribe an asswipe-motherfucker…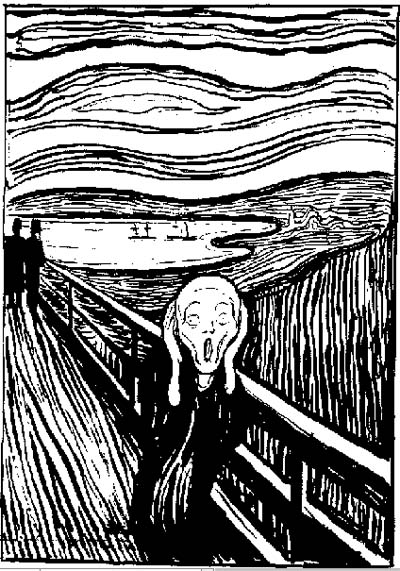 (Illustration: Edvard Munch's 'The Scream,' lithograph version, found here).