There's no art to the deal if you cheat on your taxes and then get caught — T-Rump lost a precious point today and hopefully edged closer to a jail cell as SCOTUS ruled in a one-sentence order, with no recorded dissents, that his tax records are to open to prosecutors:
BREAKING: U.S. Supreme Court Allows Release Of Trump Tax Returns.#TrumpTaxes https://t.co/2YPZ4KyerO pic.twitter.com/LjiIviKhWJ

— Bryan Dawson (@BryanDawsonUSA) February 22, 2021
Not only did the SCOTUS burn the T-Rump with his tax records, ir also popped a pop on the Big Lie — via The Washington Post this afternoon:
Former president Donald Trump received a dual defeat Monday at the Supreme Court, a body he transformed with his appointments and one he had long hoped would be a last line of defense in his battles with Congress and liberal Democrats.

The court refused Trump's last-chance efforts to shield his private financial records from Manhattan's district attorney in one case, and tossed out a slew of challenges to the presidential election and his loss to Democrat Joe Biden.

None of the three justices Trump chose for the court — Neil M. Gorsuch, Brett M. Kavanaugh and Amy Coney Barrett — publicly objected to the subpoena seeking his assiduously guarded tax records, or concluded that his reelection defeat was tainted.
Of course, the T-Rump snorted and whined in a statement refuting the SCOTUS decisions, calling the Manhatten DA's investigation into his financial dealings '"the greatest political Witch Hunt in the history of our Country."' He's blubbered that shit forever.
And most-obviously to back all that up is this today from Citizens for Responsibility and Ethics in Washington with another aspect of unabashed grifting:
Donald Trump reported making more than $1.6 billion in outside revenue and income during his four years as President of the United States, according to a review of his financial disclosures by CREW.
While Trump publicly took credit for donating his taxpayer-funded salary, that ended up being less than 0.1-percent of the revenue and income he disclosed during his presidency.
Far from being a sacrifice, the donation was merely a fig leaf to cover up four years of brazen corruption.
Read the whole piece, goes into detail of T-Rump properties and the money-suck of those entities on the taxpayer dollars: 'However, as Trump constantly reminded us, he did donate his official yearly salary. All $400,000 of it.'
Further on down the line, the T-Rump faces some court time. Right now, he might enjoy the high-favor of the MAGA hatters, and even with a speech this weekend at the toxic CPAC gathering in Florida, he'll blather and blubber about victimhood and the Big Lie, with life being bright right now.
However, the SCOTUS move today puts T-Rump in the sights of some bad legal shit — and it's follow the money.
A good long read on the situation at BloombergLaw this afternoon:
Manhattan District Attorney Cyrus Vance Jr. subpoenaed Trump's accounting firm for eight years of records in 2019, but the then-president took the case to the U.S. Supreme Court, twice. On Monday, the justices abruptly rejected Trump's final bid to block Vance, a Democrat.

Trump's refusal to release his taxes during the 2016 campaign, falsely claiming he couldn't because he was under audit, marked a break with every presidential candidate of the last four decades.
Once in office, he fought tooth and nail to keep them secret, challenging the oversight powers of the House tax committees that had previously been understood to have the power to examine any taxpayer's return.
Congress still doesn't have Trump's taxes.
…
Monday's rejection effectively shut down the avenue the high court left open for Trump in July, when the justices rejected his claim of sweeping immunity for sitting presidents from state criminal subpoenas but said he could press more specific objections.
Two lower courts rejected Trump's contention that the subpoena was too broad and was issued in bad faith, prompting the now-former president to turn to the Supreme Court.

Vance had agreed to hold off enforcing the subpoena while the Supreme Court considered Trump's new arguments.

Trump told the Supreme Court he will suffer "irreparable harm" if the materials are turned over.
"Even if the disclosure of his papers is limited to prosecutors and grand jurors, the status quo can never be restored once confidentiality is destroyed," his lawyers said in court papers.
Or tax cheating:
Boot the orange turd…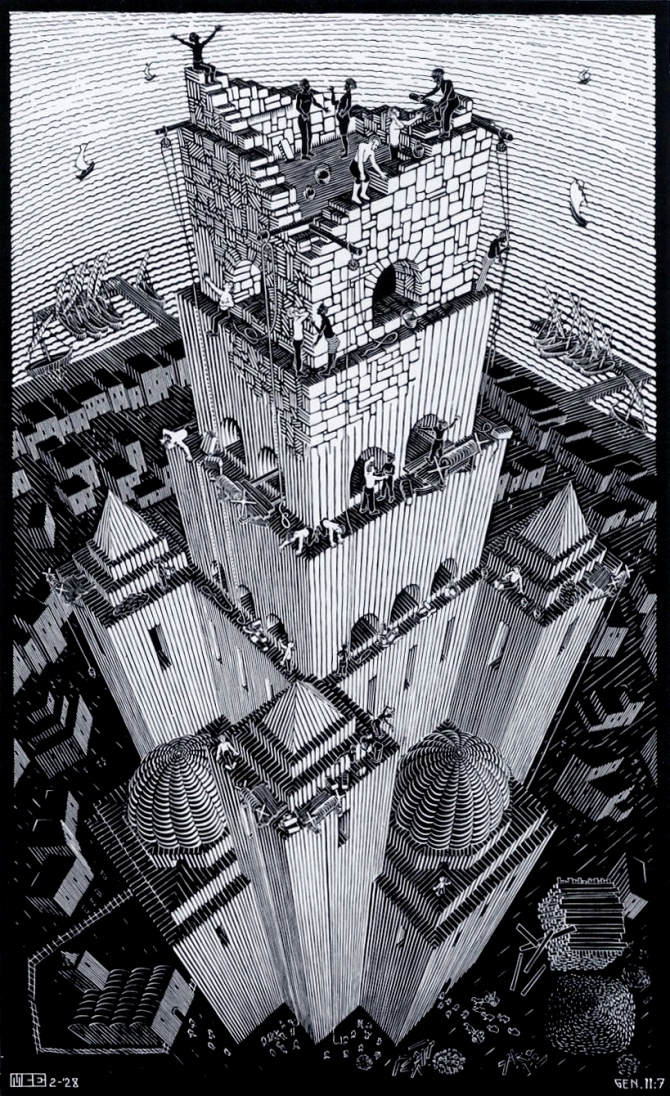 (Illustration: 'Tower of Babel,' a 1928 woodcut by M. C. Escher, found here).