Beautiful late-afternoon Tuesday here in California's Central Valley — sunshine and warm temps starting about noon following a foggy, chilly morning. Weather is way-oblique in its own existence, fog to sunshie, cold to hot, sometimes in minutes, and sometimes — maybe most-of-the-time — has an original game plan, too, and we humans are out of the loop.
Predict the weather from yesterday with side effects for today.
Anyway, this post is the third in the 'Destination' series — the first one here, the second here — and is just random music I used to play a lot, but not so much anymore, for one reason or another, maybe just the passage of time, or I change directional thought (does happen) and the tune doesn't have the same meanibg or context. Usually the songs are from a period, and of course the period changes like the weather over time, which then becomes climate. Too deep the philosophical shit…
WTF!
Meanwhile, first cut is a song I listened to several times a day for a time more than decade ago — just after I'd made a big move to another part of the state, with a new job and shit, and a winter of rain and cold. You wonder for a time, did I fucking miss the boat on this one? As it turned out, most-definitely not:
During about the same time stretch, this song held a sense for awhile (see above), still does in way:
And this one just because it just sounded so neat (Weezer is weird) — haven't heard it in years:
Far into the past (56 years) and from The Kinks — I had the 45 and played the living shit out of it for a long time, drove my parents crazy:
In another closer time, just more than 20 years ago ('just' is relative as you get old; time is freakish), this song I loved over and over, probably the band's best ever (Third Eye Blind) — the 90s as a decade were crazy, like no other, and this song seemed to attach itself to the period — and the original 'Destination' focal point, "See this rolling wave…Darkly coming to take me…Home:"
And the 'Destination' of tomorrow right now — the original (here by 4 Non Blondes) was great, but a few months ago I discovered an acoustic version by The Running Mates, an amazing husband/wife duo, which seemed to capture the current time frame, and kind of, has become my anthem of sorts, maybe years from now it too will be history and on the heap of non-play:
25 years and my life is still
Tryin' to get up that great big hill of hope
For a destination
And to continue the musical note — I watched this sequence over and over for a period of time a couple of years ago, and hadn't seen it in awhile, and a good final for this post,  the opening to "La La Land," though, I've only seen the movie all the way through just once (it's good, don't get me wrong), but the freeway dance is way-way-nifty watchable:
Back down to earth, yet keep the music going…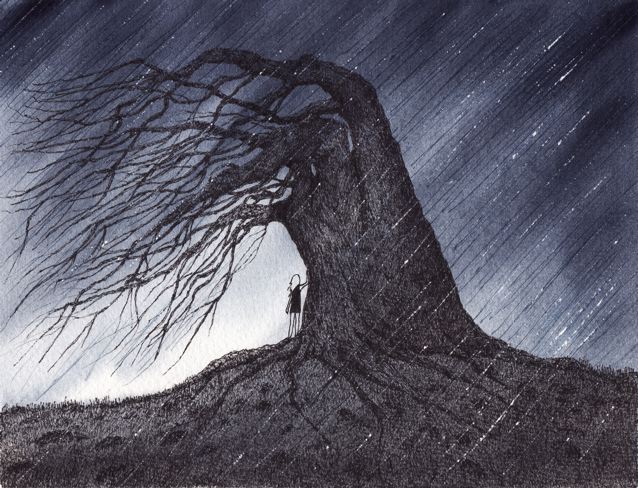 (Illustration: 'Shelter in the Storm," found here).