As Congressional hearings were held today on the Jan. 6 insurrection/riot at the US Capitol building — a joint investigation by the Homeland Security and Governmental Affairs Committee and the Senate Rules and Administration Committee — we really didn't learn anything new, except the way-known fact it was a T-Rump incited clusterfuck to continue the Big Lie of a stoen election.
I didn't watch the proceedings, too many asshole Republicans grandstanding, lying and spouting conspiracy theories without much factual questioning — typical.
Problem here is there's a huge, bigly elephant in the room (and not just GOP shitheads) on the Big Lie front, another one that's has genocidal sensibilities (h/t tweet BJ):
The US reported +1,374 new coronavirus deaths today, bringing the total to 512,590. The 7-day moving average rose again, up to 2,042 deaths per day, breaking the previous downward trend. pic.twitter.com/jSuldB95s1

— Patrick Chovanec (@prchovanec) February 23, 2021
In reality, there was an even worse second Big Lie, which allowed the unnecessary deaths of a shitload of Americans, and tragically most-likely the T-Rump will skate without an ounce of accountability — Dr. Jonathan Reiner, professor of Medicine and Surgery at George Washington University, time-frames the horrid scenario in an op/ed yesterday at CNN:
But there was another big lie in 2020, also propagated by former President Donald Trump, involving the coronavirus pandemic.
It was a lie that systematically downplayed the severity of Covid-19 and the utility of face masks. It very likely resulted in the unnecessary deaths of hundreds of thousands of Americans.

To understand the genesis of this lie, remember that the coronavirus arrived in an election year. Despite a rancorous initial three years punctuated with an impeachment, the former president's path to reelection was bolstered by one unimpeachable accomplishment: a robust economy. The coronavirus threatened that. The resulting interplay between politics and the pandemic created an irresolvable conflict that influenced the Trump administration's coronavirus response for the remainder of his term.
On January 22, 2020, the day the US reported its first case of Covid-19, President Trump said he wasn't worried about the outbreak becoming a pandemic. "We have it totally under control," he said.

In his book "Rage," Bob Woodward reported that six days later, National Security Adviser Robert O'Brien unambiguously told Trump: "This will be the biggest national security threat you face in your presidency. This is going to be the roughest thing you face."
On Febuary 7, 2020, Trump told Woodward the coronavirus was highly lethal, noting that it was "more deadly" than — "even your strenuous flus."
…
On March 9, with US coronavirus deaths mounting, Trump again likened the coronavirus to the flu, tweeting, "So last year 37,000 Americans died from the common Flu. It averages between 27,000 and 70,000 per year. Nothing is shut down, life & the economy go on. At this moment there are 546 confirmed cases of CoronaVirus, with 22 deaths. Think about that!"

Despite the knowledge that the virus was being spread via respiratory droplets and aerosols, the CDC was slow to recommend masks for the public.
On February 29, Surgeon General Jerome Adams scolded the public in a tweet: "Seriously people- STOP BUYING MASKS! They are NOT effective in preventing general public from catching #Coronavirus, but if healthcare providers can't get them to care for sick patients, it puts them and our communities at risk!"

On April 3, the CDC changed its position, and advised all Americans to wear a face covering in public.
At a Coronavirus Task Force briefing that day, the President immediately threw cold water on the recommendation, declaring: "You can do it. You don't have to do it. I'm choosing not to do it, but some people may want to do it, and that's OK."
He added, "Wearing a face mask as I greet presidents, prime ministers, dictators, kings, queens — I just don't see it."
The message to his followers was clear: masks were optional.

Despite Trump's public nonchalance, in private he had known for months precisely how easily the virus was spread, and the rationale for wearing masks.
On February 7, he told Woodward: "It goes through air, Bob. That's always tougher than the touch. You know, the touch – you don't have to touch things, right? But the air, you just breathe the air. That's how it's passed. And so that's a very tricky one. That's a very delicate one."
On April 13, Trump told Woodward that the coronavirus was "so easily transmissible, you wouldn't even believe it."

After T-Rump got COVID, and stated "Don't let it dominate you. Don't be afraid of it," he returned to the White House, and quickly snatched-off his mask and infected the whole buiding — what an asshole:

Three weeks later, the University of Washington's Institute for Health Metrics and Evaluation issued what would turn out to be an astonishingly accurate prediction.
IHME estimated that there could be 500,000 US deaths by the end of February.
Their analysis also suggested that 130,000 of these deaths could be prevented if the country adopted universal masking.
…
As predicted, this week the US surpassed half a million deaths.
The Greek tragedian Aeschylus wrote, "In war, the first casualty is truth."
When the history of the American war against the coronavirus is finally written, historians will note that Donald Trump's big lie about masks was the original sin.
And for an excellent, detailed, behind-the-scenes overview of the T-Rump COVID disaster is from last August at Slate — go read it if you have the stomach for it, shitty irritating.
That's it — shit-on-a-stick…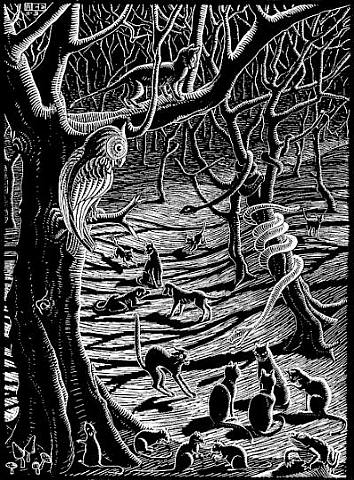 (Illustration: M.C Escher's 'Scholastica,' found here)