Way-quickly after the SCOTUS ruling on Monday that the T-Rump's accounting firm must turn over tax records to New York DA Cyrus Vance's office, the documents are in the hands of prosecutors:
The Manhattan District Attorney's office has obtained former President Donald Trump's tax returns and related records, according to sources familiar with the matter.
 
The records include millions of pages of documents, the sources say.

— Shimon Prokupecz (@ShimonPro) February 25, 2021
Background/details via CNN this morning:
"Our office obtained the records on Monday," said Vance spokesman Danny Frost.

Mazars' (T-Rump's long-time accounting firm) spokesman didn't respond to a request for comment.

The records may be critical to the investigation because they are likely to contain documents that reflect the decision-making behind valuations and tax write-offs, which may be important to determine whether there was intent to commit a crime.

The investigators have wanted to review the documents before calling key witnesses before the grand jury, people familiar with the inquiry said.
In addition to the records from Mazars, Vance's office has been seeking a slew of other documents.
They subpoenaed records and interviewed employees at Deutsche Bank, one of Trump's creditors, about loans given to him, and insurance broker Aon, according to multiple sources familiar with the investigation.
Deutsche Bank has loaned Trump more than $300 million.
Hopefully, deep doo-doo for the T-Rump — his longtime former lawyer, Michael Cohen, said on Monday shit could hit the fan for the orange turd:
Appearing on NBC, Mr Cohen predicted that a probe into his former client's tax affairs could wind him in jail and he should prepare for wearing a prison uniform.
He added he's not sure what exactly the documents may reveal, but was confident enough to claim "it does not look good for" Mr Trump.

He also said the former president "has done everything in his power within which to try to keep everybody, or at least the (New York) DA Cyrus Vance from seeing" the records.

"One thing I can turn around and tell you, he should start maybe speaking to someone about getting a custom-made jumpsuit, because it does not look good for him," Mr Cohen said.
And piling on — this from Tuesday at the Guardian on the rough-row-to-hoe for the T-Rump:
Donald Trump used to promise his supporters that they would be winning so much, they would get sick and tired of winning. But the former US president is now on a seemingly endless losing streak.

He lost the presidential election, lost more than 60 legal challenges to the result, lost his bid to overturn the electoral college, lost control of the Senate and lost an impeachment trial 43-57, though he was spared conviction on a technicality.
On Monday, Trump lost yet again – with potentially far-reaching consequences.

The supreme court rejected an attempt by his lawyers to block Cyrus Vance, the Manhattan district attorney (DA) in New York, from enforcing a subpoena to obtain eight years of his personal and corporate tax records.
…
If wrongdoing is established, it raises the spectre of Trump some day in the future standing in the dock in a New York courtroom and even facing a potential prison term. No wonder he fought so hard to cling to power and the immunity from prosecution that it conferred.

The threat, however real or remote, casts a shadow over Trump's chances of making a political comeback. On Sunday he is due to make his first speech since leaving office at the Conservative Political Action Conference (CPAC) in Orlando, Florida, reasserting his command of the Republican party and teasing a new run for president in 2024.

Lindsey Graham, possibly his most loyal supporter in the US Senate, told the Washington Post: "If he ran, it would be his nomination for the having. I don't know what he wants to do. Because he was successful for conservatism and people appreciate his fighting spirit, he's going to dominate the party for years to come. The way I look at it, there is no way we can achieve our goals without Trump."
We'll see.
Shit can catch up with the worse of the worse:
Maybe, a 'custom-made jumpsuit' just in case…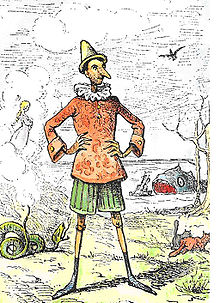 (Illustration: 'Pinocchio,' by Enrico Mazzanti (1852-1910), found here).