As we continue on, Republicans continue their onslaught on democracy, mainly because they have no idea how to govern and their whole playbook is grievance and the T-Rump — and they just don't give a shit anymore, spewing their nefarious intentions right out in the open (h/t tweet Susie):
The RNC's lawyer confirmed today in the US Supreme Court that the GOP is "injured" electorally when there is not racial discrimination in voting.

Listen.
pic.twitter.com/uAPkhndLyY

— Marc E. Elias (@marceelias) March 2, 2021
Details via CommonDreams this morning:
An attorney representing the Arizona Republican Party on Tuesday helpfully admitted outright what has long been obvious to observers of the GOP's decades-long assault on the franchise: Easier voting makes it harder for Republicans to win elections.

Asked by right-wing Supreme Court Justice Amy Coney Barrett to explain the Arizona GOP's interest in upholding a state law that disqualifies ballots cast in the wrong precinct — a restriction that voting rights advocates say discriminates against people of color, an assessment backed up last year by the Ninth Circuit Court of Appeals — Republican lawyer Michael Carvin responded that striking down the regulation would put "us at a competitive disadvantage relative to Democrats."

"Politics is a zero-sum game," Carvin added.
…
"I mean we all knew this, but didn't think they would say it out loud," tweeted Arizona state Rep. Reginald Bolding (D).
"Today in the highest court in the land, an Arizona GOP attorney basically admitted Republicans want to suppress the vote because if they don't it puts them 'at a competitive disadvantage relative to Democrats.'"

Rep. Bill Pascrell (D-N.J.) added that "the mask is off."

"Republicans want to steal your right to vote and pulverize democracy because they don't think they can win elections on ideas or humanity," Pascrell said Tuesday.
…
During oral arguments in the case on Tuesday, the Supreme Court's conservative majority appeared ready to rule in favor of keeping the discriminatory restrictions in place, potentially spelling further disaster for the Voting Rights Act.

"In its most important voting rights case in almost a decade, the court for the first time considered how a crucial part of the Voting Rights Act of 1965 applies to voting restrictions that have a disproportionate impact on members of minority groups," the New York Times reported. "Several members of the court's conservative majority said the restrictions were sensible, commonplace, and at least partly endorsed by a bipartisan consensus reflected in a 2005 report signed by former President Jimmy Carter and James A. Baker III, who served as secretary of state under President George Bush."

In an appearance on MSNBC late Tuesday, Ari Berman of Mother Jones said that "it's hard to be optimistic" about the fate of the Voting Rights Act "with this court that already gutted the Voting Rights Act."

"I'm not sure they're gonna go so far… just to say that the Voting Rights Act is completely eliminated," said Berman, "but they might just interpret it in such a restrictive way that it'll be functionally eliminated or reduced to so little protection for minority voters that they can't really look to the courts for relief any more."

"The fact that Republicans are challenging the Voting Rights Act at the very moment that they're trying to pass all of these new voter suppression laws that very likely violate the Voting Rights Act just shows how big of a threat to democracy we see right now from the Republican Party," Berman added.
And on the bullshit off of GOP lawyers, this from Sean Morales-Doyle, deputy director of the Voting Rights and Elections Program at the Brennan Center for Justice at NYU Law at Newsweek, also this morning:
Some of their arguments are willfully ignorant, asking the justices to pretend that seemingly neutral policies don't interact with real-world factors to disadvantage voters of color.
Others are outright radical, challenging the constitutionality of Section 2.
The court need not even take the radical approach to wreak havoc.
If it narrows Section 2's application in any way, the consequences could be disastrous for the voting rights of nonwhite voters.
Not only restrictions on the ballot box itself, but this shit, too:
Police in Ankeny, Iowa, say they disarmed a live pipe bomb after it was found by a pair of dog walkers at a polling location as voting took place in a local election Tuesday.

"Ankeny Police officers were called to the Lakeside Center, 400 NW Lakeshore Drive, in reference to a suspicious device," the city said on Tuesday.
"When officers arrived they observed what appeared to be a pipe bomb. The Lakeside Center was being used as a polling location today for the Ankeny Community School District special election and officers immediately evacuated the building."
The site was closed about three hours, but still.
Work 'em up into a lather, and let 'em go forth:
George knew his shit…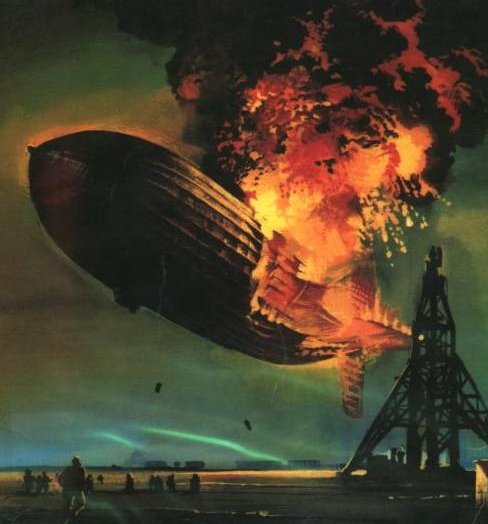 (Illustration found here).