An unexpected pleasure:
Biden moments before he signs the Covid relief bill: "It's about rebuilding the backbone of this country and giving people in this nation, working people, middle class folks, the people that built the country a fighting chance. That's what the essence of it is." pic.twitter.com/rKdLNIoM5Z

— Aaron Rupar (@atrupar) March 11, 2021
Via the Guardian's live blog:
With the flick of his pen, Biden signed into law a $1.9tn coronavirus relief package, cementing the first major legislative victory of his presidency.

"This historic legislation is about rebuilding the backbone of this country and giving the people of this nation, working people, the middle class folks, people who built the country a fighting chance," Biden said in brief remarks before signing the landmark legislation.

The bill will send $1,400 stimulus checks to most Americans, extend unemployment benefits, provide federal assistance for housing, food and health care, dramatically expand the child tax credit. It also spends tens of billions of dollars on vaccine distribution and Covid testing.

Touting the bill's broad public support, Biden said the plan's passage by the House of Representatives on Wednesday ensured that "their voices were heard."

Biden signed the bill into law a day ahead of schedule, and hours before he was due to give the first prime-time address of his presidency, during which the president vowed he would have "more to say" about the legislation.

Explaining the scheduling change, Ron Klain, the White House chief of staff, said the president wanted to "move as fast as possible." Klain said the White House still planned to hold a celebratory ceremony with members of Congress on Friday.
Addendum to further smiles: '"People can expect to start seeing direct deposits hit their bank accounts as early as this weekend," (Jen) Psaki said at a press briefing. "This is, of course, just the first wave," Psaki noted, adding that "payments to eligible Americans will continue throughout the course of the next several weeks."'
Biden is scheduled to give his first prime-time speech tonight on the one-year anniversary of the COVID pandemic nationwide shutdown.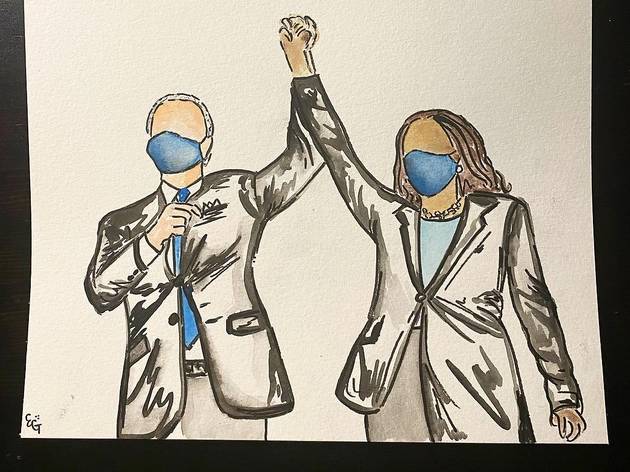 (Illustration by Emily Grace Tucker and found here).