Laying-up in Florida, nasty-faced and stumped of glory, the T-Rump is in a financial and legal pickle as his beloved glory days are in their sunset times — even his "Trump Force One" rots away unused: 'Donad Trump's 757 jet is in mothballs in upstate New York, missing parts with one of its engines shrink-wrapped.'
A situation perfectly-made for a failing asshole:
TRUMP FORCE ONE has seen better days.

The former president's 757 is sitting idle at an airport in Orange County, NY.

One engine is missing parts.

The other is shrink-wrapped in plastic.

The cost to get it flyable could reach into the high six-figures. https://t.co/nbhkXbsDc2

— Kenneth P. Vogel (@kenvogel) March 20, 2021
Terrible, just plain terrible — background via CNN yesterday:
One engine is missing parts. The other is shrink-wrapped in plastic.
The cost to fix and get it flyable could reach well into the high six-figures, a price-tag Trump doesn't appear to be dealing with right now.
Though the current state of his finances aren't public, the Covid-19 pandemic has taken a toll on the hospitality industry home to so many of his businesses.

Flight records accessed by CNN show the 757 hasn't been flown at all since Inauguration Day, when Trump's use of Air Force One ended, leaving him to less showy modes of transport.
A representative for the Trump Organization did not immediately return CNN's request for comment as to why the plane is not being used, nor has been fixed — and whether or not Trump intends to get it in flying shape anytime soon.
A CNN camera crew saw Trump's plane parked on a fenced-off tarmac at the small upstate New York airport on Wednesday, about an hour and a half drive from Trump Tower.
The choice to leave it outside at a northeastern airport, exposed to the elements, has baffled aviation experts who spoke with CNN.
They note that it's just a few hours' flight to warmer, more arid climes.
Snow, rain, and moisture can lead to metal corrosion of the airframe and the engines — hard to detect, and, in severe cases, catastrophic.
Large airplanes are typically stored for long stretches of time in the desert southwest, where the dry climate makes corrosion nearly impossible.

Trump rarely, if ever, admits to losing power. With the 757 apparently out of commission, Trump is left with his much smaller corporate jet, at least for now.
According to flight data, Trump's 1997 Cessna 750 Citation X has been in semi-regular rotation for the last few months, often flying between Palm Beach International Airport and LaGuardia Airport in New York.
It was this plane Trump flew on when he made his first post-presidency trip back to Manhattan earlier this month.
"The small jet isn't his favorite," says a former White House official who frequently flew with Trump on both planes.
With just eight seats, the Citation such as the one Trump is using, is a tighter squeeze and far less luxe than the 757.
"It also doesn't have his name on the outside," the source said, noting the gigantic Trump name that the 757 bears across its front section.
The Citation does have a small Trump family crest on the fuselage. That's a downgrade for a man who likes to paint his surname on just about everything he owns, from hotels to bottles of wine.
…
"Flying that thing was so expensive," says the former senior official.
"I don't think people realized that just to get it up in the air and make one stop was literally tens of thousands of dollars."
The cost to fly a Boeing 757 is about $15,000 to $18,000 per hour, according to CNN aviation analyst David Soucie.
But that's when the plane can actually fly.
Trump's 757 is nowhere near flight ready, according to an experienced pilot who saw it this week.
The source declined to be identified.
"It's an older engine and parts availability is becoming a challenge so operating costs go up significantly," says Soucie.
"Most airlines are retiring the 757 since more cost-effective models are now available."
Due to the COVID-19 pandemic and the backlash off the Jan. 6 Capitol building insurrection/riot, T-Rump's business bullshit is facing hard-crunch money-flow problems — plus, above all that, the brand name sucks.
Accordingly last week, Bloomberg News in a detailed report estimated that T-Rump's net worth fell by $700 million since February 2016 (from $3 billion to $2.3 billion):
Only Trump knows what he's thinking as he contemplates the defeat he denies and teases another run.
When he looks around, much of what he sees will be sad and some will be a total disaster.
Inside his empire is a grab bag of opportunities that no former politician can rival and threats that no tycoon would want.
The Bloomberg exposé also included this wrap-up:
Trump was seven years out of college when he and his family settled federal housing discrimination accusations.
Now he has bigger legal headaches.
Manhattan District Attorney Cyrus Vance is looking at allegations of tax and insurance fraud, among other issues, and in February the Supreme Court let Vance get eight years of Trump's tax returns. New York's attorney general, investigating whether Trump inflated property values to get tax or insurance benefits, is said to be looking at Seven Springs, as well as properties in Chicago, Manhattan and Los Angeles County.
Washington D.C.'s attorney general filed a lawsuit last year against Trump's inauguration committee, alleging it funneled money to his hotel by paying inflated rates.
Trump is also fighting a lawsuit over ACN, a multilevel marketing firm that used Trump as a promoter. Plaintiffs say it was a pyramid scheme, which the company has denied.
Hopefully, in time he'll be hauled into court:
Yes…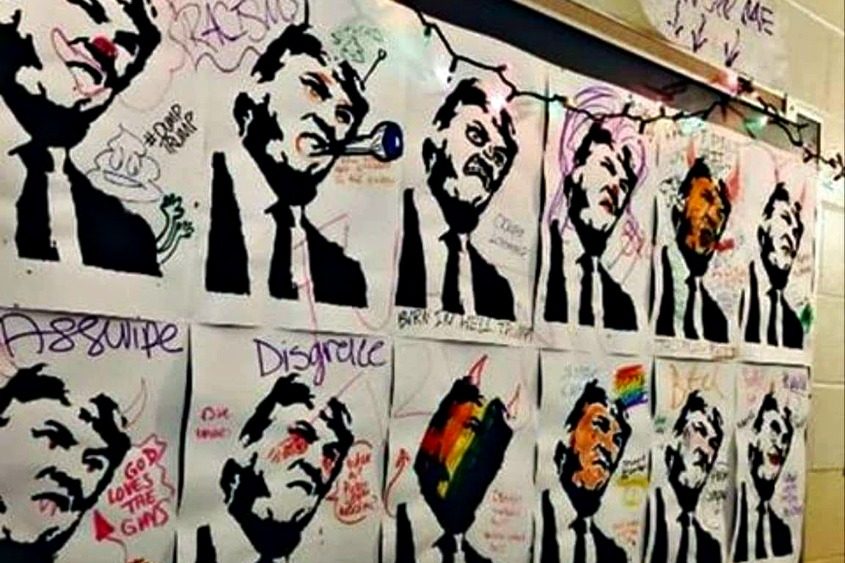 (Illustration is of a New York state high-school student exhibit: 'The piece was displayed during student-driven art show at Shenendehowa High School. It consisted of at least 12 identical black-and-white pictures of Donald Trump. There was also a sign above the pictures that read, "Draw on Me." Using markers from the art classroom, some students opted to scribble critical messages and profanities on the pictures' — and found here).