'Anticlimatic' would be the word to describe my second COVID-19 vaccine shot this morning, an event most even and easy without the fanfare, mental music and hoopla that seemed to cling to my first dose last month.
I was in-and-out of Walgreens here in Merced within just a few minutes, and despite the importance in the virus-scheme of things, was modestly way-undramatic.
The shot of the Pfizer-BioNTech vaccine version was once again near-painless with a tiny sense of a skin prick as the attendent/pharmacist was deft with the needle and the entire affair took less that 10 minutes. And the pharmacist-lady said that yes, in two weeks I can party down if I wanted — here we go!
And Pfizer has developed a nice record of combating COVID and continues to appear an excellent prick — via The Motley Fool earlier this week:
Pfizer's and BioNTech's vaccine has been a phenomenal success story, from the breathtakingly fast development toedness the jaw-dropping efficacy.
And now there's even more good news. Here's why Pfizer's and BioNTech's COVID vaccine could be even better than expected.

Last week, Pfizer and BioNTech announced updated results from their late-stage study that served as the basis for winning Emergency Use Authorization (EUA) for BNT162b2.
Probably the most surprising new information from those results was that the vaccine was 100-percent effective in preventing COVID-19 in South Africa, where a coronavirus variant named B.1.351 is running rampant.

Some health experts have expressed concerns that the currently available COVID-19 vaccines might be much less effective against new variants of concern — and especially B.1.351.
Studies conducted in labs found that the Pfizer-BioNTech vaccine, and the COVID-19 vaccine developed by Moderna, produced much lower levels of neutralizing antibodies with the South African variant than they did with the dominant coronavirus strain.
…
Pfizer and BioNTech also reported that BNT162b2 achieved 91.3-percent overall efficacy up to six months after the administration of the second dose.
You might wonder if this should be viewed as bad news, since the vaccine's initially reported overall efficacy was 95-percent. Actually, it's good news.

The companies' first results evaluated efficacy relatively soon after participants in the late-stage study received their second dose. Based on Pfizer's and BioNTech's updated results, it appears that there isn't much degradation of protection against infection several months later.

Perhaps the best news is that BNT162b2 continued to be highly effective at preventing severe disease.
Pfizer and BioNTech reported that the vaccine was 100-percent effective in preventing severe disease based on the U.S. Centers for Disease Control and Prevention definition, and 95.3-percent effective in preventing severe disease based on the U.S. Food and Drug Administration definition.
In the 'partying' concept, at 72 I'm decades beyond that scenario. The big question for me right now is the side effects off the second dose — the first one caused brief chills and a way-tiredness about two hours after the dose, but I was completely fine the next day.
Since it's only been about two hours from my jab this morning, and there's nothing, we'll have to wait and see.
However, I do feel liberated in a sense. Fuck COVID!
And in the mind with the elderly:
Before Times long ago…
Last month, and the dramaturgy:
Onward…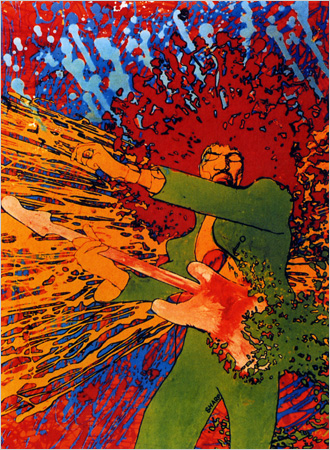 (Illustration found here).