One really-big major problem in securing a handle on the COVID pandemic is asshole Republicans, as way-witnessed this morning in a one-sided debate between slipknot, nit-twit Gym Jordan and Anthony Fauci during testimony at a House Oversight coronavirus subcommittee hearing, and the shit didn't end well.
Jordan is emblematic of the self-ignorant cruelty of Republicans, who don't give a fat-rat's ass about Americans' well being — but Gym did get bounced for his shitty behavior:
Rep. Jordan (R-OH) demands Dr. Fauci give him a date for the end of COVID mitigation measures:

"15 days to slow the spread turned into 1 year of lost liberty."

Fauci says: "I don't look at this as a liberty thing, Congressman Jordan. I look at this as a public health thing." pic.twitter.com/Pgv2mEySeo

— The Recount (@therecount) April 15, 2021
Background/play-by-play via The Hill this afternoon:
During multiple rounds of questioning at a House Oversight coronavirus subcommittee hearing Thursday, Jordan pressed Fauci on the idea of herd immunity, and when Americans can expect to go back to normal.

"When do Americans get their freedom back?" Jordan asked.
"We had 15 days to slow the spread, turned into a year of lost liberties."

Fauci tried to explain that the best course of action is to gradually lift restrictions and return to normality "when we get the level of infection in this country low enough."

Jordan interrupted, and pressed Fauci to "give me a number."

"You're indicating liberty and freedom. I look at it as a public health measure to prevent people from dying and going to hospital," Fauci said, adding that life will return to normal when people get vaccinated.

Jordan later claimed Americans' First Amendment rights have been "trampled" throughout the past year, because of public health restrictions like mask orders, curfews, and capacity limits on businesses.

"We're not talking about liberties, we're talking about a pandemic that has killed 560,000 Americans," Fauci said.

Jordan also claimed people have been censored because they dared to disagree with Fauci.
…
"Are we going to be here two years from now, wearing masks? And I'll be asking Dr. Fauci the same question?"

"You're ranting again," Fauci said.
Of course that's Gym Jordan plot hole. However, Maxine Waters was not putting-up with that ranting shit:
'You need to respect the chair and shut your mouth,' Representative Maxine Waters said to Representative Jim Jordan during a heated House of Representatives COVID-19 hearing with Dr. Anthony Fauci pic.twitter.com/NrMAY4k68A

— Reuters (@Reuters) April 15, 2021
Details on that spat per The Daily Beast:
During a meeting of the House Coronavirus Crisis Subcommittee on Thursday, Rep. Maxine Waters (D-CA) had to intervene in a shouting match between Rep. Jim Jordan (R-OH) and Dr. Anthony Fauci by telling Jordan to "shut your mouth."
Jordan ranted at Fauci for several minutes, demanding the doc provide definite answers on when the pandemic will end, when public health mandates will be lifted, and when Americans will have their "liberties" back.
"You're indicating liberty and freedom. I look at it as a public health measure to prevent people from dying and going to hospital," Fauci said, adding that life will return to normal when people get vaccinated.

When Jordan complained that no one was allowed to criticize Fauci, he shot back: "You're making this a personal thing." Jordan claimed he wasn't but Fauci said, "You are, that's exactly what you're doing."
Jordan kept ranting after his time expired, prompting Waters to yell, "You need to respect the chair and shut your mouth!"
Jordan's home state of Ohio is experiencing a nearly 25 percent surge in new cases, according to The Columbus Dispatch.
Not only in Ohio, but all over the fucking US. Fauci was justy trying to act and perform in a sane manner in the face of some horrible health circumstances which despite a flowing vaccine roll-out that's one of the world's best (Fortune this afternoon):
The good news is many people already have some protection against the virus.
As of April 14, 123.9 million Americans have received at least one dose of a COVID vaccine, according to data from the CDC.
That group, up from 110 million people last week, includes 79.6-percent of individuals over the age of 65, 47.6-percent of people over the age of 18, and 37.3-percent of the total population.
Nearly 76.7 million Americans, or 23.1-percent of the population, have been fully vaccinated.
In total, the country has administered 194.8 million vaccines.
And I noted, notwithstanding the vaccines, COVID just ain't quiting in some places — from The Washington Post this morning:
The coronavirus pandemic in the United States has turned into a patchwork of regional hotspots, with some states hammered by a surge of infections and hospitalizations even as others have seen the crisis begin to ease.
The spring wave of the pandemic has driven hospitalizations above 47,000, the highest since March 4.

Thirty-eight states have reported an increase during the past week in the number of people hospitalized with covid-19, the disease caused by the virus, according to a Washington Post analysis of data provided by the Department of Health and Human Services.
…
Along with Michigan, 32 other states have registered increases in infections in the past two weeks, including all the states along the Great Lakes, from Wisconsin to Pennsylvania.
Minnesota and South Dakota are also up, making the Upper Midwest the major regional center of the spring wave.
If there's a single broad trend, it's that the northern tier of the country is generally faring worse than the southern — for the moment.

Other regional hotspots include Maine and New Hampshire in northern New England; Delaware and Maryland in the Mid-Atlantic; Arizona, Colorado and Nevada in the Mountain West; and Oregon and Washington in the Pacific Northwest.

By contrast, much of the Deep South, with the exception of Florida and Georgia in recent days, has reported sharp decreases.
Since the winter wave ended, numbers in West Texas and the Great Plains have improved.
Along with idiots like Gym Jordan, COVID is like a weird-ass brushfire:
Any attempt to forecast the future of the pandemic has been hampered by unknowns about the virus and the human immune response to it, the unpredictability of human behavior, the successes or failures in persuading people to get vaccinated, and many other crosscurrents that can push infection and hospitalization numbers in opposite directions.
Changing metaphors: Many dials are controlling this situation, manipulated simultaneously, clockwise and counterclockwise.
We continue…'for the moment…'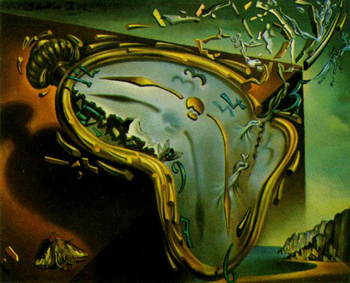 (Illustration: Salvador Dali's 'Soft Watch at the Moment of First Explosion,' found here).