A most-wonderful surpise!
Despite the presented evidence, I wasn't sure if the jury would act in a humane fashion and find the asshole guilty of murdering George Floyd last May. Top-notch, best encapsulation came from the White House where Joe Biden and Kamala Harris watched the unfolding jury return: '"A collective exhale. From everyone … Then the collective recognition that so much more work needs to be done. But overall just a sweeping sense of relief."'
And that same feeling seemed to reverberate all across the country. Meat-lede via The Washington Post:
Former Minneapolis police officer Derek Chauvin has been convicted of second-degree unintentional murder, third-degree murder and second-degree manslaughter in the death of George Floyd on Memorial Day. He was immediately taken into custody after the jury announced its verdicts Tuesday afternoon, and he will be sentenced in the coming weeks.
The story is plastered all across the InterWebs. Bess Levin at Vanity Fair notes: 'Not surprisingly, the reaction was palpable relief, with the phrase "THANK YOU GOD" trending on Twitter' (and then lists a few, including this one):
It's a baby step, but a step nonetheless. Thank you God. pic.twitter.com/1Rw6oviXrn

— Muva ? (@Creatively_La) April 20, 2021
And rejoicing also a wonderful-surprise gyration:
Literal dancing in the streets, Minneapolis pic.twitter.com/A2MK4RLE9C

— Lois Beckett (@loisbeckett) April 20, 2021
And of course, Republicans are now in a twist — yesterday Kevin McCarthy offered-up a resolution censuring Maxine Waters for inciting violence and riots. Piece-of-shit asshole:
NEWS: Here's @GOPLeader's resolution censuring @RepMaxineWaters. It will come up for a vote this afternoon pic.twitter.com/n9NPptffRa

— Punchbowl News (@PunchbowlNews) April 20, 2021
Whole shebang was shot-down this afternoon — per NPR:
By a vote of 216-210, House Democrats defeated a resolution Tuesday brought by House Minority Leader Kevin McCarthy to censure Rep. Maxine Waters over comments that protesters should "get more confrontational" if former Minneapolis police officer Derek Chauvin were to be acquitted in his trial over the killing of George Floyd.
this

The party-line vote came ahead of the jury determining Chauvin is guilty on all counts.

Waters was in Brooklyn Center, Minn., over the weekend at a protest over the killing of another Black man at the hands of police: 20-year-old Daunte Wright.

"We've got to stay on the street and we've got to get more active. We've got to get more confrontational. We've got to make sure that they know we mean business," Waters, a California Democrat, said when asked what the public should do if Chauvin isn't found guilty.
McCarthy and a host of GQPers became enflamed with righteousness and tried to create a fog of idiocy to blanket their hyper-hypocrisy. A shitload of Republicans, including McCarthy, condemned the T-Rump after the Jan.6 insurrection/riot at the US Capitol.
McCarthy on Jan. 13 (Politico): '"The president bears responsibility for Wednesday's attack on Congress by mob rioters," McCarthy said on the House floor. "He should have immediately denounced the mob when he saw what was unfolding. These facts require immediate action by President Trump."'
A week later, he walked it back: '"I don't believe he provoked it if you listen to what he said at the rally," McCarthy (R-Calif.) told reporters.'
And what's really shitty is Maxine Waters' speech was way-lame compared to what T-Rump blathered about on the day of the insurrection/riot and for days leading up to it — a good review of this shit at Raw Story yesterday with a deep sampling of GQPer with their undies in a twist, yet: 'The list goes on. But with each overheated response raging at Waters' words, Republican hypocrisy has become more exposed as to their definition of riot incitement.'
Of course, along with the hypocrisy, is also the lack of knowledge/understanding in the rudimentary principles of irony:
Mace: D.C. wouldn't even qualify as a singular congressional district.. pic.twitter.com/xF0YhrNdRc

— Acyn (@Acyn) April 20, 2021
Shit on stink — a noted affect/effect of the posturing via the Guardian's live blog this morning:
Republicans have consistently criticized the idea of DC statehood, and they are expected to vote against the bill when the House takes it up on Thursday.

Congresswoman Nancy Mace, a Republican of South Carolina, noted at a press conference that DC would not qualify to be its own congressional district if it were part of a state.

"DC wouldn't even qualify as a singular congressional district, and here they are, they want the power and the authority of being an entire state in the United States," Mace said.

Many reporters noted the irony that congresswoman Liz Cheney was standing directly behind Mace.
Cheney's home state of Wyoming has about 150,000 fewer residents than DC, and it has been a US state since 1890.
Don't look, don't let it bother you — nitwits all:
Yet scary in their moronic ways…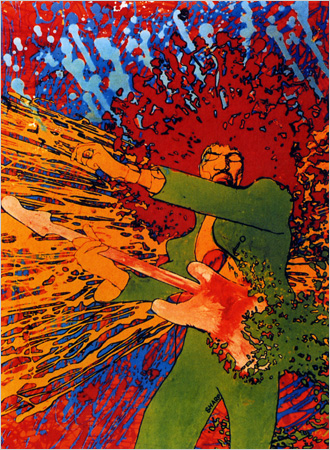 (Illustration found here).