Once again the floating skirt-tails of the T-Rump saga darkened another dim-bulb in the continuing tale of crime, corruption, and crass behavior —  New York federal agents executed a search warrant this morning at the home and office of muckraker extraordinaire, Rudy Giuliani, as the noose tightens on high misdeeds and low intelligence.
Rudy is canoodled:
What's on Rudy's laptop?

— Molly Jong-Fast? (@MollyJongFast) April 28, 2021
And the whole affair is beyond way-unusual:
"Executing a search warrant is an extraordinary move for prosecutors to take against a lawyer, let alone a lawyer for a former president, and it marks a major turning point in the long-running investigation into Mr. Giuliani." https://t.co/mJl7HeQSUL

— Kyle Griffin (@kylegriffin1) April 28, 2021
Details via The New York Times this afternoon:
Federal investigators in Manhattan executed search warrants early Wednesday at the home and office of Rudolph W. Giuliani, the former New York City mayor who became President Donald J. Trump's personal lawyer, stepping up a criminal investigation into Mr. Giuliani's dealings in Ukraine, three people with knowledge of the investigation said.

The investigators seized Mr. Giuliani's electronic devices and searched his Madison Avenue apartment and his Park Avenue office at about 6 a.m., two of the people said.

The execution of search warrants is an extraordinary action for prosecutors to take against a lawyer, let alone a lawyer for a former president.
It was a major development in the long-running investigation into Mr. Giuliani and a remarkable moment in his long arc as a public figure.
…
Mr. Giuliani's lawyer, Robert J. Costello, called the searches unnecessary because his client had offered to answer prosecutors's questions, except those regarding Mr. Giuliani's privileged communications with the former president.

"What they did today was legal thuggery," Mr. Costello said.
"Why would you do this to anyone, let alone someone who was the associate attorney general, United States attorney, the mayor of New York City and the personal lawyer to the 45th president of the United States."

F.B.I. agents on Wednesday morning also executed a search warrant at the Washington-area home of Victoria Toensing, a lawyer close to Mr. Giuliani who had dealings with Ukrainians involved in the effort to find damaging information about the Bidens, according to people with knowledge of that search.
Ms. Toensing has represented Dmitry Firtash, a Ukrainian oligarch under indictment in the United States whose help Mr. Giuliani sought.
…
While the warrants are not an explicit accusation of wrongdoing against Mr. Giuliani, their execution shows that the investigation has entered an aggressive new phase.
To obtain a search warrant, investigators must persuade a judge they have sufficient reason to believe that a crime was committed and that the search would turn up evidence of the crime.
…
Wednesday was not the first time that a personal lawyer for Mr. Trump was the subject of multiple search warrants.
In 2018, the F.B.I. searched the offices of Mr. Trump's previous personal lawyer, Michael D. Cohen, who later pleaded guilty to campaign finance and financial crimes.
Mr. Trump called that raid a "disgraceful situation" and an "attack on our country in a true sense."
T-Rump actually saying/lying about 'true sense?"
And Bess Levin at Vanity Fair, also this afternoon, created the best synopsis/summary of the Rancid-Rudy Report:
In his 76 years on earth, Rudy Giuliani has had a lot of really bad days.
There was the day he parted ways with his law firm after suggesting on TV that he regularly took it upon himself to pay off porn stars his clients had slept with.
There was the day he showed up in a scene from Borat Subsequent Moviefilm: Delivery of Prodigious Bribe to American Regime for Make Benefit Once Glorious Nation of Kazakhstan with his hands down his pants.
There was the day his hair dye malfunctioned in the middle of a press conference.
There was the day he apparently mistook Four Seasons Total Landscaping, the one next to the sex toy shop, for the actual Four Seasons.
There was the day he discovered that he'd been screwing his second cousin for 14 years.

All of these days were really bad!
Yet it appears they were just a prelude to the actual worst day of Rudy Giuliani's life, which arguably happened today, when the feds raided his home and office as part of a criminal investigation.
Yet the T-Rump has always croaked he will '"…surround myself only with the best and most serious people" — adding: "We want top-of-the-line professionals."'
What further can we say?
Except sweat of a nasty, stuck-runt Rudy:
"I can't give you an opinion on that … frustration … censured press…"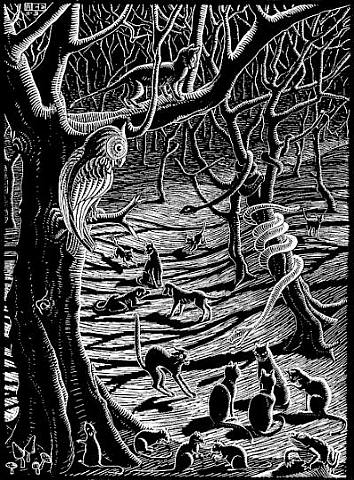 (Illustration: M.C Escher's 'Scholastica,' found here)