Although I wrote this morning on the lop-sided power of a minority Republican party to wield such chaos-causing power on American society, there is, however, apparently some chinks in the T-Rump armor, from Liz Cheney's turbulent blasts, to the feds breathing down the orange-turd's legal neck, with the peace in the MAGA world really a sham.
It's only been 100-plus days since he whimpered out of office, and the T-Rump hasn't done much other than lie and then tell more lies about the election, whine on why he's not known as 'father of the (COVID) vaccine,' and generally act the sad-sack loser he's been his whole life.
In reality, he's been taunted and laughed at due to his baby-like ways, and how ludicrous, non-sensical the fealty of his followers — in that regard, the most preposterous, inane quote I've seen yet: '"I think I speak for many people in that Trump has never actually been wrong, and so we've learned to trust when he says something, that he's not just going to spew something out there that's wrong and not verified."'
Beyond the measure of any type imagination — totally bonkers. Also wacky this clip created to rouse the sad-sack T-Rump into maybe busting a gut:
Punchbowl News: The Lincoln Project is putting up this ad, seeking to tweak Trump over losing to the "swamp" and Mitch McConnell.

This is running today on Fox and Fox Business in Palm Beach. It's just an $18,770 buy in that market. pic.twitter.com/5Cf7ksLozC

— Kyle Griffin (@kylegriffin1) May 3, 2021
Details via The Hill this morning:
The Lincoln Project is taunting former President Trump in a new attack ad, saying the former president got "played" by the Republican establishment in Washington, D.C.

"The swamp won, Donald," a narrator says as the ad opens with clips of snapping turtles, alligators and other swamp-dwelling animals pouncing on unsuspecting prey.

"Mitch McConnell's Washington consultants are making big money using your name," it continues. "We don't know if Mitch gets a cut. But what do you think, Donald?"

The video then shows a clip of McConnell (R-Ky.), the Senate minority leader, pledging support for Trump at last year's Republican National Convention and calling the former president "my friend Donald Trump."

"You're getting played," the ad says.
"He's picking candidates loyal to him. They brought you a little bowl to hold in your little hands, and you fell for it."

The "little bowl" dig is a reference to the National Republican Senatorial Committee's (NRSC) inaugural Champion for Freedom Award.
The NRSC's chair, Sen. Rick Scott, (R-Fla.) traveled to Trump's Mar-a-Lago resort in Florida earlier this year to deliver the award to Trump.
…
The Lincoln Project in its new ad tells Trump Republicans are "laughing at you, all the way to the bank."

"Maybe you shouldn't run again," the ad concludes.
"Maybe the power Mitch McConnell has over the GOP is just too strong. Maybe what McConnell and the rest of Washington is saying is true: that Trump is done."
After all these years, T-Rump just might be a scaredy cat because he worries the law might be finally coming after him. The noose might be tightening — we can only hope.
Bess Levin this morning at Vanity Fair took a close look at the grappling legalities:
If you haven't been keeping up with the legal affairs of Donald Trump of late, what you should know is that the guy is very likely f–ked. With the ex-president facing no fewer than 29 lawsuits and three criminal investigations, his tax returns are currently in the hands of Manhattan district attorney Cyrus Vance Jr., whose team is also working to flip the Trump Organization employee who knows where all the bodies are buried and has both (1) cooperated with prosecutors in the past and (2) made some rather interesting comments about the company's legal dealings.
At the same time Rudy Giuliani had his home and office raided by the feds last week, a turn of events that former U.S. attorney Preet Bharara has said is very, very bad news for the NYC mayor turned Trump lawyer/cautionary tale.
All of which reportedly has the rest of the 45th president's inner circle extremely concerned about their own legal exposure.

CNN reports that the raids on Giuliani's Madison Avenue apartment and Park Avenue office have "left allies of the former president feeling uneasy about what could come next," according to sources close to Trump.
"This was a show of force that sent a strong message to a lot of people in Trump's world that other things may be coming down the pipeline," one adviser told CNN. According to that person, the seizing of Giuliani's electronic devices has "ignited a sense of fear" inside Trump's orbit "that Justice Department officials may be more willing to pursue investigations of the 45th president or his inner circle than many Trump allies had previously believed."
The same person opined to CNN that they couldn't believe "you would need to send seven FBI agents to go and collect a cell phone and laptop," calling the raid "overkill."
…
And speaking of Trump's inner circle, last week his former "fixer," Michael Cohen, claimed that Giuliani would ultimately turn on Trump to save himself. And not just Trump, but the entire family.
"There's no doubt that [Giuliani is] nervous…. And it's rightfully so that he's nervous, because he knows the power of the SDNY is unlimited, and they use that power," Cohen said.
Noting that Giuliani presumably "has no interest in going to prison and spending the golden years of his life behind bars," Cohen said, "Do I think Rudy will give up Donald in a heartbeat? Absolutely. He certainly doesn't want to follow my path down into a 36-month sentence."
He added: "What's ironic here is the fact that these tactics of the Southern District of New York, in terms of bullying you into a plea deal, were created by Rudy Giuliani going back 30 years ago. And it's just ironic that the tactics that he created for that office are now going to be employed against him, in terms of making him plead guilty and, certainly, at the least, turning over information about Jared, Ivanka, about Don Jr., about Donald himself, about all of these individuals in that garbage can orbit of Donald Trump."
A person close to the 45th president concurred that Giuliani would end up cooperating with prosecutors, telling CNN: "Even the most loyal people have their breaking point," adding that Giuliani flipping "wouldn't shock me at all."
And it couldn't happen to a more asshole of a bunch:
Touché…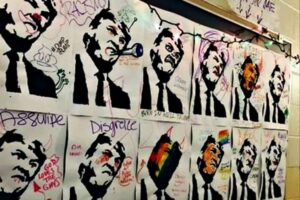 (Illustration is of a New York state high-school student exhibit: 'The piece was displayed during student-driven art show at Shenendehowa High School. It consisted of at least 12 identical black-and-white pictures of Donald Trump. There was also a sign above the pictures that read, "Draw on Me." Using markers from the art classroom, some students opted to scribble critical messages and profanities on the pictures' — and found here).