In seemingly a preview to the near future, Joe Biden in aviator shades and cracking wise, test drove an electric truck today during a visit to a Ford plant in Michigan — net-zero emissions the key also today in a landmark climate report making it clear fossil fuels have no place in humans surviving climate change:
President Biden had the opportunity to test drive the new Ford F-150 Lightning — the electric vehicle Ford is manufacturing at a plant in Dearborn, Michigan.

"This sucker's quick," said Biden, donning aviator sunglasses, from the driver's seat. https://t.co/P5jyWDBPw6

— CNN (@CNN) May 18, 2021
Although Biden made no pitch about climate change, electric vehicles are required to lessen the devastating impacts of a way-warming planet — per CNN:
Biden made an unscheduled visit to a Ford driving course at which safety tests are normally conducted, and had the opportunity to test drive the new Ford F-150 Lightning — the electric vehicle Ford is manufacturing at a plant in Dearborn, Michigan.
"This sucker's quick," said Biden, donning aviator sunglasses, from the driver's seat after pulling the truck up to reporters and photographers.
…
Biden declined to respond to a question about Israel, a topic that loomed over the Tuesday trip to Dearborn, which has one of the largest Arab American populations in the country.
Over the weekend and into this week, protests have taken place in the city outside Detroit in support of Palestinians in Gaza amid ongoing violence in the Middle East between Hamas and Israel.
When a reporter asked if they could ask about Israel, Biden responded, "No, you can't, not unless you get in front of the car as I step on it. I'm only teasing."
The joke elicited a couple laughs from the press corps but largely fell flat.
Then he floored it across the driving course.
Nor real funny, Joe.
Beyond the humanitarian-horror in Gaza, the electric-truck sideshow is a viable display of the need for alternative energy sources if the world expects to survive into the next century, or even earlier. The climate crisis, despite some far-flung notices, has no set pattern or schedule and works on its own as the planet warms more and more. Green energy is the pivot, but most-likely not obtainable due to people being shitty.
Today, the International Energy Agency (IEA) issued a 227-page report that emphasized that although CO2 emissions can be brought under control, it will take a Herculean worldwide effort. And way-quickly.
Some details via Scientific American this afternoon:
Dramatic action is required in the next decade to have any hope achieving a net-zero goal by 2050, IEA said. Where electric vehicles now account for 5-percent of global automobile sales, they will need to represent 60-percent of new automobile purchases in 2030.
Annual renewable installations, which hit a record 280 gigawatts last year, will need to exceed 1,000 GW. And energy efficiency improvements will need to grow by 4-percent annually, roughly three times their current rate.

Those developments will need to be complemented by massive investments in technologies such as carbon capture, hydrogen electrolyzers and bioenergy.
These will be needed to clean up hard-to-green sectors of the economy post 2030, the agency said.

"The scale and speed of the efforts demanded by this critical and formidable goal — our best chance of tackling climate change and limiting global warming to 1.5° C — make this perhaps the greatest challenge humankind has ever faced," IEA Executive Director Fatih Birol said in a statement.

IEA's findings are significant on several levels. Net-zero road maps are traditionally the provenance of academics, International Panel on Climate Change modelers and green-hued think tanks.
The IEA, an agency established in response to the oil crisis of 1973 and 1974, has long been pilloried by greens for failing to accurately capture the growth of renewables and for a hesitant embrace of the energy transition.

In that sense, today's report represents an endorsement from the energy establishment, giving industry credence to the idea it is possible to essentially eliminate emissions from the world's energy system in the next three decades.

"IEA analysis has been used to prop up the fossil fuel system," said Kingsmill Bond, an energy strategist at Carbon Tracker, a London-based think tank that studies the financial impact of climate change.
"The fact the IEA specifically has come out with this analysis suggesting that change is possible is extremely significant."
Problems:
Possible is not the same thing as easy, however. For instance, IEA projects sales of traditional gasoline-and diesel-powered cars will need to cease by 2035, and that coal plants without carbon capture will need to close by 2040.
Eighty-five percent of all homes will have to be zero carbon by 2050, with electric heat pumps supplying around half of heating demand.

Greening the industrial sector may be even harder.

IEA estimates the world will need to install 10 industrial plants with carbon capture, three plants fueled by hydrogen and 2 GW of hydrogen electrolysis capacity — that is, facilities capable of producing hydrogen with clean electricity—every month between 2030 and 2050.
By comparison, China built an average of 12 industrial facilities a month between 2000 and 2015, the agency noted.

"The report makes it clear that the window to get to net-zero emissions by 2050 is narrow, but — and this important — still achievable," said Costa Samaras, a professor who studies energy systems at Carnegie Mellon University.
"What the IEA is telling us here: In order to achieve our climate goals we need to deploy, deploy, deploy."
Hopefully, not infamous last words, but an ambition (Reuters): '"This is an incredibly exciting study that indicates a direction of hope," said Francesco Starace, chief executive at Rome-based Enel (ENEI.MI), the world's biggest privately owned renewable energy group.'
Onward…drama in the cold instead of hot; nutty science, but great special effects::
What…?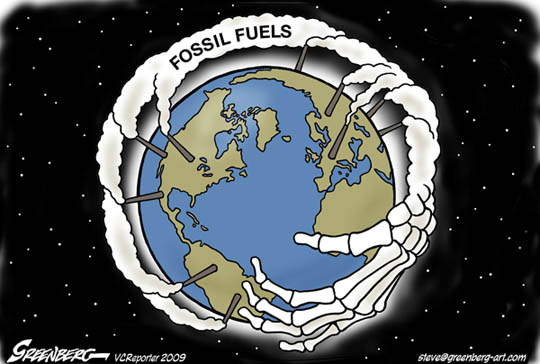 (Illustration found here).