Yesterday, Kevin McCarthy one more time exhibited why he's such a doofus-douchebag (h/t tweet Susie):
It's a cover-up.

Reporter: "Are you absolutely certain that none of your members were in any communication with any of the people who stormed Capitol Hill?"@GOPLeader: *Exits* pic.twitter.com/4OMX6ofugU

— The Lincoln Project (@ProjectLincoln) May 20, 2021
McCarthy and Republicans have dug themselves into a deep well of lies and bullshit with the only action for a shitload of questions is a hasty exit, stage right — viaYahoo News yesterday:
House Minority Leader Kevin McCarthy refused to answer questions about whether or not Republican lawmakers had contact with Capitol riot participants prior or during the attack.

During a press conference, Mr McCarthy was asked by a reporter if any Republican lawmakers had been in contact with any of the rioters. The House Minority Leader refused to answer.

"Thank you for the question," he said as he turned to leave.
"Have a nice day."

During the press briefing, Mr McCarthy took other questions regarding the passage of a motion in the House to establish a commission to investigate the 6 January attack. The Democratic-led House passed the motion with a vote of 252-175.

The move has been opposed by Mr McCarthy, Senate Minority Leader Mitch McConnell and former President Donald Trump.

However, Mr McCarthy said he would be willing to testify about his discussions with Mr Trump regarding 6 January if he were asked by the commission.

"Sure," he said, offering no other comment.
And as a doofus:
One reporter asked if Republicans voting against the measure was a conflict of interest, as some may be implicated as influencing factors for the insurrection, such as lawmakers who parroted Mr Trump's lies that election fraud cost him the election.

Mr McCarthy seemed frustrated at the question and dismissed the concerns that there was a conflict of interest.

"No, because who knows what they're going to do on the commission," Mr McCarthy said.
"So, no, I don't think so."
Asshole can't put together words to melt away any sign of major guilt regarding the insurrection/riot at the US Capitol. And about those 'discussions' with the T-Rump about/on Jan/ 6?
McCarthy is most likely scared shitless on any prospect about testifying under oath regarding a specific telephone call with the T-Rump while the attack was ongoing. The 'discussion' those two clowns had has become pretty-well known since then, though, it's fallen into the cracks of denial.
In February, this from CNN:
In an expletive-laced phone call with House Republican leader Kevin McCarthy while the US Capitol was under attack, then-President Donald Trump said the rioters cared more about the election results than McCarthy did.

"Well, Kevin, I guess these people are more upset about the election than you are," Trump said, according to lawmakers who were briefed on the call afterward by McCarthy.
McCarthy insisted that the rioters were Trump's supporters and begged Trump to call them off.
Trump's comment set off what Republican lawmakers familiar with the call described as a shouting match between the two men. A furious McCarthy told the then-President the rioters were breaking into his office through the windows, and asked Trump, "Who the f–k do you think you are talking to?" according to a Republican lawmaker familiar with the call.

The newly revealed details of the call, described to CNN by multiple Republicans briefed on it, provide critical insight into the President's state of mind as rioters were overrunning the Capitol. The existence of the call and some of its details were first reported by Punchbowl News and discussed publicly by McCarthy.
The Republican members of Congress said the exchange showed Trump had no intention of calling off the rioters even as lawmakers were pleading with him to intervene. Several said it amounted to a dereliction of his presidential duty.

"He is not a blameless observer. He was rooting for them," a Republican member of Congress said.
"On January 13, Kevin McCarthy said on the floor of the House that the President bears responsibility and he does."

Speaking to the President from inside the besieged Capitol, McCarthy pressed Trump to call off his supporters and engaged in a heated disagreement about who comprised the crowd. Trump's comment about the would-be insurrectionists caring more about the election results than McCarthy did was first mentioned by Rep. Jaime Herrera Beutler, a Republican from Washington state, in a town hall earlier this week, and was confirmed to CNN by Herrera Beutler and other Republicans briefed on the conversation.

"You have to look at what he did during the insurrection to confirm where his mind was at," Herrera Beutler, one of 10 House Republicans who voted last month to impeach Trump, told CNN.
"That line right there demonstrates to me that either he didn't care, which is impeachable, because you cannot allow an attack on your soil, or he wanted it to happen and was OK with it, which makes me so angry."
"We should never stand for that, for any reason, under any party flag," she added, voicing her extreme frustration.
"I'm trying really hard not to say the F-word."
I'll say it for you — Fuck!
Of course, these assholes believe they can skip. We'll have to wait and see.
And there's this from last week:
A few days before Jan 6, our GOP members had a conference call. I told Kevin that his words and our party's actions would lead to violence on January 6th. Kevin dismissively responded with "ok Adam, operator next question." And we got violence.

— Adam Kinzinger (@AdamKinzinger) May 10, 2021
No wonder the GQPers way-don't want any type 9/11-type commission.
They're up to their eyeballs in shit.
Remember, once again, these aren't very bright guys:
And not only follow the money, but also that long, nasty trail of lies…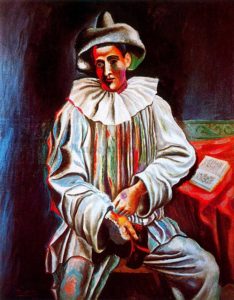 (Illustration: Pablo Picasso's 'Seated Pierrot,' found here).