Once again today the continued aftermath-horror of an insane plague infecting our country — California Gov. Gavin Newsom earlier in the afternoon:
"It begs the damn question, what the hell is going on in the United States of America? What the hell is wrong with us? When are we going to come to grips with this? … When are we going to put down our arms — literally and figuratively — our politics, stale rhetoric, finger-pointing, all the hand-wringing and consternation that produces nothing except more fury and frustration, more scenes like this, repeated over and over and over again.
"I say that, not as a governor. I just say that as a father of four."
Newsom was responding to this:
The latest on the San Jose VTA mass shooting:

– Nine people are confirmed dead, including the shooter.
– Two male victims taken to Valley Medical Center. One was dead on arrival.
– Family, friends of VTA workers can call 408-299-2311https://t.co/5Q3yMMeesM

— Mercury News (@mercnews) May 26, 2021
This latest gun-play/mass shooting/mass murder happened in sort of my backyard — about two hours away from my location in California's Central Valley — details of the incident via The Mercury News late this afternoon:
In one of the Bay Area's worst mass shootings, a Valley Transportation Authority employee known for nursing grievances and a hot temper opened fire early Wednesday morning at a VTA light rail yard building, killing eight people and wounding others before taking his own life, authorities said.

Rochelle Hawkins, a VTA mechanic, said when she heard shots she dropped her phone.

"I was running so fast, I just ran for my life," she said.
"I would hope everyone would just pray for the VTA family. Just pray for us."

The gunman was identified by multiple sources as Samuel Cassidy, a 57-year-old VTA maintenance worker.
Authorities would not say what might have led to the rampage, what type of weapon was used or whether he obtained it legally.
…
Workers said they were told not to talk to news reporters, but one worker said he was shaken to the core.

"The whole crew is gone, the whole shift is gone," the worker, who didn't want to be identified, said. "It's horrible."

Another VTA worker who didn't want to be identified said that a woman had just learned her son was one of the fatalities.

"I just witnessed someone's mom who just found out her son died," the VTA worker said.
"It was ugly."
Go read the whole news feature for more particulars, it's not a happy story. This is just the latest in a years-long wave of shootings in a country where gun-toting is way-tolerated, and in some places nearly worshipped — about a third of Americans say they own a gun, and despite that, according to Pew Research, 48-percent see gun violence as a very big problem right now.
And the fuel to the fire — there's about 121 firearms in circulation for every 100 US residents, making us the most heavily-armed society in the world. Fun facts.
Depressing the plot-line as apparently there's a difference between a 'mass shooting' and a 'mass murder' — so far this year (including today's San Jose incident), there have been 232 mass shootings, described as an event where four or more people are injured or killed, not including the shooter; and 15 mass murders, defined as four or more people killed. (In 2020, 600 mass shootings, up from 417 in 2019).
Stats from The New York Times this evening, which included this note:
Whatever the definition, it is a persistent American problem. Some mass shootings remain unforgettable to the broader public because of the number of people killed, the attackers' motivations, the apparent randomness or other factors — cases that often become known by a single place name like Columbine, Newtown or Parkland.
But there have been many other mass killings that never receive the same level of attention.
And it apparently won't ever stop, or even slow down with the deadly list xpanding daily, especialy on the weekends — CNN from Monday:
A series of mass shootings over the weekend left at least 11 people dead and another 69 injured.

There were at least 12 mass shootings between Friday night and Sunday, according to CNN reporting and an analysis of data from the Gun Violence Archive (GVA), local media and police reports.
The shootings took place across eight states — Illinois, New Jersey, Ohio, Indiana, South Carolina, Virginia, Texas and Minnesota.
CNN defines a mass shooting as an incident with four or more people killed or wounded by gunfire — excluding the shooter.
So far this year, more than 7,500 people have died from gun violence across the US, according to the GVA.
There's also been a 23-percent uptick in deaths from gun violence this year, the archive said.
The weekend before this last one — May 15/16  — there were nine mass shottings, seven dead. The weekend before that — May 8/9 — just six shootings, 12 dead, though, seven were killed at just one incident (birthday party at a trailer park in Colorado Springs, Colorado), and 12 again the first weekend of this month — May 1/2 — with 10 dead.
The big terror is most-likely nothing will happen — thoughts and prayers from asshole Republicans, and on we go. A pure-shit example from Ted Cruz's office and the hearing today before the Senate Judiciary Committee of Joe Biden's nominee for AFT Director David H. Chipman. Cruz expressed great love for the AR-15, a hugely-dangerous assault rifle:
"Mr. Chipman, a minute ago, Senator Whitehouse asked you if any of your views on guns are out of step with the majority of the American people. They are. The AR-15 is one of, if not the most popular, rifle in America. It's not a machine gun. It's a rifle. Your public position is that you want to ban AR-15s, is that correct?"
In the face of reality (Rolling Stone February 2018):
The AR-15 assault rifle was engineered to create what one of its designers called "maximum wound effect." Its tiny bullets — needle-nosed and weighing less than four grams — travel nearly three times the speed of sound.
As the bullet strikes the body, the payload of kinetic energy rips open a cavity inside the flesh — essentially inert space — which collapses back on itself, destroying inelastic tissue, including nerves, blood vessels and vital organs.
"It's a perfect killing machine," says Dr. Peter Rhee, a leading trauma surgeon and retired captain with 24 years of active-duty service in the Navy.
Cruz and millions like him makes us to not feel so lucky:
"I know whatcha thinkin'…" — No you don't, asshole!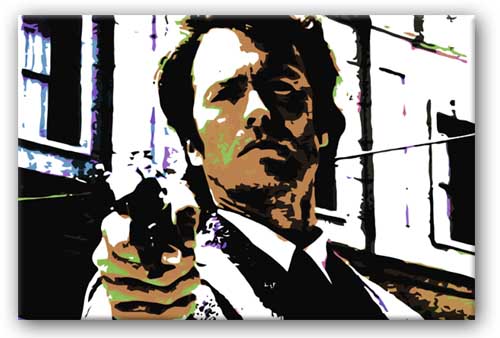 (Illustration out front found here).