In a scenario right out of a horror movie, America is in the throes of a surging onslaught of gun violence as more weapons are made available to anyone with an apparent trigger finger and some mental problems, which by all accounts is quickly becoming a shitload of people.
According to Gun Violence Archive, as of this morning, some numbers — 19,555 Americans have been killed by guns so far this year, all types (we're barely six months in), 8,797 murders, and 10,758 suicides by gun. In that brutal data, 133 children (up to age 11) have been killed, 322 injured — with teenagers (12-17), 547 have been killed, 1,371 injured.
In that way-young child category (USAToday):
Timothy J. Wall had mental health struggles before he walked into a Florida Publix on Thursday and shot a grandmother, her nearly 2-year-old grandson and then himself, authorities and family say.

Maj. Talal Masri with the Palm Beach County Sheriff's Office said Friday that the gunman first shot the child at the Royal Palm Beach grocery store and that the 69-year-old woman then "instinctively jumps in and is trying to stop him." A struggle followed, Masri said.

The office tweeted a timeline of the shooting saying, "because of her brave actions, (Wall's) gun jams. After some struggling, he then ends up shooting the grandmother and then himself.
No motive is yet known, other than those 'mental health struggles,' and an obvious access to a freaking gun.
WTF:
America's gun psychopathy continues. There's been 317 mass shootings (with 4 or more people shot) so far in 2021. At least 107 involved domestic violence or juvenile victims.

The latest – a double murder, double suicide domestic shooting – in Katy, TX: https://t.co/ZJ1gCXkgKP

— MassShootingTracker (@massshootingtrk) June 12, 2021
Just in time for another Florida moment — today the fifth anniversary of the Pulse nightclub shooting in Orlando, where 49 people were killed. Meanwhile, just in the last 24 hours (overnight, really), at least two people were killed and at least 34 more wounded/injured in four mass shootings across the country.
Two of those incidents were in Texas, where Gov Ass-Abbott is about to sign into law a "constitutional carry" bill where people 21 and over can carry handguns — openly or concealed — 'without obtaining a state-issued license, so long they are not excluded from possessing a firearm by another federal or state law.'
Talk about some way-dumbass shit — fuel for an already raging fire.
And on those overight mass shootings — via CNN:
Austin, Tex: At least 13 people were injured early Saturday morning, officials said.
Two were in critical condition, Austin Interim Chief of Police Joseph Chacon said at a news briefing Saturday.
Six people were taken to a hospital by the Austin Police Department, and the Austin-Travis County EMS brought in four others for medical treatment, Chacon said.
Three other victims went to the hospital on their own.

Savannah, Ga: A shooting on Friday killed one person and injured at least eight others, including a 2-year-old and a 13-year-old, police said.
Around 9 p.m., officers responded to the shooting in the Fred Wessels Homes neighborhood, said Bianca Johnson, a public information coordinator with the Savannah Police Department.
"Officers arrived and located multiple victims. At this time, we have a total of nine victims suffering from gunshot wounds as a result of the shooting," Johnson said.
"Of the nine, one of the adult victims is deceased."

Dallas, Tex: Police are investigating a shooting that injured five people Friday, including a 4-year-old girl.
Around 4:45 p.m., police responded to reports of shooting among two groups of people "involved in a disturbance regarding an unknown matter," police said in a website post.
The child was taken to Children's Medical Center and is in stable condition, police said.
The four adult victims, all women, were taken to local hospitals and had injuries that were not life-threatening, police said.

Chicago, Il: Police were looking for two gunmen in a shooting early Saturday that sent 10 people to the hospital, where one woman died.
People were standing on a sidewalk in the city's South Side when two men approached and opened fire, police said.
And those are just the major, national headline-grabbing episodes, no telling right now how many shootings actually happpened in the last day or so.
Again, WTF!
Some backgroud to the craziness per The Wall Street Journal last week:
A string of mass shootings over the past three months as the U.S. re-opened from the pandemic was one of the worst on record, and law-enforcement officials are fearful of more to come.

There were five attacks in which four or more people were killed in public places from March through May, matching the highest three-month total going back to 1966, according to the Violence Project, a mass-shooting database run by two criminology professors.

For almost exactly a year, as Covid gripped the country, there were no shootings that killed four or more people in public places, according to the project.
Then on March 16, a 21-year-old fatally shot eight people at spas in the Atlanta area.
That attack was followed by mass shootings at a Colorado supermarket, a Southern California office building, an Indianapolis FedEx facility, and a San Jose, Calif., railyard.
A total of 39 people were killed.

Law-enforcement officials and threat-assessment professionals say possible factors behind the recent spate of mass shootings include the growth in public gatherings as the Covid-19 threat has eased, the stress of the pandemic on Americans' mental health and record sales of guns last year.

"We've got people that have been sitting around for over a year with nothing but time to plan; all they need is that point that pushes them over toward violence," said Mike Sena, director of the Northern California Regional Intelligence Center, a federal law-enforcement hub that identifies threats in the region and shares information with local law enforcement.
"There's been people that have had a lot of angst, there's a lot of people who've been acquiring a lot of weapons."
Thank-you NRA — assholes!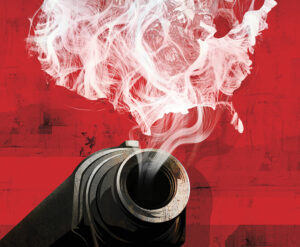 (Illustration out front by Taylor Callery, and found here).