Of course, the over-domineering news story this morning is the Joe Biden/Vladimir Putin meeting at an 18th-century stately home on Switzerland's Lake Geneva, and according to most of the reports I've seen so far, seemed to go off without any kind noticable problem or controversy.
The face-to-face lasted about three hours, and was supposedly to be in two separate meetings, but it turned into one extended get-together, which ended on good account as both seem relaxed and in ease. Apparently, the only hitch was a journalist row prior to the actual talk.
Also before hand, Biden gifted Vlad: 'According to the latest White House press pool report, Biden gave the Russian president "a pair of custom Aviators made by Randolph USA" and a "crystal sculpture of an American Bison."'
Since they'd already not holding any kind of press conference together, Putin went first — he was generous:
"If you ask me what sort of a partner … Biden is, I'd say he's is very constructive," Putin said. "He's very balanced — just the way that I expected. He's very experienced. You can tell that at first glance."

The Russian leader said he and the U.S. president "spoke the same language" and noted Biden's character following their first meeting since Biden's inauguration.

"He talked about his family — calling them," Putin said.
"He talked about what his mom said, you know, these important things … but it shows the extent of his moral values."

"And that's all quite attractive," he added.
And of course, Vlad dodged any questions on Russia's handling of Alexei Navalny by trying to equate that affair with Black Lives Matter protests and January's US Capitol insurrect/riot, but the bluster didn't hold water, despite his language display: "As for who is killing whom or are throwing whom in jail, people came to the U.S. Congress with political demands," Putin said. "Over 400 people had criminal charges placed on them. They face prison sentences of up to 28, maybe even 25 years. They're being called domestic terrorists."
Not too long after, Biden took the podium for his press conference, and he, too, really didn't have any forceful words for the event: Biden described the tone of the summit as "positive." He added, "I did what I came to do."
Although Biden did say Putin's analogy of Navalny and MAGA crazies at the Capitol was way-off the mark: "I think that's a ridiculous comparison."
And he also skirted the Putin doesn't have a 'soul' query:
Biden smiles, puts on his aviators, and responds "thank you very much" after being asked about his infamous Putin/eyes/soul comment and if he has a better understanding of the Russian pres. after today pic.twitter.com/xYfYT1oH2P

— Christian Datoc (@TocRadio) June 16, 2021
Anyway, the Biden/Putin meeting seemed anti-climactic a bit, without the flourish of the idiotic Trump days. I've looked around for any analyss of the get-together, but yet there's none — yet if you want more, Aaron Rupar has a good Twitter thread, and live updates at CNN, the Guardian, and The Washington Post.
Yet there was a hardscabble moment as maybe an offshoot in the looming sense of journalism in heat, an exhange between Biden and a reporter — via John Amato at Crooks&Liars:
As President Biden wrapped up his press conference in Geneva after meeting with Putin, CNN's Kaitlan Collins tried to put words in the president's mouth, which POTUS did not let go without a response.

"Why are you so confident he'll change his behavior Mr. President?" Collins asked.

"I'm not confident he's gonna change behavior!" Biden retorted. "What in the hell, What you do all the time?"
"When did I say I was confident?"

"You said in six months you would be able to determine that," Collins replied.

"What I said was — Let's get it straight, I said was, I said what will change their behavior is if the rest of the world reacts to them and diminishes their standing in the world," Biden clarified. "I'm not confident of anything. I'm just stating a fact."

Collins pressed on: "But given his past behavior has not changed and in that press conference after sitting down with you for several hours, he denied any involvement in cyber attacks, he downplayed human rights abuses, he refused to say Alexei Navalny's name. So how does that add up to a constructive meeting as president?"

Biden snapped, "If you don't understand that you're in the wrong business…"

President Biden never said he was confident that Putin would ever change his behavior, but only that Russia's actions will determine how America and their partners respond.
And snap — maybe Collins was still hyper over the weird-ass melee among reporters covering the event, guards and staff and just a general bad-ass mess before the session even started. Pure disorderly and dumb:.
It was a chaotic scrum with reporters shouting over each other. @POTUS was very clearly not responding to any one question, but nodding in acknowledgment to the press generally. He said just two days ago in his presser: "verify, then trust." https://t.co/5C9gP4XTtO

— Kate Bedingfield (@WHCommsDir) June 16, 2021
Anita Kunar of Politico issued a pool report on the weird-ass shit earlier this morning:
The media scuffle was the most chaotic your pooler has seen at a presidential event in nine years. Journalists pushed and shoved, yelling at each other to move but no one did.
After just a minute or two, Russian security pulled the red rope separating the media from the leaders back to try to keep them away from the presidents. Russian security yelled at journalists to get out and began pushing journalists.
Journalists and White House officials screamed back that the Russian security should stop touching us.
Your pooler was pushed multiple times, nearly to the ground, as many poolers tripped over the red rope, which was now almost to the ground.

Both presidents watched and listened to the media scuffle in front of them.
They appeared amused by the scene. At one point, Biden leaned over and spoke to the interpreter and smiled.
Odd — so close and seemingly nonchalant in appearance:
Biden and Putin watch the media scuffle pic.twitter.com/8YB69A3Yvc

— Anita Kumar (@anitakumar01) June 16, 2021
Kumar's longer piece at Politico about three hours later — some snips:
A scuffle broke out among U.S. and Russian journalists outside the much-anticipated meeting between President Joe Biden and Russian President Vladimir Putin Wednesday, leading the media to be largely shut out of the summit.

Journalists from both countries rushed to the site of the meeting — the Villa La Grange, an 18th century building located in a park near Lake Geneva — but were stopped by U.S. and Russian security and government officials and told to line up separately and in single file. That didn't happen.

Instead, journalists and officials screamed as a Swiss official kept urging journalists and officials to be quiet. Eventually nine U.S. journalists and an unknown number of Russia journalists were allowed inside the villa's library where Biden and Putin were seated.

The shoving didn't stop. Journalists pushed and yelled at each other to move. After just a minute or two, Russian security pulled the red rope separating the media from the leaders to try to keep the media further away from the leaders. Russian security yelled at journalists to get out of the room and began pushing journalists.

U.S. journalists and White House officials began screaming that the Russian security should stop touching them.
…
A journalist asked Biden if he trusted Putin. Biden looked at her and nodded in the affirmative.

Press Secretary Jen Psaki refuted that Biden was responding to the question.
"During a chaotic free for all with members of the press shouting questions over each other, the President gave a general head nod in the direction of the media. He wasn't responding to any question or anything other than the chaos."
Well, well — another bit of description per NBC News:
On the video of the event, a Russian official can be heard telling the reporter to "go away" and that "it's over." Others can be heard saying "calm down" and "don't push me, stop pushing."

A report from the Russian state-owned media outlet RIA blamed American journalists for blocking the view inside the room with their cameras and accused them of speaking loudly.

After the room was cleared, U.S. reporters were told they would be let back in for a more orderly photo opportunity, which did not materialize.

Meanwhile, Putin and Biden sat silently watching the scene unfold. Biden smiled several times at the press while Putin sat sullenly, mostly looking down.
And 'Putin sat sullenly' — WTF!
Some up-close video:
Once again the source-word, 'chaotic,' and the beat goes on.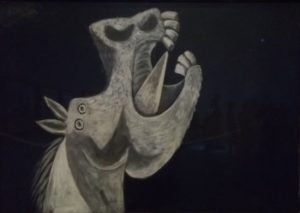 (Illustration out front: Pablo Picasso's 'Agonizing Horse,' found here),