In our continuing struggle against the COVID-19 pandemic — after about a year-and-a-half — we appear in the right-now time-frame/plotline to be in a kind limbo-downer, falling short of a crucial breakpoint in obtaining sny kind of 'herd immunity' and maybe getting-back some small sense of 'normal,' whatever that is nowadays.
Big obstacle is anti-vaxxers making the gap wider, and scarier.
Last week, Joe Biden conceded we're not going to vaccinate 70-percent of American adults by July 4, a goal supposedly by mid-month or maybe sometime doring the summer. A hope.
However, Jeffrey Zients, the head of the White House Covid-19 response team, nailed the cause: '"The reality is, many younger Americans have felt like Covid-19 is not something that impacts them and have been less eager to get the shot." '
Vaccines fucking work:
.
Nearly All U.S. #COVID19 Deaths Now Are Among #Unvaccinated. #VaccineHesitancy and lack of access is still killing nearly 300 people a day in the U.S.https://t.co/3hMxbJv4re

— Trump's Noble Peace Prize (@LaBoomer68) June 25, 2021
There's different reasons, but the science, the facts, the numbes and reality way-indicates the obvious way to beat COVID is with a jab — details from the Associated Press on Thursday:
Nearly all COVID-19 deaths in the U.S. now are in people who weren't vaccinated, a staggering demonstration of how effective the shots have been and an indication that deaths per day — now down to under 300 — could be practically zero if everyone eligible got the vaccine.

An Associated Press analysis of available government data from May shows that "breakthrough" infections in fully vaccinated people accounted for fewer than 1,200 of more than 853,000 COVID-19 hospitalizations.
That's about 0.1-percent.
And only about 150 of the more than 18,000 COVID-19 deaths in May were in fully vaccinated people. That translates to about 0.8-percent, or five deaths per day on average.

The AP analyzed figures provided by the Centers for Disease Control and Prevention. The CDC itself has not estimated what percentage of hospitalizations and deaths are in fully vaccinated people, citing limitations in the data.
…
Earlier this month, Andy Slavitt, a former adviser to the Biden administration on COVID-19, suggested that 98-percent to 99-percent of the Americans dying of the coronavirus are unvaccinated.
And CDC Director Dr. Rochelle Walensky said on Tuesday that the vaccine is so effective that "nearly every death, especially among adults, due to COVID-19, is, at this point, entirely preventable."
She called such deaths "particularly tragic."

Deaths in the U.S. have plummeted from a peak of more than 3,400 day on average in mid-January, one month into the vaccination drive.
About 63% of all vaccine-eligible Americans — those 12 and older — have received at least one dose, and 53-percent are fully vaccinated, according to the CDC.
While vaccine remains scarce in much of the world, the U.S. supply is so abundant and demand has slumped so dramatically that shots sit unused.
And it's the same worldwide even in places where they'd re-opned and near-about eradicated the virus:
Yeah, I think it's important to realize that the vaccine still works extremely well at preventing severe disease and death with the delta variant https://t.co/DutlHgJBnH

— Molly Jong-Fast (@MollyJongFast) June 26, 2021
The only way to get to a level of norm is vaccines — period.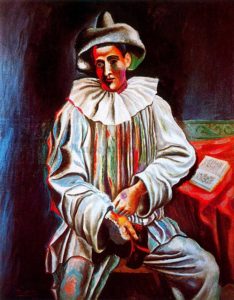 (Illustration: Pablo Picasso's 'Seated Pierrot,' found here).