Despite the obvious: '"There is a clear message that is coming through: This is becoming a pandemic of the unvaccinated," Dr. Rochelle Walensky, the CDC's director, said at a Friday briefing of the White House COVID-19 Response Team. "Our biggest concern is we are going to continue to see preventable cases, hospitalizations and sadly deaths among the unvaccinated."'
No wonder we're most-likely up shit creek without a paddle — half the country is not only dangerously-stupid, but mean-spirited:
There are thousands of folks who think Covid is a hoax or refuse to get vaccinated who get get sick or die from the virus. But no one makes fun or chuckles or "takes delight in the irony" when they do. This is a low point even for someone who help instigate an insurrection https://t.co/lEjcoY499S

— Doug Jones (@DougJones) July 18, 2021
Background/details via Al.com yesterday:
Alabama Senate candidate Mo Brooks took some degree of delight Saturday in the fact that three Democratic Texas lawmakers who had traveled to Washington in a political fight with Republicans tested positive for COVID-19 over the weekend.

Brooks, a Republican congressman from Huntsville, shared his thoughts on Twitter. He suggested the legislators tested positive for the virus as a result of divine "sense of irony & humor" while concluding his tweet with, "Anyone else unable to chuckle?"
…
The Texas Democrats announced the positive tests in a statement Saturday but did not identify which lawmakers had contracted the virus. The statement said all three were fully vaccinated. One tested positive Friday night, the other two on Saturday after taking rapid tests.

The statement from Democrats did not state if the lawmakers did or did not wear masks on their flight to Washington, nor did the report from The Hill. The newspaper said members of the Texas delegation met with Vice President Kamala Harris earlier this week but it's unclear if the lawmakers who tested positive were part of that group.

The Democrats flew to Washington in an effort to stop Republican-supporter voter reform in Texas. The bills could not pass the Texas House of Representatives without Democrats present to make up a quorum. The Democrats went to Washington to push Congress to pass federal voting legislation to fight Republican legislatures across the country instituting changes following the 2020 election cycle.
In what we're dealing with and it's not going away. The death divide now between Democrats and Republicans — no wonder Mo is such an asshole — from The Washington Post earlier this month with results of a Post/ABC News poll displaying the rift — main points:
Calculations compiled by The Post show that about 67-percent of adults had received at least one shot as of late last week, on a path to hit Biden's 70-percent target by late July.
Daily vaccinations have dropped dramatically since their peak of more than 3 million per day earlier this spring, now averaging about 1 million per day.

The poll shows that while there is room for growth in vaccinations, going well beyond the 70-percent target could prove difficult. Nine-percent of those surveyed say they either definitely or probably will get vaccinated at some point in the future.
But nearly 3 in 10 (29-percent) say they are not likely to get vaccinated, including 20-percent saying they will definitely not do so.
The 29-percent who say they are not likely to take a vaccine compares with 24-percent who said that in April.

The differences between Republicans and Democrats on the issue of vaccinations are stark, just as they were about reopening the economy during the worst of the pandemic.
The survey finds that 86-percent of Democrats have received at least one shot of a vaccine, compared with 45-percent of Republicans.
Another 7-percent of Democrats say they are likely to do so, compared with 4 percent of Republicans.

But while 6-percent of Democrats say they aren't likely to get vaccinated, 47-percent of Republicans fall into that camp, with 38-percent of Republicans overall saying they will definitely not get shots against the virus.
Actual poll here.
Deady dumb dim-wits:
There's something bizarre about this dynamic where a Democratic president is trying desperately to save the lives of Republican voters, while Republican electeds make up excuses for why their own voters get Covid. https://t.co/B8bdCOhCTA

— Ian Millhiser (@imillhiser) July 18, 2021
Yet bad for all of us…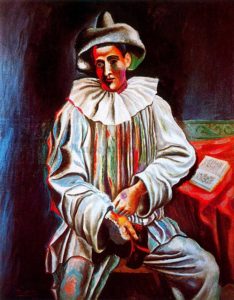 (Illustration out front: Pablo Picasso's 'Seated Pierrot,' found here).