As the workweek comes to an end, there's a whole-lot of 'go fuck yourself,'  'get fucked,'  and 'fuck you' out there — Although Nancy Pelosi used different words on Kevin McCarthy this week, deep-down they meant the same::
I don't want to say this is the best thing I've ever seen but….. https://t.co/GzfXMmPcle

— Molly Jong-Fast (@MollyJongFast) July 23, 2021
"Alright, we'll just go to our next question now…"
And how time flies when you just living — yesterday was the 25th anniversary of "The Daily Show," and the news business wouldn't be the same without its massive influence on the good. Seems just yesterday, July 22, 1996:
25 years. 1 dream team. pic.twitter.com/ZrPHIN0vfn

— The Daily Show (@TheDailyShow) July 22, 2021
The Daily Show was crowned with a high historical assessment at the LA Times yesterday — the Times TV critic, Robert Lloyd, with a look at 25 years:
"It's been 25 years since the "The Daily Show" premiered, a quarter-century ago — a mathematical redundancy that somehow feels appropriate, expressing its year-by-year slog on the one hand and the huge hunk of history that it represents on the other. It has only had three hosts in that time, with the third surely not going anywhere soon. (If Trevor Noah stays in the job as long as Jon Stewart did, he will be announcing his retirement in 2031, around the time Echo Park becomes beachfront property.)

By contrast, the United States is on its fifth president, and uncountable nervous breakdown, since Craig Kilborn came on the air with a show I'm going to guess few people remember well. It was a different world.
In 1996, Netflix did not exist. Amazon was 2 years old and still strictly in the business of destroying independent bookstores. No one was talking about a New Golden Age of Television.
"Macarena" was the No. 1 song and grunge was just about completely dead. Simone Biles was not yet born; Trevor Noah was 12 years old and living in Soweto.
Still to come: impeachment, hanging chads, 9/11, endless war, the complete breakdown of reality, and the COVID-19 pandemic, not to mention the first Black president and the first Black/Asian/female vice president.
(Also: "Veep.")
Facebook was not a thing. Twitter was not a thing. Instagram was not a thing. Climate change was already happening, though."
Further from another Times TV critic, Lorraine Ali, and the 'fake news' ornament:
"Oh, the irony ("Daily Show" fans get it).
Another aspect of the show that differentiates it from a sketch-comedy forerunner like "Saturday Night Live's" "Weekend Update" segment is that there's a sense of activism, or at least of righting some wrongs, in between the jokes and the guest interviews.
Stewart was relentless in questioning the intelligence and motives that got us into the Iraq war, a conflict he referred to as "Mess O'Potamia." He supported and hired veterans of that and the Afghanistan wars.
He spent many a night shining a light on the subprime mortgage nightmare that contributed to the 2008 economic collapse.
And Iran, wow. Just look up "Rosewater."

Noah, who is South African, has continually taken on bigoted politicians and policies around immigration, race and policing. He mopped the floor with race-baiter Tomi Lahren in 2016 and delivered one of the most powerful monologues about the murder of George Floyd and the protests that followed that I can recall from the worst year ever — then he turned around and helped us laugh through a pandemic and a stressful election campaign. Masterful.
On the downside, "The Daily Show" was an early marker in the splintering of American media, when the landscape began to polarize around political beliefs, and Stewart was skilled at mining those divides."
Two-and-a-half decades and what have we gained?
Most-likely up to our necks in dangerous, dumb-ass shit:
Guy who contracted COVID and developed pneumonia says he wouldn't have taken the vaccine even though he became deathly ill.

He says about the vaccine, "don't shove it down my throat".

You mean, like being intubated?

What a fucking dumbass. https://t.co/b6eExCN1nx

— Holly Figueroa O'Reilly (@AynRandPaulRyan) July 22, 2021
Before Times in July 1996, where be ye…?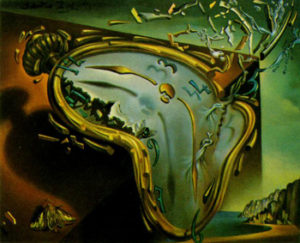 (Illustration out front: Salvador Dali's 'Soft Watch at the Moment of First Explosion,' found here).