Big debate hassle over the use of masks in curbing the spread of the Delta COVID specimen, though, the CDC recommendation vaccinated people again use face coverings is the right call, the main threat to society is not the vaxxed, but the freaking un-vaxxed.
A crowd of pretty-much self-centered assholes — even Geraldo Rivera goes straight at not getting a jab: '"Because it's selfish. If you are unvaccinated and you are going around without being tested, you are an arrogant, selfish SOB."'
And with that CDC advisory last week, Leana Wen, contributing columnist at The Washington Post, noted on Friday what should have been the bottom line for the health-agency guidance (Wen is also is a visiting professor at George Washington University Milken Institute School of Public Health):
That's what the CDC should have announced: We need a return to indoor mask mandates not because the vaccinated are suddenly a problem, but because we don't trust the unvaccinated to voluntarily do the right thing.
It's not a commentary about the effectiveness of the vaccine, or even the trickiness of the delta variant, but rather about the failure of unvaccinated Americans to fulfill their societal obligation to act in the interest of everyone's health.

When the CDC issued its mask guidance two months ago, it got the science right, but the policy and communication wrong.
This has happened again. The Biden administration should make clear that the backsliding of the United States' pandemic progress necessitated the return of indoor masking.
This has happened because of those who choose to remain unvaccinated, and the vaccinated are now paying the price.
Cue Republican whine:
Trump could save lives by encouraging his supporters to get vaccinated https://t.co/GKQRBOzrG0

— Molly Jong-Fast (@MollyJongFast) July 31, 2021
Main point emphasized by The Economist this morning:
Identifying the causes of vaccine hesitancy can help policymakers decide where to target their efforts.
The Economist has collaborated with YouGov, a pollster, to collect weekly surveys on Americans' intent to get vaccinated for covid-19.
Using the demographic profiles of some 24,000 Americans, we have built a statistical model to estimate how likely each respondent is to say they have received, or will get, their jab — and to reveal the biggest causes of hesitancy.

According to our modelling, the single greatest predictor of whether an American has been vaccinated is whether they voted for Joe Biden or Donald Trump last November.
Relative to the profile for the average American — a white, 49-year-old female with some college education who earns a middle-class income, lives in a Midwestern suburb and did not vote in 2020 — the impact of voting for Mr Trump is a 13-percentage-point reduction in vaccine probability.
Holding everything else equal, Mr Biden's supporters were 18 points likelier to get their jabs. Whether someone was a self-proclaimed conservative or liberal ranked second.
No surprise, as that's been known a while: 'A total of 17 of the 18 states that voted for Trump in the 2020 election have the lowest vaccination rates. The exception was Georgia which went for Biden by a very small margin.'
What can you do? Despite some turn-around in vaccinations, House Republicans pitched fits about being 'forced' to wear masks again — just a couple of days before summer recess. Horrifying assholes, all of them.
Yet the science does show how science is viewed by these 'selfish' nit-twits.
New research reveals what we've known/suspected for a long, long time — T-Rumpers are terrible-type people:
A new University of Sydney study assessed people's behaviours and attitudes towards pandemic regulations in Australia, the UK, the US, and Canada.
It found that roughly 10-percent of people were noncompliant.

Those individuals were mostly male, less agreeable (cooperative, considerate), less intellectual as a personality trait (less willing to try new experiences), and more extroverted.

Published in high-ranking journal PLOS ONE, the study also found that these people tended to prioritise freedom and their own self-interest.
They also perceived their social culture as tolerant to variation in values and behavior, with greater tolerance for deviance. Contrary to the stereotype, most of them were not young.
They also tended to engage less with official sources, such as government announcements and news and engaged more in unhealthy coping strategies such as denial and substance abuse.

"Alarmingly, the non-compliant group were more likely than the compliant group to leave their home to meet friends or family, for religious reasons, because they are bored, and to exercise their right to freedom," said lead author, Associate Professor Sabina Kleitman from the University of Sydney School of Psychology.
"This behaviour is a major concern in Australia, especially during the current Sydney lockdown."

She continued: "Our research reveals the need for targeted interventions to enhance COVID-19 regulation compliance, such as observing physical distancing. More targeted approaches might utilise a variety of media outlets, provide education to help people identify misinformation, and target specific false beliefs."
What to do with hardcore idiots?
Terrible, but…What. The. Fuck?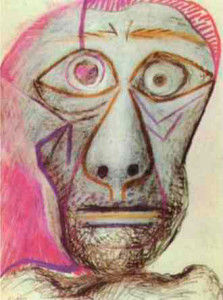 (Illustration out front: Pablo Picasso's 'Self Portrait Facing Death' (June 30, 1972), was originally found here)