In the current stock of things this Monday afternoon — like Greece. Today the CDC put Greece and 15 other countries on a "Level 4: COVID-19 Very High" shit list for Americans to travel due to the surge of the Delta variant, while at the same time, Greece itself is in a weather meltdown.
Climate change is most-likely the biggest concern mankind has ever faced in all of history. The International Federation of Red Cross and Red Crescent societies (IFRC) was correct last November that global warming is a bigger threat than COVID-19 — IFRC Secretary-General Jagan Chapagain noted '"unfortunately there is no vaccine for climate change."'
In Greece, despite a 48-percent vaccination rate, COVID is on a surge, and to top that, the country is undergoing the worst intense-heat wave in more than three decades, temperatures in some places above 113-degrees Fahrenheit.
Deputy Minister of Civil Protection Nikos Hardalias was ardent: '"In July we had 1,584 fires against 953 in 2019 … we are no longer talking about climate change but about a climate threat … We are in a phase of absolute climatic deregulation…"'
Climate change is really not a complicated subject, despite the evidence, both in research and personal experience. Weather can be an eye-opener, but apparently just certain types of weather. A new study seemingly shows the low perception the general public has for climate change — from the Abstract:
Public perceptions of climate change in the United States are deeply rooted in cultural values and political identities. Yet, as the public experiences extreme weather and other climate change-related impacts, their perceptions of the issue may shift.
…
We find that increases in hot dry day exposure significantly increases individuals' perceptions that they have personally experienced global warming. We do not find robust evidence that other precipitation and temperature anomalies have had a similar effect.
…
Overall, we find that exposure to hot dry days, has a modest influence on perceived experience, independent of the political and socio-demographic factors that dominate U.S. climate opinions today.
A 'modest influence' — what the fuck? The horrible, depressing part of this climate change loop is the hardcase-political disregard by most government's momentum toward a climate change fix. Time might be running out (h/t tweet Susie):
The brutal fact is that, since pivotal testimony before Congress on the "greenhouse effect" in 1988, no strategy to pass comprehensive climate policy in the U.S. has been successful. Every "win" activists have managed so far should be put in that context. https://t.co/kuTIMyUy4A

— The New Republic (@newrepublic) July 31, 2021
And politics is old men/women doing 'their' thing — Kate Aronoff at The New Republic a couple of weeks ago appeared to highlight the problem — main point:
Despite global warming being an existential threat, you can count the number of Democratic congresspeople whose top issue is climate change on one hand. The rest rely on an overworked 25-year-old staffer to tell them how to vote on it and what to say in hearings and on television.
If these senators and representatives pay attention at all to the climate crisis outside of those briefings, it's because someone has forced them to, by creating a situation that has made reporters or their constituents ask them about it.
Members of Congress are, by and large, insulated from the effects of extreme weather, shuffling between air conditioned cars, homes, and office buildings. They are busy on hours of call time with donors who in some cases would prefer that they didn't do very much to address the climate crisis at all.

The average age of a House member is 58. The average senator is 62.
Statistically speaking, they will be dead by the time shit really hits the fan in the United States and probably still insulated from its worst effects if they're alive: Over half of members of Congress are millionaires.

The brutal fact is that, since James E. Hansen's pivotal testimony before Congress on the "greenhouse effect" in 1988, no strategy to pass comprehensive climate policy in the U.S. has been successful; every "win" activists have managed to eke out so far should be put in that context.
…
The role of social movements is to make things that look impossible seem possible.
In recent years, the climate left has done just that. There's no guarantee it'll be able to do it again.
Don't look good in this political climate of denial…if the GQP wins back the government next year (except the White House), we be fucked as a species (we probably are, anyway):
Next…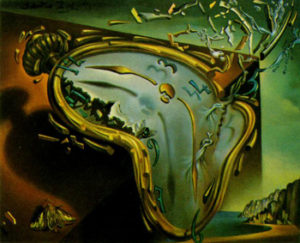 (Illustration out front: Salvador Dali's 'Soft Watch at the Moment of First Explosion,' found here).