One of the more-bizarre and dangerous items on a big-laundry list of shit in the nowadays is the rejection of the obvious in health and science — a pandemic is right-square out in front of the public, and vaccines work. Yet the US — and the world — is currently experiencing a brand-mew COVID surge, but this time with a new title, "pandemic of the unvaccinated," and the horror of blind idiocy.
And fatal idiocy. Prime example of the dumb-ass, terrible so-called stand against reality is with Texas Republican H Scott Apley, who was a longtime, massive anti-science asshole on social media, and probably in-person as a city councilman, but died last week from COVID. The turn-around was way-quick — via The Washington Post last Thursday:
And on Friday, the 45-year-old Dickinson City Council member republished a Facebook post implying that vaccines don't work.

Two days later, Apley was admitted to a Galveston hospital with "pneumonia-like symptoms" and tested positive for coronavirus, according to an online fundraising campaign.
He was sedated and put on a ventilator.
On Wednesday, he died, members of his county's party announced on social media.
Patrick McGinnis, chairman of the Galveston County Republican Party, said in a statement that Apley's death was a "tragedy … magnified by his youth, his young family especially his very young son."

Apley's wife and their son also tested positive for the virus.
Neither had been hospitalized when Apley first went into the emergency room, according to the GoFundMe page.
…
McGinnis, who did not mention that Apley died of coronavirus, remembered his colleague as "an advocate for liberty, limited government and the highest ideal of American Exceptionalism."
See, fatal idiocy, and for his wife and son, too. Hush-hush on cause of death, it's not important, it might save lives, who knows.
And for sure there is someone who doesn't — Rep. Glenn Grothman of Wisconsin:
There's only one side and it's not dying of a preventative disease https://t.co/PtaljGreyE

— Molly Jong-Fast (@MollyJongFast) August 8, 2021
Grothman is a lawyer, and the day H Scott Apley died, he spoke at a town hall about vaccine mandates, especially regarding employment, and other nit-twit bullshit (Newsweek):
"I think, particularly as this vaccine is still experimental, I don't like the idea of forcing people, to keep their job, to do something they are opposed to," Grothman said during the town hall meeting.
…
Grothman also spoke about the lack of information that employers have provided regarding the administering of the COVID-19 vaccine.

"From what I get, the medical community has not done a good enough job of educating their own employees," Grothman said.
"I have to take that into account when I get so many nurses come up to me who, presumably, are familiar with the medical situation saying 'please prevent my employer from forcing me to do this.'"
Not really. Sounds like some of T-Rump's 'many people are saying' bullshit — lying his ass.
And really terrible people are obviously really terrible people:
For some reason the blackout orders of WWII on the east and west coasts of the US come to mind. Millions of Americans happily complied with that burden. But we were a nation then that better understood collective duties and responsibilities. https://t.co/dib76qhcR1

— Dan Murphy (@bungdan) August 8, 2021
Political party before the living — the hammerings of a death cult, but literally as shit. Cut-and-dry the reality. There's a pandemic and vaccines work — via Politico this morning:
Speaking on ABC's "This Week With George Stephanopoulos," NIH Director Francis Collins said, "How did we get here? Why is it a mandate about a vaccine or wearing a mask becomes a statement of your political party? We never should have let that happen. Come on, America, we can separate these. We're incredibly politicized about politics. We don't need to be polarized about a virus that's killing people."

New Covid-19 cases in the United States are now averaging 100,000 in a single day for the first time in months, only weeks after dipping to as low as 11,000 per day.
Deaths and hospitalizations are also on the rise, according to Johns Hopkins University.

Collins stopped short of endorsing mandatory vaccination but made it clear he thought public officials should be pushing for unvaccinated Americans to get their shots.

"We ought to use every public health tool we can when people are dying," he told Stephanopoulos.
"Death rates are starting up again. You just went through the numbers about how many new cases we are seeing. We're in a very steep upswift of that curve. We ought to be thinking of every possible intervention."

Holding up a mask, Collins said Americans needed to think about saving lives first and foremost, particularly with schools set to reopen.
"I would ask that they would think about masks in the way they ought to be thought about. This is not a political statement or an invasion of your liberties. This is a life-saving medical device. Asking kids to wear a mask is uncomfortable, but, you know, kids are pretty resilient," he said.

Collins also spoke directly to vaccine skeptics: "If you're on the fence, get off the fence … Roll up your sleeve."
Francis, don't hold your breath — Repubs got to way-change — not likely…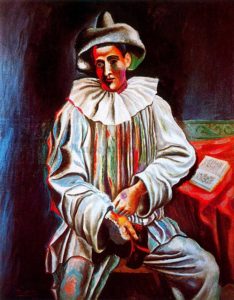 (Illustration out front: Pablo Picasso's 'Seated Pierrot,' found here).