As this Tuesday morning is a nasty news day already — between Afghanistan and COVID the shit's in the fire.
And to somewhat lessen the shit-fall, a post of mystery for all of us living on this planet in a webbed, multi-faceted conundrum of real-time crazy — -Enigma, and "Return to Innocence" of the imagination:
And what if the 'return' is unknown and what will I find there, at that return — Collective Soul and "Shine" the downward light:
None better than Miss Emily Dickinson with 'shine' as a wordsmith: '"I know nothing in the world that has as much power as a word. Sometimes I write one, and I look at it, until it begins to shine."'
And to radiate that mystery of being alive is the 'shine' of a word, as in a poem from Miss Emily — "What Mystery Pervades A Well," and a sense of puzzle:
What mystery pervades a well!
That water lives so far –
A neighbor from another world
Residing in a jar

Whose limit none has ever seen,
But just his lid of glass –
Like looking every time you please
In an abyss's face!

The grass does not appear afraid,
I often wonder he
Can stand so close and look so bold
At what is awe to me.

Related somehow they may be,
The sedge stands near the sea –
Where he is floorless
And does no timidity betray

But nature is a stranger yet:
The ones that cite her most
Have never passed her haunted house,
Nor simplified her ghost.

To pity those that know her not
Is helped by the regret
That those who know her, know her less
The nearer her they get.
Poet Carol Rumens offers an analysis at the Guardian in October 2010 with a dive into the depth of Miss Emily's words and the mystery of a conventional stance:
The further the poem moves into abstraction, the deeper it seems to plunge into a well where words reflect no light.
It admits defeat. And yet, by making deliberate imaginative "mistakes" — like seeing the water as a neighbour who lives in a jar — the speaker surely has presented us with a wonderful replica of her well.
She is not Stephen Hawking, but a Martian, sending postcards to the future. Her bold comparisons and personifications may explain nothing, but they bring us thrillingly close to her sense of awe.
And science has never yet shown us that awe at our surroundings is inappropriate.
Further to stimulate the sense of known unknowns:
Here we be…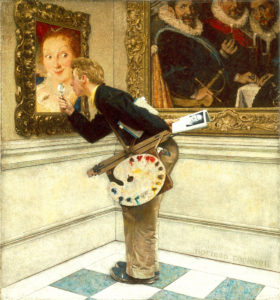 (Illustration out front: 'Art Critic' by Norman Rockwell, found here)