Warm but pleasant this late-afternoon Wednesday here in California's Central Valley — supposedly below normal temperatures the last few days (and felt it, too!), but back to triple-digits by the weekend as summer quickly drags to a close.
Weather nowadays is just weather inside a Twilight Zone episode.
Along with a shitload of other stuff, too — one off-strayed subject matter is the COVID Delta virus and the people who are enhancing its death grip on this country (and the world) with an insane blaster-wall of idiotic bullshit on such simple matters as face masks, and getting a free, near-about-pure-pain-free vaccine shot, a choice in life which hampers getting a handle on this infectious, way-transmittable variant running rampant all over.
Even with a not real-bad 55-percent average vaccination rate statewide, California is still feeling a virus surge in counties where the jabs are down — here in my county. we're below the state rate at 47.4-percent with a risk level of Very High. Although fully vaxxed, I watch my ass by wearing a face mask when out amongst people.
And in getting this unrelenting pandemic behind us, Anthony Fauci said a mouthful on Monday — the US could '"start getting back to a degree of normality"' by spring of 2022, depending on more Americans getting vaccinated.
Yet, with a big But: '"There's no guarantee, because it's up to us."'
Hence, the main horror sideshow is Florida. There's a bunch of states up shit creek, but Florida leads the nation in the political punch increasing hospitalizations and the dying — DeathSantis has done his work well.
Just in time for school:
At least 11,851 students and 2,610 employees have tested positive for COVID throughout the 15 largest school districts in Florida since the start of school.

At least another 29,801 students and staff have been quarantined or put on 'stay home' directives.https://t.co/BITFKOAu3q

— Kyle Griffin (@kylegriffin1) August 25, 2021
I spent my most-formative years in Florida — third-grade through high school, then attending/graduating from the University of Florida — and in fact, the panhandle of Florida where my family lived for decades is now Matt Gaetz territory, which is sad and way-depressing.
Florida is fucked — Dylan Scott at Vox this morning takes a look:
The state is experiencing its worst surge of the pandemic. Last week, it was averaging nearly 25,000 new cases every day.
The previous high, in January, was about 18,000.
More than 17,000 Floridians are hospitalized with Covid-19, another record; around 230 people are dying every day.
Florida leads all states in the number of hospitalizations and deaths per capita.

The city of Orlando has urged residents to limit their water use, because the same liquid oxygen used to treat the water supply is being used to provide air to Covid-19 patients.
The Florida health department asked the federal government to send more ventilators as the number of hospitalized patients spiked — a request Gov. Ron DeSantis, who has staked his political reputation on his laissez-faire response to the pandemic, claimed to know nothing about.

In recent days, cases may have started to plateau, increasing "only" 11 percent in the past two weeks. But it's hard to be sure because testing is inadequate: Nearly 20-percent of tests are coming back positive in the state.
Experts say that number should be at 5-percent or lower in order to be confident most cases are being caught.
…
In some ways, what's happening in Florida is a microcosm of the current surge across America: A middling vaccination rate has collided with a more contagious version of the virus.
And it's doing so in a state where political leaders continue to insist people should act as though the pandemic is over — even as more people are dying every day than at any point in the past year.
…

DeSantis, who has clear presidential aspirations in 2024, has positioned himself and his state's Covid-19 response against the public health establishment and, more recently, the Biden administration.

Though he, like most governors, closed many businesses last spring, they were allowed to reopen in May of 2020;
DeSantis steadfastly refused to consider any new closures during following waves in the summer and winter.
He ended the state's mask mandates on May 4, 2021, before the CDC changed its own masking guidance, and he has resisted calls to reimpose them even as cases surged again.

The governor tried to block local school districts from setting their own mask mandates for the new school year and threatened to withhold the salaries of any officials who implement a masking policy.
Some school districts are pushing ahead anyway.
He also has opposed businesses requiring vaccines for their employees or customers.
…
"There are still a large absolute number of unvaccinated people, relatively few people practicing social distancing or masking, by choice and also due to the absence of policies requiring them," Joshua Michaud, associate director for global health policy at the Kaiser Family Foundation, told me.
"Schools and universities going back into session, and lots of delta introductions in the state all happening at the same time."

The situation has led to a sort of theater of the absurd, with DeSantis fighting local mitigation measures while at the same time promoting new treatments for people who get so sick they need to be hospitalized because of Covid-19.
The asshole and all asshole Republicans in the circle-jerk of politics over life, they're killing people, even among the young.
Asshole.
A good slap to the face with recent statewide polling wouldn't hurt — and hopefully, spring a giant opening for Florida's Agriculture Commissioner Nikki Fried, a Democrat, to take the governor's job next year. The stance DeathSantis has taken will maybe blow-up in his face.
Fried is also a UF graduate (h/t tweet Susie):
Huh, who would have guessed that reckless indifference to the value of human life is not an effective political platform? https://t.co/Wu0sb6ChF1

— Ian Millhiser (@imillhiser) August 24, 2021
Maybe Florida people aren't that suicidal crazy — shit work is shit work, at least in a new survey:
Asked to rate DeSantis' handling of the pandemic, nearly 54-percent of voters have an unfavorable or very unfavorable view of the Governor's performance, including nearly 34-percent with a very unfavorable view.
By comparison, just 43-percent gave a favorable response of any sort, with 27-percent rating DeSantis' leadership as very favorable.
…
"The most important number in this poll isn't that Nikki Fried is leading DeSantis — it's that DeSantis is underwater, with 53.8-percent of Floridians disapproving of his handling of COVID-19," said Kevin Cate, a senior advisor to Fried.
"It's our hope that this prompts him to follow the lead of Commissioner Fried and basically every doctor in the state in publicly, repeatedly calling for Floridians to get vaccinated and to end his defunding of schools."
I doubt he ever will, even if it gets worse.
And once again, here we are…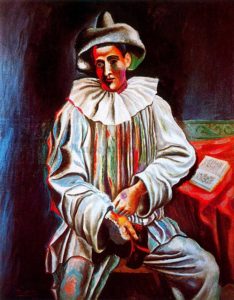 (Illustration out front: Pablo Picasso's 'Seated Pierrot,' found here).