As America stews through a slew of potboiler issues, according to what citizens feel, we're up shit creek without a paddle. In the latest Ipsos poll out today, just a quarter of respondents think the US is heading in the right direction — 59-percent perceive we're on the 'wrong track.'
Of course, in the break-down of the numbers, 80-percent of Republicans claim the 'wrong track' national heading, while Democrats are in their normal middle of the road — 43-percent say we're going in the right direction, 39-percent say not, and the shit is in between.
According to Ipsos, Americans are most concerned about health and financial shit:
Latest Ipsos poll finds only 3% of Americans rank war and foreign conflicts as top problem facing America.https://t.co/79rqClkvCB pic.twitter.com/f8sMXBOqb2

— Shibley Telhami (@ShibleyTelhami) September 4, 2021
On the question of the 'Most Important Problem Facing America,' 17-percent of respondents gave both public health, and the economy as the top dual concerns right now. In line with that, 10-percent said our healthcare system itself was an important problem.
Odd, crime and corruption, along with morality, both carried just 5-percent of applicants saying they were important problems — WTF!
And most-likely explains nothing.
Once again, and here we are…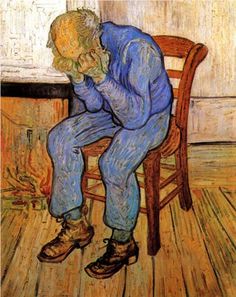 (Illustration out front: Vincent van Gogh's 'Old Man in Sorrow (On the Threshold of Eternity)' found here)