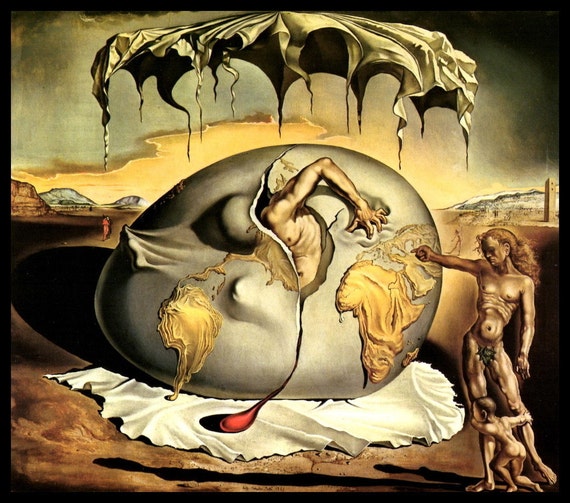 (Illustration: 'Geopoliticus Child Watching The Birth Of A New Man,' print, by Salvador Dali, and found here).
Another screw of the clock face, and it's Labor Day again, though, here in California's Central Valley the sense of still being summer (not the end of it) with triple-digit temperatures forecast for today and the rest of the workweek.
Even if a whole year has passed since the last Labor Day, the time seems the same, yet there's an oddity with the current workplace ambiance: 'A mystery sits at the heart of the economic recovery: There are 10 million job openings, yet more than 8.4 million unemployed are still actively looking for work.'
Crazy times, huh? In the workplace, the shit is all over. Working from home this past 18 months has shifted the work circus, and the office is wherever. All rests on getting a decent handle on COVID, so the immediate future might not be so bright — via the Guardian this morning:
On Friday, the US released disappointing jobs figures that show the coronavirus is still affecting hiring.
And while some argue this new-found worker power will be a longer-lasting phenomenon that yields years of better pay for workers, others believe it's just a temporary blip.

Already this year, Chipotle, CVS and Walgreens have raised their minimum pay to $15 an hour, while Costco has raised its minimum to $16.
Heidi Shierholz, senior economist at the Economic Policy Institute, a progressive thinktank, applauds these increases, but sees them as largely a response to a temporary labor squeeze in specific industries, especially the hospitality industry. Shierholz fears the increase in worker bargaining power will be short-lived.

"There's nothing I see that gives me any feeling that it's going to be permanent," she said.
"The reasons we've seen wage stagnation and declining economic leverage for workers is four decades of policy choices. A couple of months like this is not going to wipe that out. How can anyone seriously think this will be a lasting situation?"
…
Betsey Stevenson, a University of Michigan economics professor, agrees that many workers are reticent to return to their jobs. She noted that in-person service workers, like waiters, see their jobs as especially risky during the pandemic.
"Economists say the riskier the job, the more the pay should be," she said.
"We've always had restaurant servers who face sexual harassment and hostility, but it was never as bad as it is now. It's given workers a lot more space to say, "I'm not OK with being treated that way.'"

With the federal government strengthening the social safety net because of Covid, Stevenson said, "We made it easier for people who live on the knife's edge of starvation to eat. We made it difficult to evict people. We made food stamps more available. We enabled people to catch their breath and ask, 'Is this something I want to do?'"

She added: "Coming out of a recession, we've never seen so much movement by workers into new fields."
And that's what makes this Labor Day so different — just not the end-of-summer BBQ, but the end of 40 years of 'normal.' Apparently from all indications, first-and-foremost we need to get rid of the virus (US News & World Report, also this morning):
Skittishness over the delta variant is showing up in consumer confidence numbers. HPS-CivicScience recorded a two-week decline in its Economic Sentiment Index released Thursday.
The index now stands at 42.5, a drop of four points from its prior reading, and close to the all-time low of 40.1 reached in March 2020.

Of its five indicators, "confidence in the overall U.S. economy fell the most over the past two weeks, dropping 2.5 points — down 18.5 points from the 2021 high reached in March," HPS said.
"Concerns about inflation, meanwhile, show no signs of letting up."

Similarly, the latest Forbes Advisor-Ipsos Consumer Confidence Weekly Tracker found 48-percent now expect "that lifting restrictions to control the coronavirus will occasion a prompt economic rebound, down 10 points from last week."
"At the same time, a bare majority (54%) support allowing businesses to reopen even before the pandemic is fully contained," it added.
And, of course, the biggest economic problem is based on a massive health problem, which is based on the workings of a deadly, fatal-flashing political cult which is destroying life itself — take one cult shit-heel, Asshat Abbott of Texas, a lying hard-hearted asshole pretending all is A-okay on this Labor Day:
On this Labor Day, we celebrate the hardworking Texans who make the Lone Star State so exceptional.

Texas has the 9th LARGEST economy in the world & remains the economic engine of America because of our highly skilled workforce.#LaborDay pic.twitter.com/xnMa9CoybJ

— Greg Abbott (@GregAbbott_TX) September 6, 2021
Meanwhile, Abbott is making Texas really, really dangerous:
Texas schools have amassed more than 50,000 confirmed COVID cases in students in just a couple of weeks. More than a dozen school districts have closed temporarily as a result of the disease, and Texas is a leader in child deaths from COVID.https://t.co/OreHCZxm7p

— Kyle Griffin (@kylegriffin1) September 6, 2021
The horror of Republicans is they act if what they're doing is the right thing, despite the tell-tale end results, like hospital ICU swamps and undertaker/funeral home swamps and cemetery swamps, and swamps forever, the fevered GQPers don't give a fat-rat's ass about nothing but power.
Including the deaths of their own constituents — per Houston Public Media on Friday:
But state leaders have spent weeks of the surge pushing through controversial bills around abortion, voting restrictions and bail reform while Gov.
Abbott has been fighting local governments over their efforts to stem the spread of the disease.

Hospitals across the state are running low on pediatric intensive care unit beds.
Texas' Department of State Health Services says only 81 of them remain — and just a couple hundred more regular ICU beds are available in the state of 29 million people.

"Governor Abbott has failed us. A republican state legislature has failed us," said Dr. David Portugal a cardiologist in Sugarland, Texas.
"These leaders should be held accountable and be asked to explain how they can justify taking actions that are killing their fellow Texans."
…
"Hospital staff and resources are stretched to the breaking point," said Dr. Elena Jimenez-Gutierrez, an internal medicine physician in San Antonio.
The surge has led to canceled surgeries, overwhelmed staff and preventable hospitalizations and deaths.

"Doctors and other health care workers see every day how too many Texans are needlessly getting sick, including many children when we know this disease can be prevented," she said.
Horribly as it seems, Abbott and his asshole buddies know what they're doing is going to kill people:
Five mortuary trailers were dispatched to San Antonio to assist hospitals across the state that had run out of room. San Antonio Mayor Ron Nirenberg said the forethought on deaths should have been used to stem the spread.

"The fact is, the state is planning that more people are going to die of COVID. So much so that they anticipate local hospitals across the state are not going to be able to handle the amount of death they are going to see," said Nirenberg.
Not to labor the point.
Anyway, it's all just an Enigma, till my dying day:
And here we are, once again…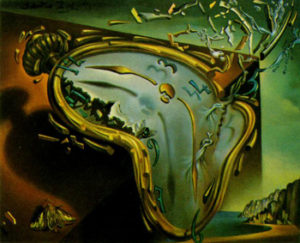 (Illustration out front: Salvador Dali's 'Soft Watch at the Moment of First Explosion,' found here).