Meanwhile, back to the nowadays — I somehow missed this shit from last week, an episode of how the certifiable are wrecking decent, empathetic society:
Down yonder in Rutherford County Tennessee, the deadly ignorance of common sense and historical reality was on full, nasty display when high school student, Grady Knox, gave a pro-mask comment last Tuesday night at a school board meeting — he was laughed at and heckled by assholes (NPR):
"This time last year, my grandmother, who was a former teacher at the Rutherford County school system died of COVID because someone wasn't wearing a mask," Knox, who is a junior at Central Magnet School, said at Tuesday night's board meeting.

Knox wanted to speak in support of a mask mandate in schools.
But he was forced to halt his speech, as his remarks could barely be heard amid the jeering and laughter from people in the audience.

"Hey guys," board chair Coy Young said as he tried to restore calm.
"We're here to act professional."

Knox then finished his remarks, which, like many other statements, were met with applause. But the scene quickly made headlines.

"If they laugh at me about a personal story about my grandmother, that's just disrespectful, I feel," Knox told Nashville TV station WSMV. "So, I was like shaken a little bit."
"It was complete insanity from my perspective," he said.
Shit, the only viewpoint. On Thursday, the school board announced a "temporary, 30-day mask requirement," to take effect Monday. However, parents retain the right to decline — 'opt out' — on trying to keep their children healthy and alive. Freedumbs!
Life has become an enigma blast of rude, psychotic assholes:
Look into the mirror of your soul
Love and hate are one in all
Sacrifice turns to revenge and believe me
You'll see the face who'll say:

I love you … I'll kill you …
But I'll love you forever
And even in the late afternoon, once again, here we are…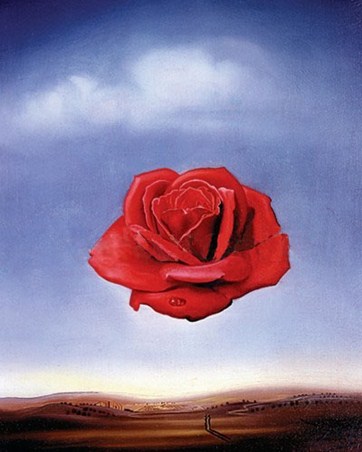 (Illustration out front: Salvador Dalí's 1958 painting, "Meditative Rose," found here).