Fall-feeling weather this late-afternoon Thursday here in California's Central Valley, and even with temperatures in the low-90s, there's still an autumn sense to the air — not so fricking hot and heavy as been the last few months.
Even in near-desert climates, you can physically detect a distinct change.
Beyond the holiday, harvest-time environment, a major-major problem in this country in getting a decent handle on the nowadays, chocked-full of dangerous shit, are 'people' who believe — fully-full-blown believe — a series of ludicrous lies despite the obvious truth, usually by facts/events shown way-out in the open, and nearly self-explanatory.
Origin story from the un-vaxxed and unmasked to insurrections/riots to voter suppression — health to politics — these 'people' are coached/prodded/lied to by a vacuum-suck media  — making shitheels worse:
Awful new poll findings:

* 76% of those who trust Fox News or other right wing media believe 2020 was stolen

* Only 12% of those who trust those right wing media sources blame 1/6 on Trump. 64% blame leftists

Right wing media is helping wreck democracy:https://t.co/tXGB0hRuv3

— Greg Sargent (@ThePlumLineGS) September 16, 2021
All these 'people' are being blunder-bust swayed by TV 'people.' A new poll from the Public Religion Research Insitute shows the curveball lobbed at these nit-twits and the damage done/being done — Greg Sargent at The Washington Post this morning looks at the numbers:
The poll's big finding is that people who rely heavily on Fox News and other right-wing media are overwhelmingly more likely to believe the election was stolen from Trump — and are overwhelmingly less likely to blame Trump for the insurrection — than those who do not.

In one sense, that's a no-brainer. But taken together, those views add up to something truly toxic: The "belief" that the election was stolen, and the simultaneous refusal to assign accountability for an effort to violently overthrow our constitutional order, suggest right-wing propaganda may be softening the ground for a more concerted abandonment of democracy going forward.

The PRRI poll finds that 69-percent of Americans do not believe the election was stolen, while only 29-percent do believe this.
That latter number largely reflects Republicans, among whom 71-percent believe it. Only very small minorities of independents and Democrats do.

The poll also finds that 56-percent of Americans say Trump does bear much of the blame for the Jan. 6 violence, that 59-percent say this about white supremacist groups, and that 41-percent say this about GOP leaders.
…
Among Americans who most trust Fox News or those far-right news sources, a stunning 76-percent believe the election was stolen. By contrast, of those who most trust those other sources, only 21-percent believe this.
Among Americans who most trust Fox News or those far-right news sources, only 12-percent say Trump gets a lot of blame for the Jan. 6 riot.
And 64-percent blame liberal or left-wing activists, such as antifa.

It's likely there's a good deal of overlap between those two groups, says Natalie Jackson, the director of research at PRRI.

"Those beliefs go hand in hand, where you believe the election was stolen, and you also believe the leftists are the ones responsible for what happened," Jackson told me.
She added that "the data's pretty clear" that Fox and right-wing media "are very responsible for this type of thinking."
"Even if you look at Republicans who trust different news sources — not Fox or right-wing news – they hold very different views," Jackson said.
In contextual clusterfuckery and what this shit is fostering, and as the situation gets worse (MSNBC, also this morning):
A new national CNN poll, released yesterday, asked respondents whether President Joe Biden legitimately defeated Donald Trump in the 2020 election.
For most Americans the answer is obvious; for most Republican voters, it is not.
…
Among Republicans, 78 percent say that Biden did not win and 54 percent believe there is solid evidence of that, despite the fact that no such evidence exists. That view is also deeply connected to support for Trump.

At face value, it's astonishing that nearly four in five GOP voters believe the president did not win the election, reality be damned.
But just as notable is the fact that CNN asked the same question in an April poll and found 70-percent of Republicans did not see Biden as the legitimate winner of the election.
Now, that percentage is up to 78.

In other words, since the spring, GOP voters have become even more hostile toward their own country's electoral reality.
And how is Joe Biden tracking in all this bullshit? This latest pop poll from Monmouth University, released today, shows the recent reaction from COVID to Afghanistan, but he breaks about even — some data points:
Biden currently holds a job rating of 46-percent approve and 46-percent disapprove. His approval number has declined since April (54-percent).
This drop has happened among all partisan groups.
The president gets a positive rating from 86-percent of Democrats (95-percet in April), 40-percent of independents (47-percent in April), and 5-percent of Republicans (11-percet in April).

The percentage of Americans who say the country is headed in the right direction (29-percent) versus the wrong track (65-percent) has become more negative since July (38-percet right direction to 56-percent wrong track).
The right direction rating hit an eight-year high in April (46-percent), but has declined since then.
The current reading is similar to the results for this metric just after the November election (26-percent right direction and 68-percent wrong track).

"Most Americans approve of ending the war in Afghanistan, but the images of a disorderly withdrawal did not help Biden at a time when the rise in Covid cases is already unsettling the public," said Patrick Murray, director of the independent Monmouth University Polling Institute.
Joe, like the rest of America, has a rough road ahead.
Here we are, and once again…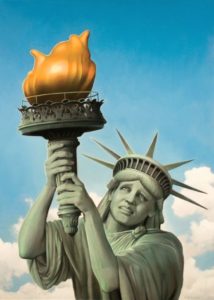 (Image out front by illustrator and portrait painter, Tim O'Brien, and can be found here).