Quiet and near-still this late-afternoon Saturday here in California's Central Valley, and the hush can be felt on the InterWebs, too — a placidity before a storm sense, maybe.
Hopefully not, but yet…
Some tweets I came across in search of a news story to center this post, but really couldn't put an old, bony finger on, and found these to seemingly epitomize our current shadow history of reality.
First, Paul Gosar — asshole and earnest, lying douchebag making up shit off his mutton top:
The CIA fraud department is real, it just called me today to offer me an extended warranty https://t.co/n2Kg1JLw6s

— Dave Weigel (@daveweigel) September 25, 2021
Gosar, like all those other MAGA-nuts, boasts a lie like it was the honest truth, even if reality is wide-open obvious:
Good thing no one cares what the most racist member of congress thinks https://t.co/YAXp3mYYBp

— Molly Jong-Fast (@MollyJongFast) September 25, 2021
Arizona's idiotic 'audit' is run through a wringer — Newsweek this afternoon:
"It was a good start because we now know that fraud was there. Yeah, they made their case very well. The thing about it is that they weren't given the tools to make a full disclosure," Arizona GOP Representative Paul Gosar, a close ally of Trump, told reporters from the Undercurrent in Phoenix Friday afternoon, shortly after the audit was released to the Arizona Senate.

"My suggestion is that we actually have some hearings and look over this batch and set a new election for Biden and Trump before the end of the year," he added.
Just a 'suggestion,' really nothing more, or less.
Next in the idiots are people, too, category, gun-totter Lauren Boebert needs spell-check:
Lauren Boebert has sent a release calling to impeach Biden, but she has messed up the logo here pic.twitter.com/IR3m2QxNFT

— Jake Sherman (@JakeSherman) September 24, 2021
Boebert also boasted loud and clear, just way-dumb-looking:
The fiery Republican known for showing off her gun collection took aim at impeaching President Biden Friday, but misspelled "impeach" in a memo that included the logo "Imeach Biden."

A copy of her errant logo was posted online by MSNBC's Jake Sherman. Boebert drafted articles of impeachment against the president Friday. She's also calling for the resignation of Vice President Harris. The misspelled signage on the freshman congresswoman's website has been corrected.

Boebert, who owns an eatery called Shooters Grill, joins a growing list of right-wing politicians who have called for the president to be removed from office. First on board was congressional newcomer from Georgia Marjorie Taylor Greene, who'd previously pushed the idea that California wildfires may be caused by space lasers and the 2018 massacre of schoolkids at Parkland, Fla., was a ruse.
And so forth, and so-lunacy so onward. She's a grifter, too, so there's that, getting caught pilfering campaign funds to pay rent. — real-good people.
Leading thus to hypocritical, cruel literary holier-than-thou bullshit:
A mom 4 "Liberty" is upset a textbook teaches how seahorses mate… yes, seriously. #WilliamsonSchoolBoard pic.twitter.com/e89dDmUC3G

— The Tennessee Holler (@TheTNHoller) June 22, 2021
Nutshell on the nut-wads via HuffPost this morning:
A children's book with an illustration of hugging sea horses is too hot to handle for kids and should be banned from elementary schools in Williamson County, Tennessee, a chapter of the conservative group Moms for Liberty insists.

"Sea Horse: The Shyest Fish in the Sea" includes such steamy passages as: "They twist their tails together and twirl gently around, changing color until they match. … The two of them dance until sunset and then she puts her eggs into his pouch."

Moms for Liberty also wants public schools in the county, just outside of Nashville, to ditch a tale about Johnny Appleseed because it's "dark," and is opposed to a book about hurricanes because "first grade is too young to hear about possible devastating effects of hurricanes."
A book about Martin Luther King Jr. is too divisive, the moms complained in an 11-page letter earlier this year to the state's Board of Education, Reuters reported.
The head of the local chapter has no children in public schools.
No kids in the local school, yet pushing a racist, lubricious agenda.
And once again, here we are…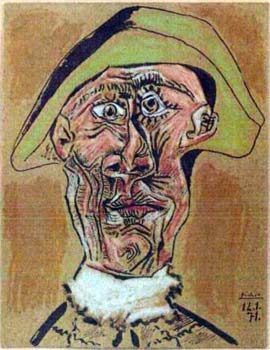 (Illustration out front: Pablo Picasso's 'Harlequin Head,' found here),