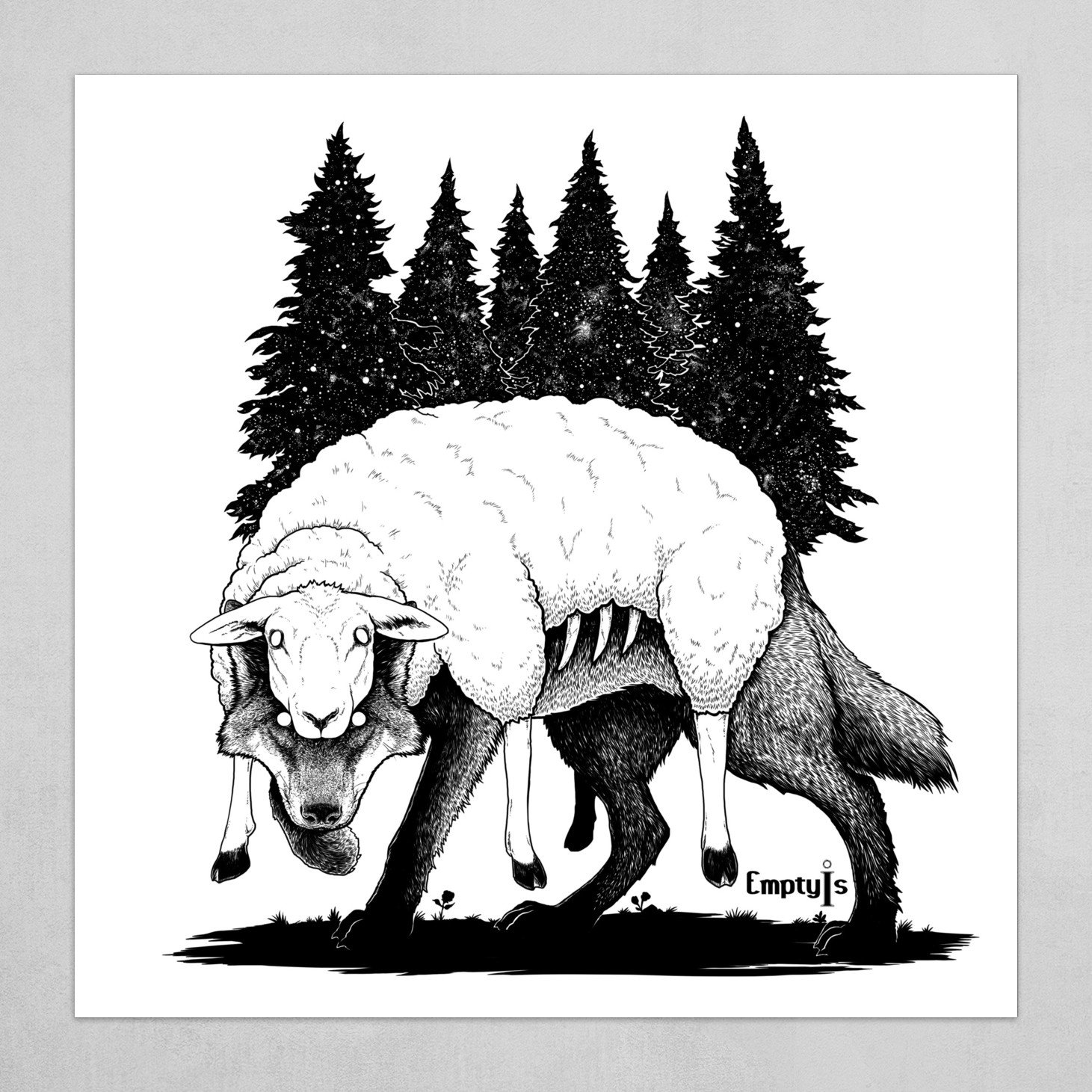 (Illustration: 'Wolf In Sheep's Clothing,' by Sandro Fazlinovic, and found here).
Pleasant late-afternoon Wednesday here in California's Central Valley — still in autumn mode.
Meanwhile back East in DC, Congress is in a one-legged, one-armed fight now as Republicans are working tooth-and-nail to use the country as a blunt-force weapon to retain power next year. The GQP doesn't have a whisper of a policy suggestion, other than just standing back and watching the economy crater maybe dramatically while also sucking-down a shitload of corresponding parts of society, too.
However, the real shit-snag in the machine are Democrats Joe Manchin and Kyrsten Sinema, two turds in the same toilet bowl. Manchin makes me madder than shit. He is such an asshole, wealthy, self-centered asshole voting against the needs — and wishes — of his own West Virginia voters. In just this year alone, Manchin has fucked-up so much shit, it's ridiculous. Enough said about his ass.
So Sinema –another piece of work. Either she's just an idiot, or a vile, cold-hearted idiot:
Wait till Sinema learns the senate isn't a lifetime appointment https://t.co/LZhmCSy7TK

— Molly Jong-Fast (@MollyJongFast) September 29, 2021
Further:
What does this mean? https://t.co/JTiK6lmUKD

— Molly Jong-Fast (@MollyJongFast) September 29, 2021
Although Manchin has been a turd-of-an-asshole for a while, the Arizona senator, however, not so always — from The New York Times this afternoon:
Jade Duran once spent her weekends knocking on doors to campaign for Senator Kyrsten Sinema, the stubbornly centrist Democrat whose vote could seal the fate of a vast Democratic effort to remake America's social safety net. But no more.

When Ms. Sinema famously gave a thumbs down to a $15 minimum wage and refused to eliminate the filibuster to pass new voting rights laws this year, Ms. Duran, a Democrat and biomedical engineer from Phoenix, decided she was fed up.
She joined dozens of liberal voters and civil rights activists in a rolling series of protests outside Ms. Sinema's Phoenix offices, which have been taking place since the summer.
Nearly 50 people have been arrested.

"It really feels like she does not care about her voters," said Ms. Duran, 33, who was arrested in July at a protest.
"I will never vote for her again."
…
But now, Ms. Sinema is facing a growing political revolt at home from the voters who once counted themselves among her most devoted supporters.
Many of the state's most fervent Democrats now see her as an obstructionist whose refusal to sign on to a major social policy and climate change bill has helped imperil the party's agenda.

Little can proceed without the approval of Ms. Sinema, one of two marquee Democratic moderates in an evenly divided Senate.
While she has balked at the $3.5 trillion price tag and some of the tax-raising provisions of the bill, which is opposed by all Republicans in Congress, Democrats in Washington and back home in Arizona have grown exasperated.
Yep, back home it's the stab-in-the-back shits:
In the closely divided Phoenix suburbs that were crucial to Democrats' recent wins in Arizona, some exhausted voters said they were deliberately tuning out the fractious negotiations in Washington and the threats of a government shutdown.

But others said they had been calling and writing Ms. Sinema for months and now worried that the Democrats' best chance to advance major policies was slipping away because of their senator.

Over the weekend, the state's Democratic Party threatened a symbolic vote of no confidence against Ms. Sinema. Dissatisfied donors and activists are starting a Primary Sinema political action committee to raise money to fund primary challengers in 2024 if she blocks the Democratic agenda in Washington.

At the same time, House Democrats are now threatening to derail the trillion-dollar bipartisan infrastructure bill hammered out by Ms. Sinema that has already passed the Senate.
Maybe the voice of the change:
Mary Kay Yearin, a lifelong Democrat who lives in Scottsdale, said she and her wife were frustrated because they believed that Ms. Sinema had not done enough to change policies affecting abortion rights, voter rights and, above all, climate change.

Ms. Yearin worried that a fast-warming climate could soon dry up the Lake Powell and Lake Mead reservoirs that water the West, which would make the state nearly uninhabitable in the summers to come.
She said the environmental catastrophes facing the country were too dire for a cautious, incremental approach.

"Her vote matters so much," Ms. Yearin said.
"She seems like a Republican in Democrats' clothing."
What a time to play-out being an asshole.
Here we are, and once again…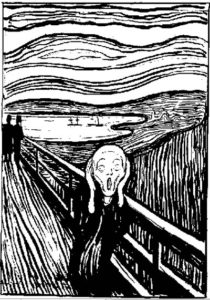 (Illustration out front: Edvard Munch's 'The Scream,' lithograph version, found here).