In the sweep of shit, it appears the US could be approaching a deep fork in the road, or maybe the road itself ending, not only with the pandemic still way-circulating, but the entire US governmental apparatus shutting down come Friday if no debt-ceiling solution is reached — looks as if the Democrats are left holding the ka-ching bag.
Treasury Secretary Janet Yellen said yesterday Oct.18 will be the endgame day as the government will then run out of cash to pay its bills. My worry is my Social Security check — although supposedly it will be okay for a time, there's the whole Red/Blue long-range shit — Simply put by Max Richtman, president and CEO of the National Committee to Preserve Social Security and Medicare: '"The debt ceiling, if that's not resolved, that could hurt you. The shutdown, that's not going to hurt you."'
Just add that to the widening list of approaching bad shit, from COVID never-ending, climate change getting worse even faster, and now the possibility of an economic-stagnated blow-out:
The workers who keep global supply chains moving are warning of a "system collapse" https://t.co/KbiGfpCtkA

— CNN (@CNN) September 29, 2021
Broad strokes of the situation via CNN this morning:
Seafarers, truck drivers and airline workers have endured quarantines, travel restrictions and complex Covid-19 vaccination and testing requirements to keep stretched supply chains moving during the pandemic.

But many are now reaching their breaking point, posing yet another threat to the badly tangled network of ports, container vessels and trucking companies that moves goods around the world.
In an open letter Wednesday to heads of state attending the United Nations General Assembly, the International Chamber of Shipping (ICS) and other industry groups warned of a "global transport system collapse" if governments do not restore freedom of movement to transport workers and give them priority to receive vaccines recognized by the World Health Organization.

"Global supply chains are beginning to buckle as two years' worth of strain on transport workers take their toll," the groups wrote. The letter has also been signed by the International Air Transport Association (IATA), the International Road Transport Union (IRU) and the International Transport Workers' Federation (ITF). Together they represent 65 million transport workers globally.

"All transport sectors are also seeing a shortage of workers, and expect more to leave as a result of the poor treatment millions have faced during the pandemic, putting the supply chain under greater threat," it added.
Guy Platten, secretary general of the ICS, said that worker shortages are likely to worsen towards the end of the year because seafarers may not want to commit to new contracts and risk not making it home for Christmas given port shutdowns and constant changes to travel restrictions.
Shit will be way-more expensive if the products are even available at all.
Plus the Republicans:
Once again, here we are…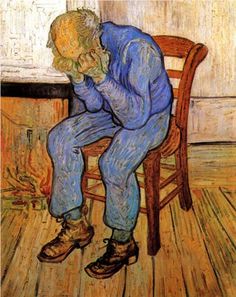 (Illustration out front: Vincent van Gogh's 'Old Man in Sorrow (On the Threshold of Eternity)' found here)