Appropriately nice this late-afternoon Thursday here in California's Central Valley, with some enjoyable sunshine coupled with temps in the upper-80s, but well out of the hot zone.
Also today out of an economic hot zone is our federal government — no shutdown at least for the next 90 days or so: 'The stopgap measure, known as a continuing resolution, passed the Senate in a bipartisan vote of 65 to 35, overcoming the 60-vote threshold needed for approval. It was then swiftly taken up by the House, which cleared the bill with a vote of 254 to 175. President Biden signed the bill into law in the Oval Office shortly thereafter, ahead of the midnight deadline to avoid a lapse in federal funding, two administration officials told CBS News.'
Dicey kicking-the-can-down-the-road routine as the truly-frightening elephant in the tiny room — raising the debt ceiling, and too, before the estimated deadline of Oct. 18. Janet Yellen says that's the last day the country will have the money to pay bills.
Along with that shit, in the coming days Joe Biden's early/maybe-late presidency is on the line with some make-it-or-break-it governance a couple of some way-popular pieces of legislation — a $1-trillion infrastructure bill, and a $3.5-trillion social package expanding services with a deep dive into the climate crisis. However, both are getting pretty fucked by not only natural-asshole Republicans, but also turd-knocker Democrats.
Well, actually, two turd-knocker Dems — Kyrsten Sinema and Joe Manchin.
Sinema is a self-centered, most-likely batshit crazy goofball, but Manchin is in a shitty class all his own — he's not only a problem for Americans but also the world:
MANCHIN asked by @AriNatter whether an energy company he founded is a conflict of interest as he negotiates reconciliation:

MANCHIN: "I've been in a blind trust for 20 years, I have no idea what they're doing.

Ari: You're still getting dividends.

MANCHIN: "You got a problem?"

— Frank Thorp V (@frankthorp) September 29, 2021
Yeah, we do, asshole! Manchin is way-heavy into one thing the world can not, repeat, can not, continue using — coal as an energy source. The planet should shutdown all type coal plants immediately or sooner — coal is the shits of CO2 emissions. And Manchin is up to his coal-fired ass — Mark Hertsgaard at the Guardian this afternoon:
Joe Manchin has never been this famous. People around the world now know that the West Virginia Democrat is the essential 50th vote in the US Senate that president Joe Biden needs to pass his agenda into law. That includes Biden's climate agenda.
Which doesn't bode well for defusing the climate emergency, given Manchin's longstanding opposition to ambitious climate action.

It turns out that the Senator wielding this awesome power — America's climate decider-in-chief, one might call him — has a massive climate conflict of interest.
Joe Manchin, investigative journalism has revealed, is a modern-day coal baron.

Financial records detailed by reporter Alex Kotch for the Center for Media and Democracy and published in the Guardian show that Manchin makes roughly half a million dollars a year in dividends from millions of dollars of coal company stock he owns.
The stock is held in Enersystems, Inc, a company Manchin started in 1988 and later gave to his son, Joseph, to run.

Coal has been the primary driver of global warming since coal began fueling the Industrial Revolution in Great Britain 250 years ago.
Today, the science is clear: coal must be phased out, starting immediately and around the world, to keep the 1.5C target within reach.

Scientists estimate that 90-percent of today's coal reserves must be left in the ground. No new coal-fired power plants should be built.
Existing plants should quickly shift to solar and wind, augmented by reducing electricity demand with better energy efficiency in buildings and machinery (which also saves money and produces more jobs).

This is not a vision that gladdens a coal baron's heart.
The idea of eliminating fossil fuels is "very, very disturbing," Manchin said in July when specifics of Biden's climate agenda surfaced.
Behind the scenes, Manchin reportedly has objected to Biden's plan to penalize electric utilities that don't quit coal as fast as science dictates.
The kicker: Joe Manchin is surrounded by a gaggle of reporters whenever he steps outside his Senate office, and he frequently appears on the agenda-setting Sunday morning TV shows. With votes on the budget bill fast approaching and the Glasgow summit starting 31 October, it's high time that journalists press America's climate decider-in-chief about his glaring conflict of interest — and why he shouldn't step aside from US climate deliberations.
Doubt that will happen. Not only is Manchin a coal creep, but he's also way-rich, too — an elite of entitlements:
With democrats like these….. https://t.co/9CAcWDCNnW

— Molly Jong-Fast (@MollyJongFast) September 30, 2021
Manchin 'entitlement' nutshell via Raw Story on Monday:
Like many of the wealthiest Americans, the coronavirus pandemic did not hurt Senator Manchin's net worth.
It grew by $1 million from 2018 to 2020, to $8.6 million, leading some on Monday to blast him over remarks he made to reporters Monday about "entitlement mentality" over Biden's $3.5 trillion jobs, infrastructure, and social spending legislation.

"We're just concerned about entitlement mentality versus rewarding mentality and then taking care of those who really can't take care of themselves… there's so much good stuff in there that we're still working diligently," Manchin told reporters, as NBC News' Sahil Kapur reports.

White House Press Secretary Jen Psaki noted at Monday's daily press briefing, 80 percent of Americans support much of the legislation's critical points.
America is currently in the tiny hands of self-centered assholes.
And once again, here we are…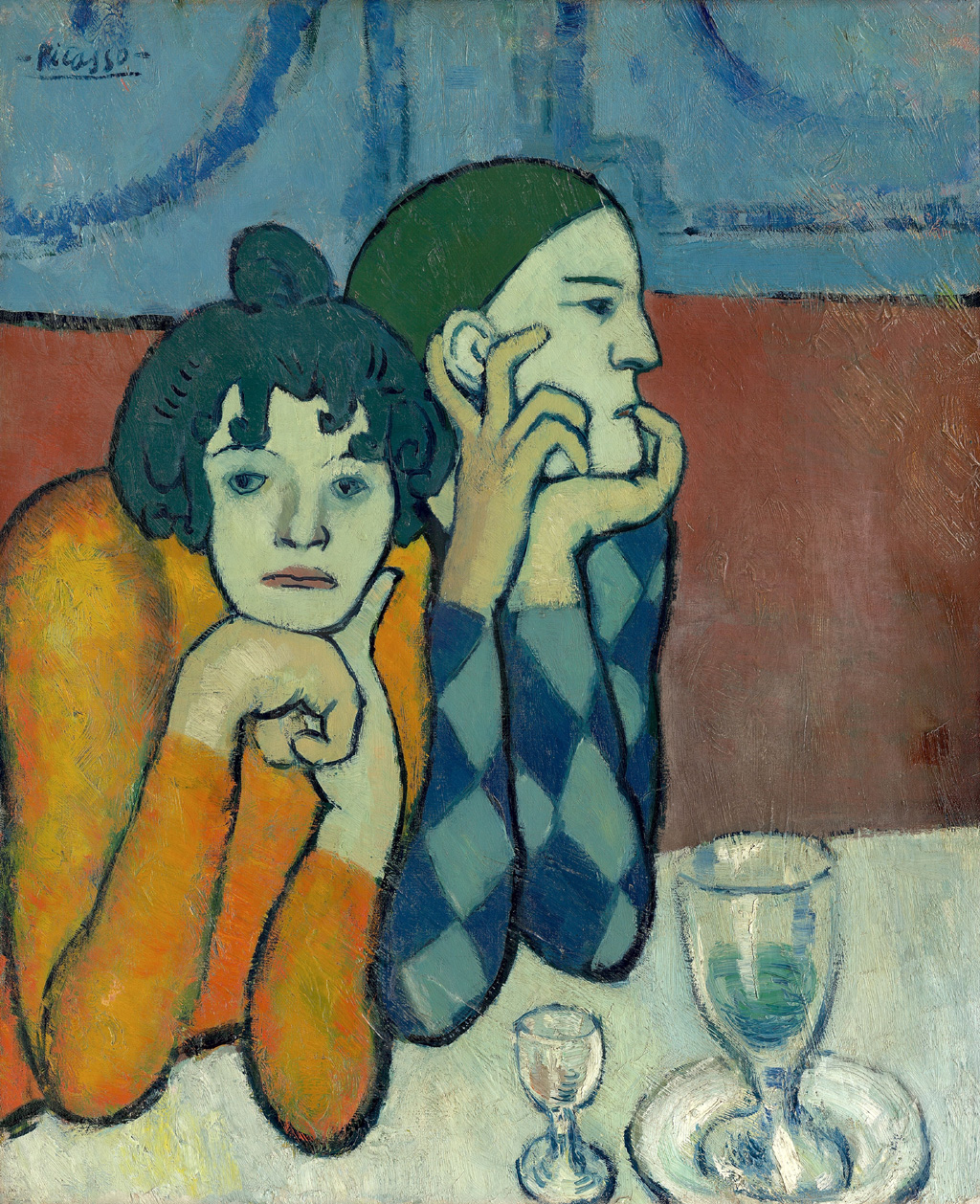 (Illustration out front: Pablo Picasso's 'Les Deux Saltimbanques: l'Arlequin et Sa Compagne,' found here).