Autumn continues with cool sunshine this late-afternoon Wednesday in California's Central Valley — I can't believe half the workweek is gone already as we start the slide toward another weekend.
Time flies whether you're having fun or not, or whether you just sit and stare at the clock — nowadays and despite the proverb, a watched pot will indeed boil, and boil quickly.
Just natural for today's random-living Twilight Zone episode:
Omg stop with the fake dogs https://t.co/pZMJbBjbnE

— Molly Jong-Fast (@MollyJongFast) October 13, 2021
Meanwhile back in the sci-fi reality of plague and insurrection, Jeffrey Clark, T-Rump's DOJ lapdag, was issued a subpoena today by the House select committee investigating the Jan. 6 US Capitol attack, and Jay Rosen, acting AG in T-Rump's final days as president, reportedly delivered closed-door testimony before the committee, also today.
A quartet of assholes — Mark meadows, Steve Bannon, Dan Scavino and Kash Patel — have already been served with subpoenas and have vowed to say fuck-you to the committee, which returned in legal-criminal kind: '"We are completely of one mind that if people refuse to respond to questions without justification that we will hold them in criminal contempt and refer them to the Justice Department," Rep. Adam B. Schiff (D-Calif.), a member of the panel, said in an interview Tuesday.'
And today, an official no-no to T-Rump's idiot, non-scary plea of executive privilege:
Breaking: The White House has, once again, said it won't support Trump's assertion of executive privilege over a tranche of records related to Jan. 6, and ordered the National Archives to turn over documents to the Jan. 6 select committee within 30 days.https://t.co/S6r341WNcs

— Kyle Griffin (@kylegriffin1) October 13, 2021
Via Bloomberg this afternoon:
The White House once again said it wouldn't support former President Donald Trump's assertion of executive privilege over a tranche of records related to the Jan. 6 insurrection, and ordered the National Archives to turn over documents to congressional investigators within 30 days.

President Joe Biden concluded that Trump's efforts to shield the documents was "not in the best interests of the United States," White House counsel Dana Remus said in an Oct. 8 letter to the National Archives.

"Accordingly, President Biden does not uphold the former president's assertion of privilege," Remus wrote in the letter, posted to the White House website on Wednesday.

The letter is the second from the White House ordering the release of documents from the Trump White House, after the former president wrote asking that they be shielded.

Trump said the request from the House panel investigating the insurrection at the U.S. Capitol was "extremely broad" and could contain information protected by executive or attorney-client privilege. Trump also indicated he could initiate a legal challenge in hopes of halting the release.

The request included all records and communications tied to Trump on Jan. 6, his public remarks at a rally outside the White House, as well as his Twitter logs and meetings and events he attended. The panel also requested all photographs, videos and other media, including any digital time stamps, taken or recorded within the White House that day, as well as visitor logs.
And don't forget, these guys are beyond not smart, they're asshole idiots:
Here we are, and once again, too,…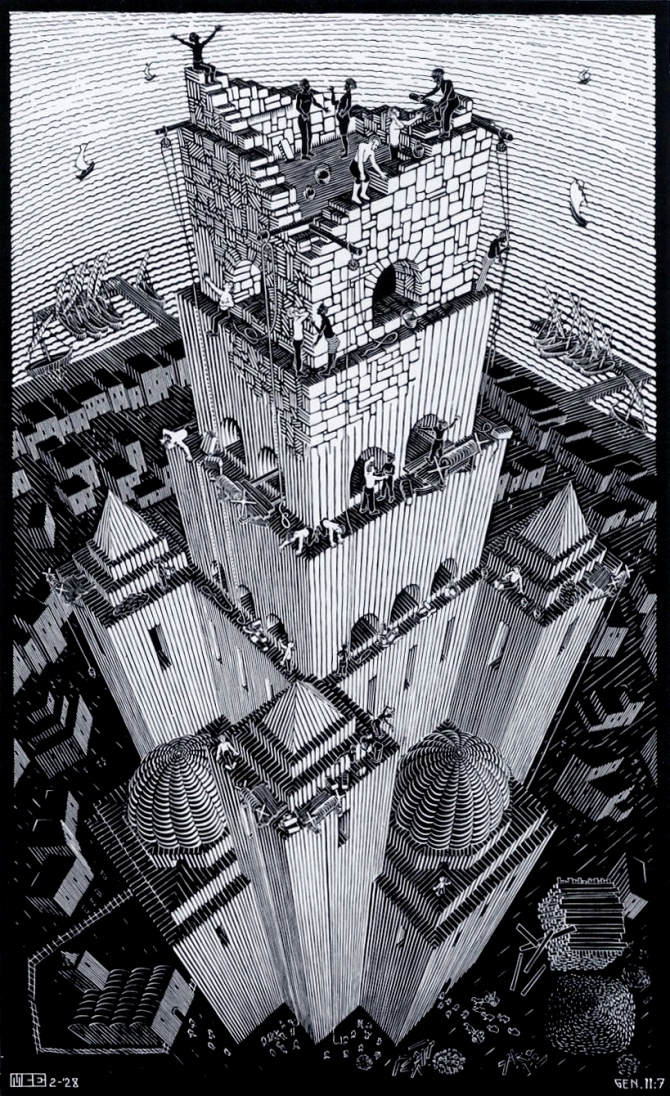 (Illustration out front: 'Tower of Babel,' a 1928 woodcut by M. C. Escher, found here).