UPDATE: Late-afternoon Friday:
Asked what his message is to those who defy congressional subpoenas regarding Jan. 6, President Biden says, "I hope that the committee goes after them and holds them accountable." Should they be prosecuted by the Justice Department? "I do, yes," Biden tells me. pic.twitter.com/aE2CKODnmg

— Kaitlan Collins (@kaitlancollins) October 15, 2021
Background per CNN:
The President's comments, the strongest yet from Biden on possible repercussions for those who refuse to cooperate with the select committee's requests, upended days of discipline from the White House, which has sought to distance itself from the House's expected criminal contempt referral against Steve Bannon.

White House press secretary Jen Psaki cited the department's independence in making prosecutorial decisions when asked about it on Thursday, and last week, she declined to say whether the White House had discussed such enforcement with Attorney General Merrick Garland or anyone at the Department of Justice.
"That would be up to the Department of Justice, and it would be their purview to determine. They're an independent agency," she told reporters at a White House press briefing on October 8.
"They're independent. They would — they would determine any decision on criminal prosecutions. I'd point you to them and, of course, the committee."

And Justice officials have avoided revealing what they will do with the referral, which hasn't been used to prosecute anyone in decades.
DOJ spokesman Anthony Coley said Friday that "the Department of Justice will make its own independent decisions in all prosecutions based solely on the facts and the law. Period. Full stop."
As I noted earlier, only if Garland doesn't muff it, and indeed create a 'full stop.'
---
America is getting more and more violently ugly — per CNN this morning:
A US Capitol Police officer was attacked on Friday morning by a woman carrying a baseball bat along First Street SW in Washington, Capitol Police said in a statement.
The incident happened around 9:30 a.m. ET. When police approached the woman, she became agitated and raised her bat. Officers tried to take the bat from her, and during the scuffle she bit one of the officers, according to Capitol Police.
A matter of course nowadays. In a contextual note, the batshit legalities of T-Rump's minions brushing off subpoenas regarding the Jan. 6 insurrection/riot/coup is a fork-in-the-democracy-road for this country, and if those assholes aren't held accountable, we're in a shit hole.
Molly Jong-Fast, in a piece this morning at The Atlantic, presents a good overview of the situation, first with a guy who knows GQP shit:
James Carville is furious. "It's the LAW!!! If you do not enforce it, Dems will look as weak as people think they are," he texted me earlier this week.
"I would ask if we could use DC jail for Bannon."
However wonderous, most-likely not:
I wrote about "why Democrats must enforce subpoenas" in ?@TheAtlantic? https://t.co/j3FDspa0zU

— Molly Jong-Fast (@MollyJongFast) October 15, 2021
Further from Jong-Fast:
What has Carville itching to put former President Donald Trump's ex-adviser behind bars? Defiance.
The special congressional committee charged with investigating the January 6 insurrection gave former Trump White House officials Steve Bannon, Mark Meadows, Kash Patel, and Dan Scavino until the end of this week to comply with its subpoenas for testimony and records.
Bannon has so far refused to cooperate.

Congressional Democrats, who control both chambers and have a majority on the January 6 committee, can ask the House or Senate sergeant-at-arms to arrest Bannon.
Yesterday afternoon, though, Representative Bennie Thompson, the Mississippi Democrat who chairs the committee, announced that he will pursue a more moderate path: Next week, the committee will vote on whether to refer Bannon to the Justice Department for potential criminal prosecution.

"We fully intend to enforce" the subpoenas, Representative Adam Kinzinger of Illinois, who is one of two Republicans on the special committee, assured me.
"That doesn't come with the snap of a finger, but we will get to the bottom of these questions and pursue all avenues."

Democrats want to uphold norms of interparty civility while also preventing Trump and his buddies from completely undermining democracy. But time is running out.
The January 6 committee is one of Congress's last chances to narrate the Capitol riots and the Trump administration's efforts to subvert the peaceful transfer of power.
The only way to fight fascism is with narrative, Masha Gessen, the writer and activist, once told me. The select-committee probe presents a real opportunity to do just that.

Enforcing the committee's subpoenas isn't a controversial idea, Representative Eric Swalwell of California told me. "We must enforce congressional subpoenas not just for holding insurrectionists accountable but to show everyone in America that we all follow the same rules," he said.
"If Bannon and company are above the law, why wouldn't nonpublic figures toss their lawful subpoenas in the trash?"
…
The problem with enforcing congressional subpoenas, though, is that it pits two of the Democrats' priorities against each other.
Democrats have been tasked with both upholding democracy and defending constitutional norms. The norm of the past 90 years has been that congressional subpoenas are honored because the people subpoenaed are honorable.
…
Because the January 6 committee cannot rely on members of Trumpworld acting honorably, it may have to go further,
Joyce Vance, a former U.S. attorney for the Northern District of Alabama, told me. "Historically, the enforcement mechanism for congressional subpoenas to executive-branch employees was as much political as it was legal," she explained.
"In other words, the parties negotiated over the scope of subpoenas, because the political cost of outright defiance was seen as too high. Trump broke that process, convincing his followers that refusing to submit to congressional oversight was a virtue, not a violation of our laws. If Congress can't regain the ability to enforce its subpoenas in the light of a norm-breaking presidency, its oversight abilities will be extinguished."
This is a major, make-it-or-break-it time as I wrote above, and if not, the shit will hit the fan, as I also wrote.
Here we are, once again…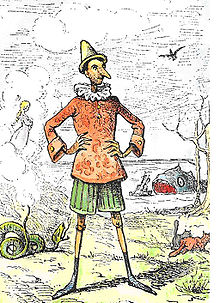 (Illustration out front: 'Pinocchio,' by Enrico Mazzanti (1852-1910), found here)