Another horrendous weather-related story way-topped the news cycle this near mid-day Saturday, and it tags on what we here in California's Central Valley can expect starting tomorrow and running until mid-week. However, last night/today's tragedy is fully within mid-America — a shitload of tornadoes whacked the region, including a mile-wide one in Kentucky which twisted on the ground for 223 miles.
Leaving huge devastation in its wake:
Just before I turned out the light to sleep last night, I remember seeing a CNN story on the possibility of tornadoes and other bad weather shit forming up in the mid-west and along the Mississippi River Valley — well, this morning came the ugly (via CBS News about an hour ago)
A deadly outbreak of severe storms and tornadoes has hit the nation's mid-section. One of the hardest-hit places is Kentucky, where Governor Andy Beshear said the death toll is "north of 70."

"Earlier this morning at about 5 a.m. we were pretty sure that we would lose over 50 Kentuckians, now certain that that number is north of 70," he said at a press conference late Saturday morning. "It may in fact end up exceeding 100 before the day is done."

A roof collapsed at a candle factory in Mayfield, apparently trapping workers inside.

Several deaths were reported in other states.

In Tennessee, at least five people were killed when a string of suspected tornadoes barreled through parts of the state and Arkansas overnight, including a nursing home in Monette, Arkansas, about 60 miles north of Memphis.

At least 2 people are also dead in Edwardsville, Illinois, where the roof of an Amazon warehouse collapsed during a storm.
The storm pummeled the building until a wall the length of a football field caved in, reports Jenna Rae from CBS-affiliated St. Louis station KMOV.

Dozens of workers were inside when the wall and the roof above it came crashing down.
And tornadoes galore in Illinois:
Holy shit there were two tornadoes in the ground at one point. This is what destroyed the Edwardsville warehouse pic.twitter.com/YXLBsOjmyu

— Kentopher ????? (@KRSchippler) December 11, 2021
One horrible story among dozens, the Amazon warehouse revealed the agony of the human factor — a weather-reality scenario:
Reuters reports up to 50 workers became trapped inside the facility after a roof and other parts of the building collapsed.
Edwardsville Police Chief Mike Fillback told reporters that at least 30 workers were transported by bus from the scene, while two people were taken by helicopter to local hospitals for treatment.

"We were able to transport them to a safe location and reunite them with loved ones or get them assistance," Fillback said.
"We're still working to identify if there are still other individuals in the building and how to get through the debris in order to get them assistance."

Amazon spokesperson Richard Rocha said in a written statement Friday night: "The safety and well-being of our employees and partners is our top priority right now. We're assessing the situation and will share additional information when it's available."

While officials are waiting to release the names of the victims, Fox 2 St. Louis reports the mother of Clayton Cope, a maintenance worker at the fulfillment center, has confirmed that her son is one of the casualties.
"He was just 29-years-old," a reporter wrote on Twitter.
"His parents and so many others are going through unbearable loss just before Christmas. Please pray for their healing."
A good wrap feature per The New York Times, including this horrid bit:
In Arkansas, a 94-year-old died and five people were injured when a tornado demolished the Monette Manor nursing home, said Monette's mayor, Bob Blankenship.

Mandi Sanders, who works at the home, said staff members helped residents cover their heads with pillows to protect them from flying glass and debris before the walls caved in and parts of the roof collapsed.

"It was like a roaring train," she said.
"I didn't think it would ever end."
I was born and spent my early years in southeast Alabama, and later the Florida panhandle, so tornadoes were part of the weather-related landscape, so I personally hate them, and they can scare the shit out of me — except for earthquakes, which to me are the most-frightening natural phenomenon ever on the earth.
In no warning, there's nothing to compare to the unexpected terror. On a positive factor, tornadoes arrive after the weather generally has already bad, thus you have a limited, but decent feel somewhat for what's happening around you. No such thing with freaking earthquakes — one second you're fine-and-dandy, the next you're scared shitless.
Anyway, California is forecast for some ugly weather, too, for the next few days, though, our shit is somewhat welcomed — another deluge of an 'atmospheric river' comes gushing our way starting maybe tomorrow and carrying-on until maybe Wednesday.
Heavy rains expected (maybe):
A strong storm system will bring periods of moderate to heavy precipitation early next week. Precip will begin Sunday night with the heaviest rain & snow expected Monday evening through Tuesday afternoon. Snow levels will be around 5000 to 6000 feet for most of the event. #CAwx pic.twitter.com/oHxyOk0xiu

— NWS Hanford (@NWSHanford) December 11, 2021
Although we need the rain, seemingly the brunt will be in northern California — via The Sacramento Bee yesterday afternoon:
The winter storm that could dump several feet of snow in the Sierra and soak the Sacramento Valley with rain is listed as a "strong" category "AR 3" system by the scientists who study the powerful storms that supply California with most of its water.
In 2019, the scientists who study the storms known as "atmospheric rivers" agreed to a ranking scale similar to the "Cat" system used to describe a hurricane.
An "AR 1" is the weakest system. An "AR 5" is the most destructive. The five categories the Center for Western Weather and Water Extremes at Scripps Oceanography list are "weak," "moderate," "strong," "extreme," and "exceptional."
One notorious example of an AR 5 was the New Year's Day floods of 1997, which killed at least nine people and flooded 300 square miles of California.
The incoming "strong" AR 3 may be in the middle of the scale, but it's still going to bring impressive amounts of precipitation when it hits California this weekend.

The weather service warns that as much as 6 to 9 feet could fall at elevations above 6,000 feet. Additionally, 1 to 3 feet of snow is expected farther north, near Mount Shasta, with 5 to 6 feet possible above 5,000 feet.
Strong wind gusts will accompany the snowfall, and the weather service warns mountain travel will be "difficult to impossible."
The Sacramento Valley could see as much as 5 inches of rain between Sunday and Tuesday.

Atmospheric rivers form over the Pacific Ocean when high-powered winds drag a fire hose of tropical moisture across the ocean's surface. The 500-mile wide conveyor belts of water can last for days and can hit California in wave after wave. They provide up to half the state's rain and snowfall each year.
The largest storms can produce as much rain as a major hurricane.
We'll get a hard rain for a spell, but here in the San Joaquin Valley we might receive less than other places. Oh, it will get wet and cloudy, though, we won't get as much moisture as we really need.
Thanks, drought.
And here we are, once again…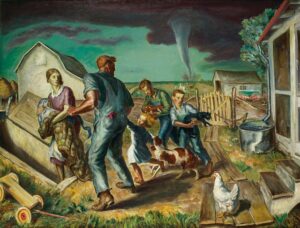 (Illustration out front: 'Tornado Over Kansas,' oil on canvas (1929), by John Steuart Curry, and found here).