As the COVID pandemic appears to be getting ready to hit the high-surge button again, this particular virus news story this morning was not top of a lot of media lists, usually well down on homepages — maybe we already knew this shit, or something (per CNN):
Trump administration officials made "deliberate efforts to undermine the nation's coronavirus response for political purposes," the House Select subcommittee on the coronavirus crisis led by Democrats said in a report released Friday.

The committee, which spent months working to interview former Trump officials, said the administration worked to undermine the public health response to the coronavirus pandemic by blocking officials from speaking publicly, watering down testing guidance and attempting to interfere with other public health guidance.
Many pieces of the report were a summation of documents and interviews they've released throughout the year, but the report also outlined new examples where health guidance was adapted despite officials' concerns about the potential harmful effects of the changes.
Despite all the other horrid crime shit the T-Rump did during his tenure, actually, the killing of hundreds of thousands of Americans should be right up there for some type of accountability and punishment — but no. He'll skate as will the vast majority of his people.
Yet as the record says: 'The report also found that Trump administration officials "neglected the pandemic response to focus on the 2020 presidential election and promote the Big Lie that the election results were fraudulent."'
And we're left with remnants off his shit:
.@CDCDirector Dr. Rochelle Walensky: "Omicron is increasing rapidly, and we expect it to become the dominant strain in the United States, as it has in other countries, in the coming weeks."

Watch: https://t.co/C54s2JZqzH pic.twitter.com/iIIFgZ9viD

— CSPAN (@cspan) December 17, 2021
Noted this morning:
The White House pandemic response team held a briefing this morning to provide an update on the spread of the Omicron variant of coronavirus in the US.

Dr Rochelle Walensky, the director of the Centers for Disease Control and Prevention, said at least 39 states and more than 75 countries have now reported confirmed cases of the Omicron variant.

"Although Delta continues to circulate widely in the United States, Omicron is increasing rapidly, and we expect it to become the dominant strain in the United States, as it has in other countries, in the coming weeks," Walensky said.

The CDC director noted that the agency is seeing cases of Omicron among people who are both vaccinated and boosted.

But Walensky added, "We believe these cases are milder or asymptomatic because of vaccine protection."
During that same briefing, Anthony Fauci relayed some wise, but ominous-sounding news: '"We are now facing a very important delta surge and we are looking over our shoulder at an oncoming omicron surge … Clearly unvaccinated individuals … are really at a high risk of serious involvement, including hospitalization."'
And to whom do you think he was actually pointing — asshole, nasty, and T-Rump-like MAGA-hatter Republicans — via the Guardian's live blog, also this morning:
New data analysis has revealed that if US Democratic voters were to make up their own country, it would have one of the world's most vaccinated populations, with over 91-percent of adults having received at least one shot.

Meanwhile, only approximately 60-percent of Republican adults have received their first shot, according to by the New York Times.
And the gap in Covid's death toll between blue and red states that voted mostly Republican this fall widened more quickly than at any previous point of the pandemic.
A total of 25 out of every 100,000 residents in counties that voted for Donald Trump died of Covid in October, compared to the 7.8 per 100,000 in counties that voted heavily for Biden, according to the data analysis from the Times.

October marked the fifth consecutive month that the percentage gap of death rates in red and blue counties widened.

Charles Gaba, an independent health care analyst, said that in October, the "reddest" tenth of the US saw death rates from coronavirus six times higher than the "bluest" tenth.
"Those numbers have dropped slightly in recent weeks," he told National Public Radio.
"It's back down to 5.5 times higher."

Counties where Trump received over 70-percent of the vote experienced an even higher average of Covid-19 deaths compared to counties where Trump won at least 60-percent, the new data research

On the contrary, Covid-19 deaths in heavily Biden counties and swing counties did not rise over the past two months, despite the nationwide surge in cases.
If the assholes didn't present a deadly menace for the rest of us, this whole shebang wouldn't be so frightful and dangerous.
And of the T-Rump's 'deliberate efforts' to shit on COVID pandemic response — memory-holed:
Here we are, once again…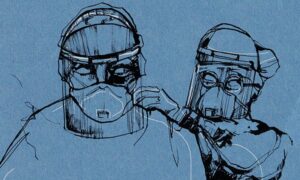 (Illustration out front: 'This Is Why Nurses Do What They Do,' by visual journalist Emily Thomas, and found here)