Fading sunshine and cold air this early-evening Tuesday here in California's Central Valley, as we claw closer to the holiday drop zone, now just four days away.
Christmas might be a little stand-offish this year.
Pandemic peaking (NBC News a couple of hours ago):
The latest surge that is driving up the number of Covid cases across the country is also putting more people in hospitals, even in highly vaccinated states.

Hospitalizations around the nation have risen 39-percent from Nov. 1, to Dec. 19, according to an NBC News analysis of data from the Centers for Disease Control and Prevention and the Department of Health and Human Services.
Unlike previous waves where vaccination rates were a good indicator of whether a state was experiencing an outbreak, this surge is different.
Hospitals are filling up in states where people have shunned vaccinations, and also in high vaccination states like Delaware, Connecticut and New Hampshire.
…
But while hospitalizations are rising across the country, the states with the highest hospitalization figures — Indiana, Michigan, Ohio and Pennsylvania — all have lower vaccination rates.
And Joe Biden warned the unvaxxed in a speech this afternoon, and even tipped a hat — kind-of — to the T-Rump (Roll Call):
"Are we going back to March 2020?" Biden said as the omicron variant threatens to deluge hospitals with sick patients.
"The answer is absolutely no."

Biden sought to draw a clear contrast when describing how the omicron surge will affect the vaccinated versus the unvaccinated, issuing a dire warning to 60 million unvaccinated Americans.
"How concerned should you be about omicron, which is now the dominant variant in this country and it happened so quickly. The answer is straightforward: If you're not fully vaccinated, you have good reason to be concerned," he said.
"Almost everyone who has died in the past many months has been unvaccinated."
…
Biden said the steep rise of omicron was unpredictable, rejecting a reporter's premise that the initial decision to not buy millions of new test kits was a "failure."

"What took so long is that it didn't take long at all. What happened is the omicron virus spread more rapidly than anybody thought," Biden replied. "If I told you four weeks ago it would spread by 50 percent, 100 percent, 200 percent you would have looked at me and said, 'Biden what are you drinking?'"

Biden twice mentioned former President Donald Trump, who said this week he has received his booster shot.
The referrals to Trump amounted to a plea to the millions of vaccine-skeptical Americans most at risk this winter who did not vote for him to get the jab because the former president has gotten three doses and oversaw vaccine development.

"Omicron is serious, potentially deadly business for unvaccinated people," Biden said.
"Thanks to the prior administration and our scientific community, America is one of the first countries to get the vaccine," Biden said, urging vaccinations.
Joe making a call-out to the moronic T-Rump base, but will it be high-fived, or booed — most-likely booed, as they did T-Rump the other night when he mentioned he'd received the booster. Some people are forever cast.
Lovers of misinformation, lies, and grifting:
Lowry:
"…the weather and the nature of the virus were the culprits all along."

CDC data:
Unvaccinated: 6.1 deaths per 100k
Vaccinated: 0.5 deaths per 100k
Boosted: 0.1 deaths per 100k https://t.co/6ixAe01dL3

— Bill Kristol (@BillKristol) December 21, 2021
Yeah, Bill Kristol?
Further the pinch:
Right wing media did this https://t.co/5NGKQsbgQ8

— Molly Jong-Fast (@MollyJongFast) December 21, 2021
One tale (CNN):
"We have more patients than we've ever had at any point, and we're seeing more people die at a rate we've never seen die before," said Jim Dover, president and CEO of Sparrow Health System.
"Since January, we've had about 289 deaths; 75-percent are unvaccinated people," Dover said.
"And the very few (vaccinated people) who passed away all were more than 6 months out from their shot. So we've not had a single person who has had a booster shot die from Covid."

Among the new Covid-19 victims, Sefton (Nurse Katie Sefton) said she's noticed a disturbing trend.
"We're seeing a lot of younger people. And I think that is a bit challenging," said Sefton, a 20-year nursing veteran.
She recalls helping the family of a young adult say goodbye to their loved one.

"It was an awful night," she said.
"That was one of the days I went home and just cried."
And then have to handle the Fox News-influenced Google doctors, and that's got to be the gosh-awful shits.
Assholes, better it be (my favorite 'basket of deplorables' simile):
Morons who murder.
Once again, here we are…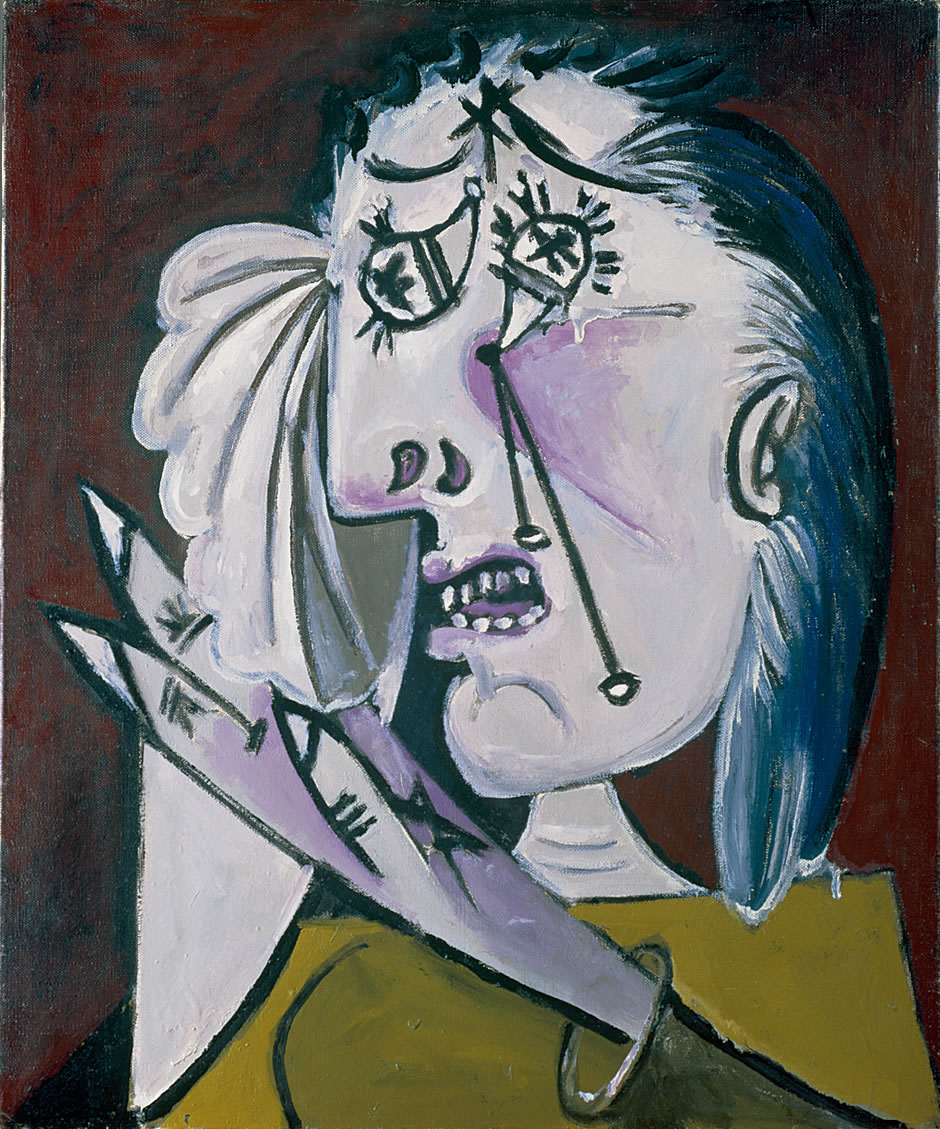 (Illustration out front: Pablo Picasso's 'The Weeping Woman [La Femme qui pleure],' found here)