Drizzling still this early-evening Wednesday here in California's Central Valley, after a day full of deep-overcast skies and continuous threat of hard rain — reportedly, maybe some sunshine tomorrow before another storm slated for next week, and the new year.
In the air, climate disaster seems close at hand.
And art mirrors reality — listen to the science, from weather to infectious diseases:
As a climate scientist, one aspect of #DontLookUp that resonates strongly is notion that an otherwise solvable planetary crisis will go away if we just ignore it–or that a silver bullet solution will magically present itself. Spoiler alert: it won't. @davidsirota @GhostPanther https://t.co/UNCrHDLKYC

— Daniel Swain (@Weather_West) December 29, 2021
Another review of the new satirical disaster movie, "Don't Look Up," this time experienced through the eyes/lens of climate scientist Peter Kalmus, who works at NASA's Jet Propulsion Laboratory as an associate project scientist at UCLA's Joint Institute for Regional Earth System Science & Engineering, and is also author of, "Being the Change: Live Well and Spark a Climate Revolution."
Kalmus, in a piece at the Guardian this morning, regards 'Don't Look Up' as an emotional preview of reality, maybe even sideswiping some climate-crisis influenced PTSD:
The movie Don't Look Up is satire. But speaking as a climate scientist doing everything I can to wake people up and avoid planetary destruction, it's also the most accurate film about society's terrifying non-response to climate breakdown I've seen.

The film, from director Adam McKay and writer David Sirota, tells the story of astronomy grad student Kate Dibiasky (Jennifer Lawrence) and her PhD adviser, Dr Randall Mindy (Leonardo DiCaprio), who discover a comet — a "planet killer" — that will impact the Earth in just over six months.
The certainty of impact is 99.7-percent, as certain as just about anything in science.

The scientists are essentially alone with this knowledge, ignored and gaslighted by society. The panic and desperation they feel mirror the panic and desperation that many climate scientists feel.
In one scene, Mindy hyperventilates in a bathroom; in another, Diabasky, on national TV, screams "Are we not being clear? We're all 100-percent for sure gonna fucking die!"
I can relate. This is what it feels like to be a climate scientist today.

The two astronomers are given a 20-minute audience with the president (Meryl Streep), who is glad to hear that impact isn't technically 100-percent certain. Weighing election strategy above the fate of the planet, she decides to "sit tight and assess."
Desperate, the scientists then go on a national morning show, but the TV hosts make light of their warning (which is also overshadowed by a celebrity breakup story).
…
After 15 years of working to raise climate urgency, I've concluded that the public in general, and world leaders in particular, underestimate how rapid, serious and permanent climate and ecological breakdown will be if humanity fails to mobilize.
There may only be five years left before humanity expends the remaining "carbon budget" to stay under 1.5C of global heating at today's emissions rates — a level of heating I am not confident will be compatible with civilization as we know it.
And there may only be five years before the Amazon rainforest and a large Antarctic ice sheet pass irreversible tipping points.

The Earth system is breaking down now with breathtaking speed. And climate scientists have faced an even more insurmountable public communication task than the astronomers in Don't Look Up, since climate destruction unfolds over decades — lightning fast as far as the planet is concerned, but glacially slow as far as the news cycle is concerned – and isn't as immediate and visible as a comet in the sky.

Given all this, dismissing Don't Look Up as too obvious might say more about the critic than the film. It's funny and terrifying because it conveys a certain cold truth that climate scientists and others who understand the full depth of the climate emergency are living every day.
I hope that this movie, which comically depicts how hard it is to break through prevailing norms, actually helps break through those norms in real life.
However, Kalmus can't slap collective humankind hard across the face to charge the engine and open up to the crisis that's already here, not tomorrow or some distant future, and come together for a solution.
If not, we be f*cked. Just don't look outside:
Once again, here we are…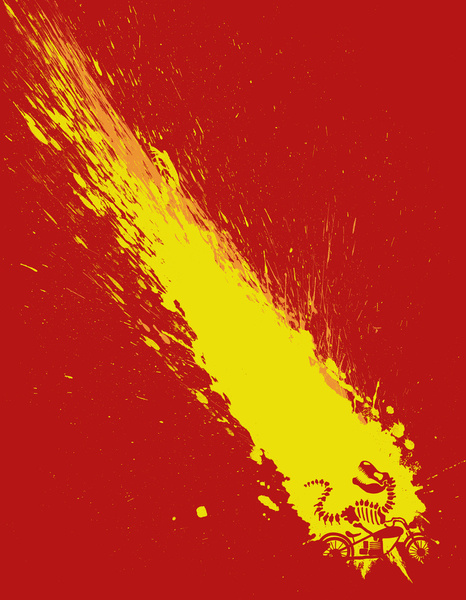 (Illustration out front: 'Meteor,' found here).