Tweet for the twitter birds of absolute shit — Republicans are the worse with MoscowMitch slime leader:
This is why 52 senators voted against bringing back the talking filibuster: they want to avoid even more foot-in-mouth incidents like this one when they stand to block progressive legislation. https://t.co/g16dfmeeVB

— Ragnarok Lobster (@eclecticbrotha) January 20, 2022
Nutshell via The Daily Beast late this morning:
If only politicians thought before they talked. Sen. Mitch McConnell (R-KY) seemingly implied on Wednesday that Black Americans are not true Americans.
Following a failed vote on Democrats' John Lewis Voting Rights Advancement Act in the Senate, the minority leader gave some ill-framed comments to the press.
A reporter asked McConnell if he had a message for voters of color who are concerned that they will not have equal access to voting in the 2022 midterm elections.
He replied, "Well, the concern is misplaced because if you look at the statistics, African American voters are voting in just as high a percentage as Americans."
By Thursday morning, McConnell was trending on social media for accidentally admitting that he doesn't see Black Americans as real Americans.
Just one example of the concerned throw-down at the asshole:
"African Americans are voting in just as high percentages…as Americans"

Mitch McConnell

If you're not white, you're <insert race here> American.

In Mitch McConnell's melting pot, the cream needs to remain at the top…at any cost.

— Smite!?? (@7Veritas4) January 20, 2022
Do Republicans have any empathy at all? Or the reason they love the sorry-ass T-Rump is that they're just like him — full of hate and cruelty.
As if:
Here we are, once again…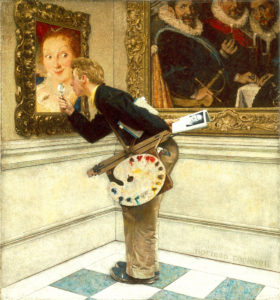 (Illustration out front: 'Art Critic' by Norman Rockwell, found here)