Thinly overcast this near-mid-day Saturday here in California's Central Valley — a weather ambiance of just short of fog and leaning weakly toward muted, faded sunshine.
Among the festered news today, a nod toward good use of a word game that's apparently captured the intellects of a shitload of people — the web-based word game, Wordle, and though just released last October, has grown from about 90 players in November, about 300,000 at the beginning of last month, to reportedly now about two million players last weekend. I've never played it, most-likely never will (although a writer, I've never been good with puzzles, crossword or not), and don't understand the mechanics of it.
Romance seemingly pushes the game's popularity. Supposedly, Wordle creator Josh Wardle, a software engineer, made the game initially just for his partner, Palak Shah: '"It's really sweet," she said. "This is definitely how Josh shows his love."'
I'd read of Wordle, but didn't appreciate it until this morning and seeing a wondrous crossover consequence of the game (h/t tweet Balloon Juice):
A strategy that had not occurred to me. A big part of the appeal of QAnon & similar conspiracy theories is the gamification of what they imagine to be "doing your own research." Maybe the effective response isn't persuasion or fact checking, but better games. https://t.co/qm25n7DBBQ

— Julian Sanchez (@normative) February 4, 2022
If a certain result like that could be accomplished, then there must be something to the intrigue of the game. The human mind is a deep, most-of-the-time black hole and if simple the contest of letters into words can shift a mental disease, then go forward.
In the arc of this story, Wordle started as a romantic play for wordsmiths/crossword-puzzlers and into the big time for all — now part of The New York Times word-game cavalcade.
Nutshell per the NYT last Monday:
"If you're like me, you probably wake up every morning thinking about Wordle, and savoring those precious moments of discovery, surprise and accomplishment. The game has done what so few games have done: It has captured our collective imagination, and brought us all a little closer together. We could not be more thrilled to become the new home and proud stewards of this magical game, and are honored to help bring Josh Wardle's cherished creation to more solvers in the months ahead," said Jonathan Knight, general manager for The New York Times Games.
"As part of our portfolio of games, Wordle will have an exciting future with the help of a team of talented engineers, designers, editors and more, furthering the user experience."

Wardle added, "If you've followed along with the story of Wordle, you'll know that New York Times Games play a big part in its origins, and so this step feels very natural to me. I've long admired The Times's approach to the quality of their games and the respect with which they treat their players. Their values are aligned with mine on these matters and I'm thrilled that they will be stewards of the game moving forward."

At the time it moves to The New York Times, Wordle will be free to play for new and existing players, and no changes will be made to its gameplay.

Wordle was acquired for an undisclosed price in the low-seven figures.
And for love, there might be a millionaire.
If you're like me, a Wordle explainer might be needed:
Here we are once again…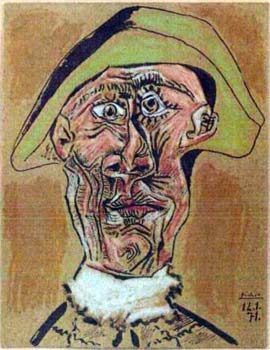 (Illustration out front: Pablo Picasso's 'Harlequin Head,' found here),