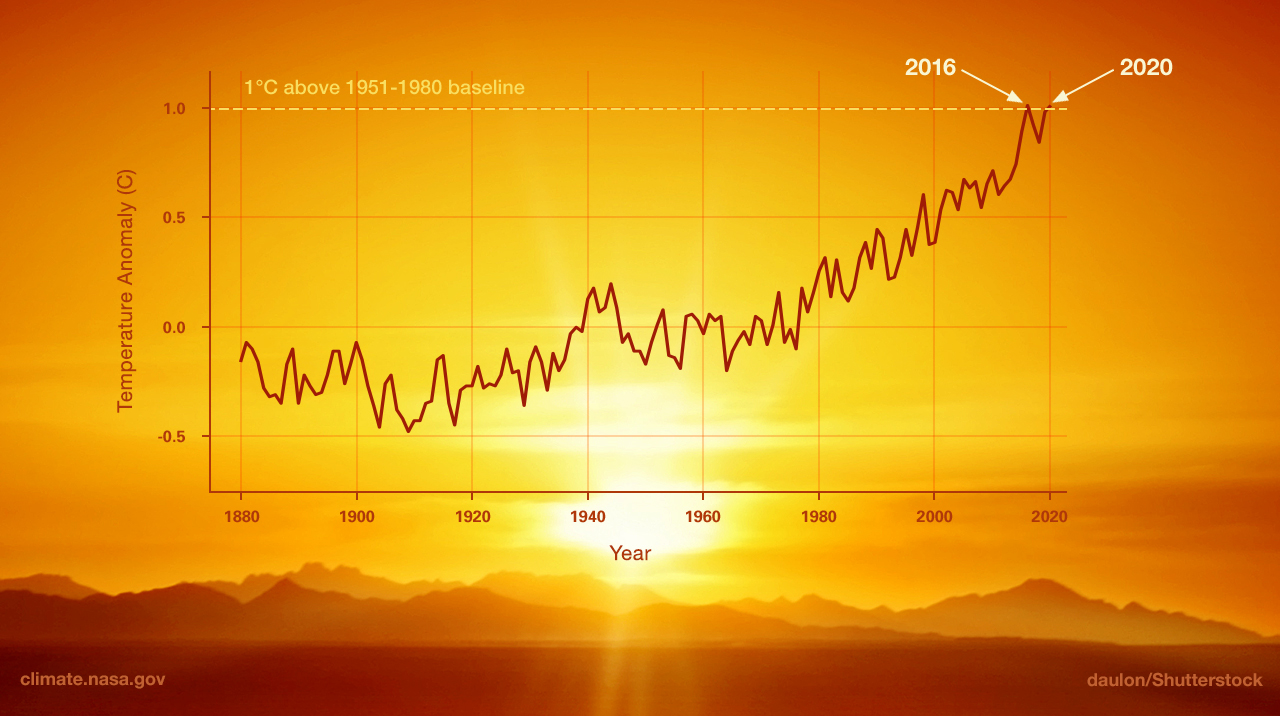 (Illustration: Graph per NASA/JPL-Caltech, and found here).
Bright sunshine and warming temps this near-mid-day Sunday here in California's Central Valley, another beauty seemingly ahead of its time.
The state has been in a perpetual cycle of an aggravating 'weather/climate whiplash,' which creates early summer and won't go away.
This morning a climate-change post with a high-five emphasis on California and shit weather everywhere. We've just gone through the dryest January on record for snow/rain, and it doesn't bode well for the coming year in a drought-drenched and dry time on the Left Coast. Despite massive rainfalls in the fall, last month's no-snow/rain dry is making shit stink worse.
Sean de Guzman, manager of California's Department of Water Resources snow surveys and water supply forecasting section, nails the drought-intensifying situation: ' "That one dry month of January basically wiped out whatever head start we had as we head towards the end of winter."'
Climate change is here already, drought is just one bad side effect of a warming environment. And once again California leads the way as the entire country heats up the typical American way — unevenly.
This morning, a review of climate data by the Guardian indicates 499 US counties have already cleared the 1.5C (2.7F) climate change big shift level and the shit from now on out until the blistering end, will only get worse.
Some highlights:
Though the climate crisis is convulsing the US, it is doing so unevenly. Hotspots of extreme warming have emerged in many of America's largest cities, and places as diverse as California's balmy coast to the previously frigid northern reaches of Minnesota, while other places, particularly in the south, have barely seen their temperatures budge.

"The warming isn't distributed evenly," said Brian Brettschneider, an Alaska-based climate scientist who collated the county temperature data from the National Oceanic and Atmospheric Administration (Noaa).
"Many places have seen dramatic changes, but there are always some places below the average who will think, 'It didn't seem that warm to me.' The impacts differ depending where you are."

Ventura county in California has heated up more than any other county in the contiguous US, according to the Noaa data, experiencing a 2.6C (4.75F) increase in total warming in the period from 1895 to 2021.
Meanwhile, counties that include many of America's largest cities, including New York, Los Angeles, Miami, Philadelphia, San Fransisco and Boston, have all seen their average temperatures rise far beyond the national average, which stands at around a 1C (1.8F) increase on pre-industrial times.

Mark Jackson, a meteorologist at the National Weather Service based in Oxnard in Ventura county said the county's temperature increase is "a remarkable number, it's a scary number when you consider the pace we are looking at". Jackson said the county has seen a large increase in heatwaves, including a spell above 37C (100F) last summer that "really stressed" the local community.

Ventura county, which hugs the Californian coast northwest of Los Angeles, is known for a pleasant Mediterranean climate cooled slightly by the proximity of the ocean. But Jackson said that recent heatwaves have seen warm air flow down from mountains in the nearby Los Padres National Forest to the coast, while the ocean itself is being roiled by escalating temperatures.
"It's been really remarkable to see it get that hot right up to the coast," he said.

California is in the grip of its most severe drought in 1,200 years and scientists say this is fueling the heat seen in many places in the state — Los Angeles has warmed by 2.3C (4.2F) since 1895, while Santa Barbara has jumped by 2.4C (4.38F) — by reducing moisture in soils, which then bake more quickly.
I lived on the state's Central Coast for nearly two decades (San Luis Obispo County) just north of Santa Barbara, and although it's always had great weather, the heat is already changing the lifestyle of the place. Still remains my most-favorite spot in the state, though, way-extremely expensive.
The Guardian's reporting also revealed: '83-percent of California's population live in counties that have warmed at least 1.5C since 1895.'
A most-difficult living experience and will just get worse. The world reflects:
In January 2022, the #Arctic was +3.52°C warmer than the average January of 1951-1980.

Data source: Copernicus Climate Change Service @CopernicusECMWF#climate #climatechange pic.twitter.com/F7tXITUWU6

— Antti Lipponen (@anttilip) February 6, 2022
A pattern continues — from NOAA's 2021 Arctic Report Card, published in mid-December: 'The October-December 2020 period was the warmest Arctic autumn on record dating back to 1900. The average surface air temperature over the Arctic this past year (October 2020-September 2021) was the 7th warmest on record. The Arctic continues to warm more than twice as fast as the rest of the globe.'
However, that shit was just one of seven significant findings from this year's report, all aspects of the overall worsening conditions in the region. Twila Moon, an Arctic scientist with the National Snow and Ice Data Center, and one of three editors of the 2021 Arctic Report Card: '"The Arctic story is a human story … We all have a role to play in creating the best possible outcomes for the region, its residents and all the citizens of the globe who depend on the Arctic as a critical component of our Earth system."'
Yeah right.
Especially anxiety-sharpening is Republicans gaining control of Congress this November, and maybe the White House in 2014, which if happens, the ending not so happy.
A song for the times, applied to the concept of music dying, overall-wise:
Yet here we are once again…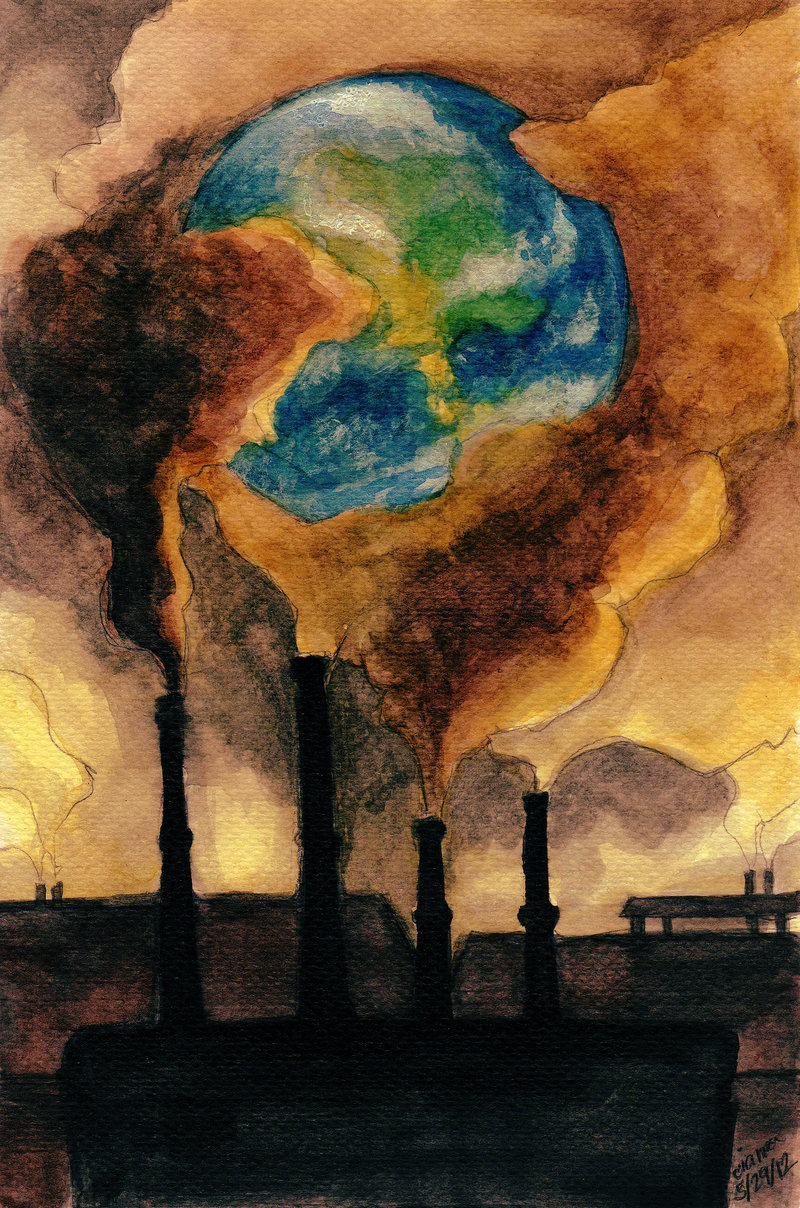 (Illustration out front found here).