After nearly a full week of the ebbing of sickness, I'm feeling somewhat better this early-evening Saturday here in California's Central Valley — although I never ventured out today, we experienced another bright, beautiful one in a continuing string of spring-like weather, which doesn't augur well for the awful coming heat of summer.
Enough of that shit — real trouble seems on the immediate horizon.
During my downtime, I barely let any news sink into my subconsciousness, just humming through the cycles on my iPad and trying to sleep — but it looks like a real keeper is at hand, and quick, too. Vlad Putin is turning out to be some kind of an asshole nutcase (a friend suggests he might have cancer and he wants to bring it all down with him) and the situation with Ukraine has become top-notch serious.
Even Ukraine President Volodymyr Zelensky is getting antsy and wondered WTF is the West doing to halt/stop Vlad from making a horrible disaster worse: '"What are you waiting for?" Mr. Zelensky asked a large audience at the annual meeting of the Munich Security Conference, which he attended despite warnings that his absence from Kyiv, the Ukrainian capital, could give Russia an opportunity to strike. "We don't need your sanctions after" the economy collapses and "parts of our country will be occupied."'
We need help now:
Alarming footage of Russian tanks & military vehicles reportedly advancing tonight to 5 km away from #Ukraine border (town of Shebekino).

Explosions reported in Donetsk. Biden convening national security meeting tomorrow [on a Sunday!]: pic.twitter.com/13hvjO93FK

— Joyce Karam (@Joyce_Karam) February 19, 2022
One major concern is southeastern Ukraine, an area held by pr-Russian Ukrainians and has been a violent zone for now nearly eight years. The country is on tenterhooks of war and unrest and has been for a long time.
Today international journalists got a taste of this conflict boiling underneath a coming cataclysmic war — from VOA this evening:
Many buildings in the town of Novoluganske, in eastern Ukraine, have been abandoned for years. The wooden boards on the doors and windows are rotted by weather, and nearby factories are rusted and shuttered.

You would never know that violent incidents in the region have increased by more than 1,000-percent in the past three days.

But we weren't there long on Saturday before heavy fire crashed into town and the soldiers hosting our tour of the war zone swiftly herded our group of more than a dozen journalists back onto a bus.
Some colleagues in another part of town ducked into the inner rooms of a military warehouse while our bus sped away.

Just outside of town, Mariana Bezugla, a Ministry of Defense staffer and member of parliament, said it was artillery fire, a type forbidden by international agreements.

"We want diplomacy," she said from the front passenger seat.
"Ukraine wants a diplomatic solution."

After some time, we parked the bus behind a wall. Soldiers told us to stay inside even though we were wearing heavy security gear. The bombing continued but further away.

The trip we were on with the Ukrainian military had been planned only the night before, but it was clear from behind the wall that this part of the journey was coming to a halt.

It was also clear why the authorities took such pains to bring us to the region. They wanted to show the swelling population of international journalists in Ukraine what was happening on the ground and make sure we all knew how they felt about it.

"Ukraine is ready to fight until the last soldiers," said David Arakhamia, a leader of the party of Ukrainian President Volodymyr Zelenskiy.
"Our intention is only … to protect our army and our civilians in our country, of course."

As we trudged across the tarmac later that evening to board a military flight out of the war zone, a journalist repeatedly asked a slightly confused soldier to tell us how close we were to the "contact line" in Novoluganske.

Eventually, we understood why he was confused by the question.

"That village is on the contact line," he said.

The contact line separates land controlled by the Ukrainian government and land technically in Ukraine that is controlled by groups usually referred to as "Russian-backed separatists."
These separatists are the forces who have openly and directly engaged in combat with Ukraine since 2014, not Russia.
…
In the past three days, there have been attacks along all of the roughly 400-kilometer contact line, according to Ukrainian Joint Forces Commander Oleksandr Pavliuk, with 98 incidents of "cease-fire violations" on Saturday alone that left two dead, many injured and homes, water systems and other infrastructure damaged.

But, Pavliuk insisted, Ukraine has maintained its territorial integrity and its will to fight.

"The armed forces of Ukraine are in full control of (the) situation," he said. "And we will defend the independence of our country until the very end."
…
As Russian troops moved to the border over the past few months, diplomats have tried and, so far, failed to untangle this mess. Russia says it has removed some of what the U.S. says are 150,000 troops from the border and will continue to do so, but many other leaders, including Pavliuk, say this is not true.

"As of today," he said, about an hour before we headed back to the relative safety of Kyiv, "the overall number of Russian troops surrounding the Ukrainian border has not changed."
As you can see, the shit runs deep.
Kamala Harris in Munich, Germany, displayed the spunk needed in such an atmosphere — Vlad needs to creep the shit out:
Harris was applauded for the speech (via the AP):
"Let me be clear, I can say with absolute certainty: If Russia further invades Ukraine, the United States, together with our allies and partners, will impose significant and unprecedented economic costs," Harris said.

Harris addressed the annual Munich conference the day after President Joe Biden said he was "convinced" that Russia's Vladimir Putin has made the decision to invade neighboring Ukraine.
…
Later, at the start of the meeting with Ukraine's leader, Harris called it "a decisive moment in history" and told Zelenskyy,
"Any threat to your country we take seriously."
Another piece of shit added to the shit agenda — COVID, Repubkicans, trucker assholes, etc.
Despite the absence, here we are once again…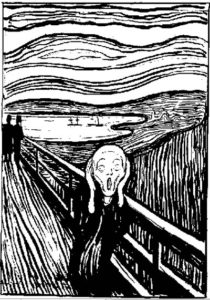 (Illustration out front: Edvard Munch's 'The Scream,' lithograph version, found here)